I can't believe it's been almost a month since my last blog. As you know, rebuilding my Web site consumed all of my waking hours. Changing from one platform to another cost me all of my previous blog entries.

I saved the most popular blogs (our cruise down the coast from Seattle to Mexico, including the shipwreck, and the "Great Dane on Board" series). You can find them on my new Web site. Look under "Penn's Adventures" for our trip down the coast and under "More" you will find the "Great Dane on Board" series. If you haven't seen Dawn's video "Odin's Adventures" you need to go there right now.

At any rate, we're back in business, so here's my latest update.

I've been working my tail off on The Inside Passage. The Inside Passage is a thriller starring Latino computer security analyst Ted Higuera in his first adventure. In this novel, he and best friend Chris Hardwick stumble upon a terrorist plot to blow up a cruise ship.

I've had the cover designed, I shared that with you before but here it is again because I lost all of my previous blog posts.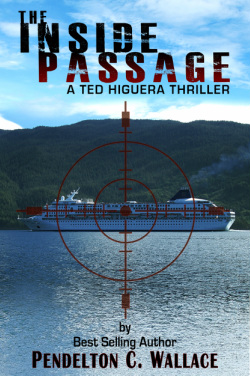 Here's the big news: I am setting up a KickStarter project for publishing The Inside Passage.

"Huh?" You say. "What's a Kick whajamajiggy?"

www.kickstarter.com is a crowd-sourcing web site.

Crowd-sourcing?

Yep. It's a way for artist to get the general public to fund their projects. There's everything from art to music to fashion to new inventions to, most importantly for me, publishing.

The artist posts a KickStarter page describing his/her project and the amount of funding needed. Then people come to KickStarter and pledge money to help the artist. There are over 56 million users on KickStarter. The pledges range from $1 to thousands of dollars depending on the project. The artist gives the pledgers some kind of reward for their support.

Recently the Veronica Mars movie was funded this way. The production company raised over $5.7 million to help make the movie, which is now in production.

It is my hope to raise $5000 to help me pay for the production costs for a really professional hard copy of The Inside Passage. I'm hoping that supporters will come through with enough $10, $20 and $50 pledges to get me over the hump.

The wild card here is that KickStarter is an all or nothing proposition. If you get enough pledges, you get the money. If you don't make your goal, you get nothing. I guess this lets the market place decide which projects are funded and which aren't.

Anyway, it will take me a few more days to get my KickStarter project going. But when I do, I will be asking for your help. I need all the help I can get to make this dream a reality.


On January 10th I took Tlaloc and some of his friends sailing. It was the first time I had the boat out since I hurt my shoulder. You can't believe how good it felt to have a rolling deck beneath my feet again. The sheer majesty of looking up and seeing the clouds of sails overhead against a blue sky is unbelievable.

When we got back to La Paz, my knee hurt. It continued to hurt until I finally decided to make an appointment to see the doctor. I made the appointment for Dawn's birthday, January 16th. We would go to the doctor, then I would take her out for a fancy birthday dinner.

We were over on dock 3 seeing some people and I limped back to the boat on dock 2 to get ready for my appointment. As I tried to step up our boarding ladder, something exploded in my knee. I was in awful pain and I couldn't walk.

I managed to get below and wedge myself into the galley dinette until Dawn came back.

Dawn helped me climb up on deck, then off the boat and, putting my weight on her shoulder, I limped down the dock.

It didn't work too well. I am just too big and heavy for Dawn to support. One of the guys from another boat came over and offered to help. Dawn ran up the dock to bring the car close to the dock head.

The security guys on Arrecho saw my plight and ran up the dock to get the marina staff. The marina people came running down the dock with a dock cart. They stuffed me in the dock cart and wheeled me up the dock.

I wish someone had a camera or a video recorder. It was a funny trip. Maybe I'll restage the event so we can film it.

We got to the doctor's office (right across the parking lot from Fidepaz Hospital) and he sent me to the hospital for an ultrasound (ultrasonido in español). After the ultrasound, they called in the orthopedic surgeon, Dr. Sanchez. Dr. Sanchez did the surgery on my shoulder.

With both Dr. Diaz and Dr. Sanchez examining me, they decided that I needed arthroscopic knee surgery to remove the torn meniscus (cartlidge).

"We will schedule surgery for tomorrow morning," Dr. Sanchez said in Spanish, he doesn't speak English.

So much for Dawn's birthday dinner.

I spent the night in the hospital and on Friday afternoon they took me into the operating room. Thank God for drugs. The next as I knew, I was back in my room with Dawn at my side.

After a three-day stay, they let me go home.

For the last three weeks I have been mostly sitting at the galley table working on my new book, The Inside Passage.

My knee is improving, but it's a slow process. I'm not sure how long it will be until I am back on my feet. Right now I'm walking with a cane and wearing a knee brace. I can kinda-sorta get around, but after going to the Club Cruceros and a doctor visit yesterday, I was totally worn out.

We have company coming! My brother Jim and his girlfriend, Susan, will be riding their motorcycles down Baja to spend some time with us in March. In April my daughters, Katie and Libby, will be flying down to Cabo for 4 days to see me. I couldn't be more excited.

Maybe the best part of the visits is that I can get good coffee. In Mexico it's almost impossible to find decaf coffee and what they do have is a weak, watery brew. I always ask visitors and friends to bring me some hearty decaf Sumatra coffee when they come. What can I say? I'm a real coffee snob.

That's it for today. Keep checking in, there's a lot of fun and interesting stuff happening down here in the Land of the Sun. I'll keep you up to date on my new books, visits from friends and our move ashore in May to spend the summer in a lovely Mexican villa.

Buenas suerte for now.