First of all, one last impassioned plea. There are only seven days left for you to pledge your support for my KickStarter project to publish a hard copy version of The Inside Passage. If you are at all interested in helping me with this, please do something about it today. Click here to find my project .
It Was One Big Party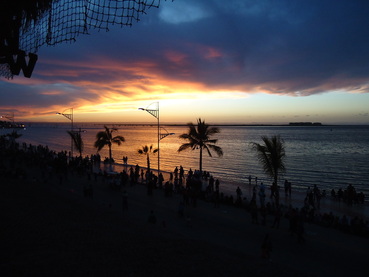 Last time I promised you an update about our adventures at Carnaval, but I've been so tied up doing my taxes that I haven't had a moment to write.

So here it is:

Carnaval ran Thursday through Tuesday (that's Fat Tuesday, Marti Gras). On Monday morning, the vendors were already setting up their stands. Five stages were built along the Malecon and activity increased its pace all week. The Malecon was shut down and converted to a block party for about five miles. By Thursday everyone was ready.

Showtime!

I wanted to go to Carnaval on the first day to get a feel for what's happenin'. There were parades scheduled for Sunday, Monday and Tuesday and all sorts of activities every night.

On the first night of Carnaval, the Rey de Alegre (The King of Happiness) was crowned. They also held a trial for Bad Humor and, to no one's surprise, found him guilty. His punishment was to be burned in effigy. Like Judge Roy Bean once said, "We're gonna give you a fair trial, then take ya out and hang ya."

Dawn and I headed downtown around 7 pm on Thursday. It was just getting dark, but the Malecon was lit up as bright as daylight. The street was closed and we were detoured. We finally found a parking place about five blocks up the hill. Usually, that wouldn't be a problem, but I was still gimping around on a bum knee. (You'd love my hi-tech cane. In folds down into a 9" package, has shock absorbers and a built in head light.)

After the death march down the hill, we blended in with the crowd. We saw a few familiar gringos, but the people were overwhelmingly locals.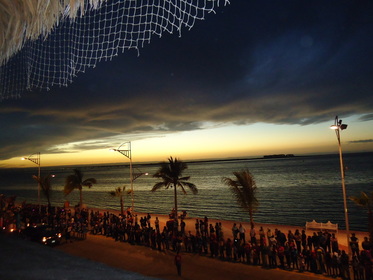 Both sides of the Malecon were lined with vendors' stalls. There were food stalls with everything from fruit drinks to cocktails, gorditas (A fat tortilla stuffed with sour cream and Nutella) and hotcakes (an interesting combination, I thought) to taco stands. Then there was the souvenirs. Dozens of stalls were filled with trinkets that have no earthly value, and crowds of people waiting to be parted from their money. Street vendors wandered down the Malecon hawking cotton candy and cheap jewelry.

We wandered through Carnaval for about an hour, then my knee and stomach gave out. We found a taco stand with tables and sat ourselves down. The server came over to get our order.

"Do you have Margaritas?" I asked.

She had to ask her boss, then returned and said "Si."

We ordered a bunch of tacos al pastor, one Margarita and a Diet Coke. Our server dashed down the street to a cocktail stand and bought a Margarita for me. Try that at your local county fair.

Unfortunately, it was absolutely the worst Margarita I've ever had in my life. It tasted more like orange juice than lime. How can they screw up a Margarita in Mexico? If there was any tequila in it, I sure couldn't tell. However, by the time I got to my second taco we must have had an earthquake because the street started spinning.

The tacos, on the other hand, were superb. The stand had a trompa where they roasted the seasoned pork on a vertical spit. They were everything I hoped for.

There wasn't really much more to see and I was dying from knee pain, so we headed home after dinner. We missed the coronation, but heard the music from the party until daybreak. The last band scheduled to play started at 1 am.

Fireworks lit up the night sky. Unlike fireworks shows in the US, the rockets and bombs were launched from behind the stage. I wasn't too concerned about our safety, but I was certainly glad that our boat wasn't anchored in front of the Malecon.

On Sunday, I had a plan. I made reservations at The Tailhunter, my favorite bar, with second story seating right above the Malecon. The parade would pass by underneath us while we sipped good Margaritas and noshed on nachos and fish tacos.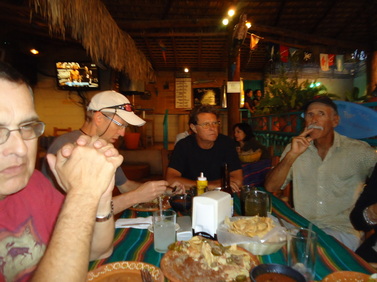 The parade was cool. The theme of this year's Carnaval was "The Infinite Universe." Most of the floats took an outer space theme.

There was a Jetsons float that I really liked and the grand prize winner was Avatar, but there were dozens of other creative, fun floats and bands and dancers as well. The poor dancers almost all had to wear weird outer space costumes and dance for miles down the Malecon. I hope they had a good time. My feet hurt in sympathy for them.

Carnaval in Mexico is a bit different from Carnival in Rio. Mexico is a very modest country and there were few bikini clad girls on the floats. That doesn't include the Tecate Girls though. Tecate Beer sponsored a stage and had their Tecate Girls there all night long. The poor things wore heels that surely crippled them for life and not much else.

We had two other couples from the marina join us at Tailhunters and it was a grand time. By the time the parade was over, it was late and we old folk were tired. The party continued on until dawn, as it did on all nights of Carnaval, but we listened to the distant strains of music from our bunks.

It was a great week and a great party. Start making your plans now for next year. It comes at the end of February, the week before Fat Tuesday. If you can't afford to fly down to Rio, try La Paz.