Writing News: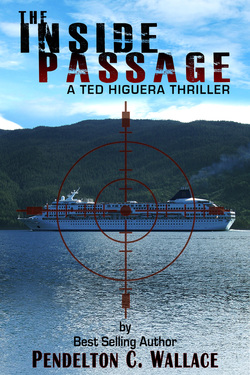 The Inside Passage is currently #4 on the Amazon.com Best Seller list for Hispanic American literature. It's #29 on the Thriller list. Thank you.

You can still download The Inside Passage for free today and tomorrow from Amazon.com. Don't miss your chance. Let's push it to #1 on the Amazon list. Click here to download.

By the way, for all of you who downloaded it for free, I expect that you will post a review on either Amazon.com or GoodReads for me. I don't think that's too much to ask for giving you a free book. That is, if you liked the book. You know what my mother said, "If you can't say something nice, don't say anything at all."

I'm getting lots of positive comments on the book, but I have to share the one negative comment I got. It went something like this "I didn't like Ted and thought that Chris was gay. This whole Meagan thing is just a cover so that he can stay in the closet."

GAY?? It never entered my mind. Of course, I'm pretty naive about such things. However, there is a locker room scene in Hacker for Hire. Hmmmm . . .

Hacker for Hire is coming along. I'm going to be working on the cover this week. It should be ready for publication by early June.

I also have another special treat in the wings. Mirror Image is a Catrina Flaherty short story.

Cat Flaherty is Ted Higuera's new boss in Hacker or Hire. In Mirror Image we see one of her early cases. This one has a surprise ending you won't guess, unless you read the newspapers. This is also from a true story. If you like strong female leads, you're going to love Cat Flaherty. Look for the Mirror Image this summer.
Now On To Other News:

Dawn is on the upswing. She was down for nearly two weeks with one of the worst cases of flu I have ever seen in my life. Every boat on our dock had at least one person catch this bug. It was really nasty.

Maybe the strangest symptom was the nightmares. Dawn had such realistic nightmares that she thought they were true. I think they were more like hallucinations than nightmares.

She asked me, "Who was that woman you were having breakfast with?"

"What woman?" I responded.

"The one with the little girl."

She was absolutely convinced that we had guests on board.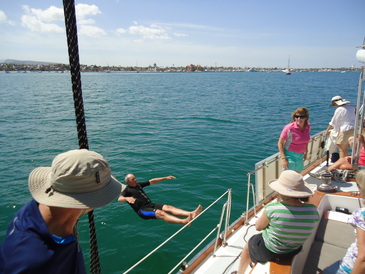 On Friday I asked Rhonda, a nurse on the Swan, to come over and look at Dawn. She said Dawn needed to be in the hospital. Dawn refused.

I called Dr. Diaz and he said that he would meet us at the hospital in half an hour. I didn't give Dawn any choice. We physically lifted her off the boat and took her to the hospital. Dr. Diaz admitted her over night.

She was severely dehydrated and her blood counts were all messed up. He got her stabilized and sent her home the next day. She is pretty well recovered now, but she put her back out. When she was lifting Odin (her 170 pound Great Dane), she twisted wrong and out it went. Now she's shuffling around like an old lady.

As for me, I wore myself out taking care of her. Trips for grocery shopping, doing the laundry, cooking, etc. really put a strain on my knee. I'm getting around much better these days, but man, does it hurt.

We have guests galore the next couple of months. Mark from the Witch of Endor stayed with us a couple of days this week. He's on his way back up to San Diego to get parts for his boat. You know what they say, "Cruising is doing maintenance on your boat in exotic ports."

My lovely and talented daughters, Katie and Libby, will be down to see me the middle of April and my brother Jim will be here in late May.

On May 1st we're moving ashore for the summer. We'll be house sitting in a really nice Mexican Villa with a lovely garden and pool. Odin will have plenty of room and I expect to write like a demon. You can expect to find me in the pool every afternoon.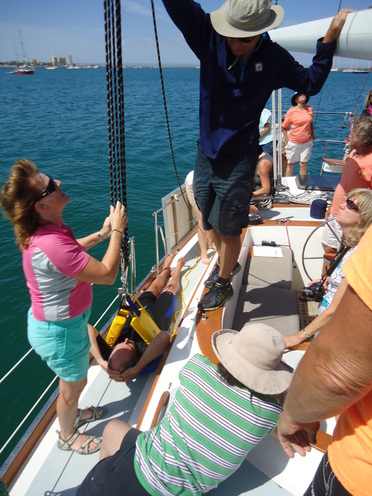 We just wrapped up Bay Fest 2014. Bay Fest is a kind of cruisers' convention held here in La Paz every spring. I attended several seminars, Dawn and I went out on a GulfStar 50 for man over board drills and I watched the blindfolded dinghy races.

While we were practicing man overboard drills, a pod of dolphin swept past the boat. I will have to say, to my amazement, most of the crew kept their attention on the poor soul in the water and ignored the dolphin. Way to go. By the way, we managed to recover all of the men overboard yesterday.

The blindfolded dinghy races were a hoot. The person rowing the dinghy has a blindfold over their eyes. The "spotter" in the dinghy gives them directions on where to row. There were a couple of really accomplished couples, but for the most part, the race consisted of numerous collisions.

There were two pre-teen boys in one dinghy. The spotter gave good directions. The only problem was that he told the rower what direction to go after they collided with something. Fortunately most of the dinghies were inflatable rubber boats so no permanent damage was done.

It was kinda like playing bumper boats.

We have nothing big on the horizon for the next week. I would love to take the Victory out for a few days, but Dawn's back is in no condition for sea faring. Then Katie and Libby get here on the 13th. After they leave on the 17th, I hope to do some cruising.
Download The Inside Passage for free.