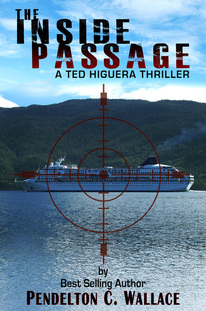 First of all, I want to give you a gentle nudge. Of the many people who downloaded The Inside Passage for free, I have only received one review.

Please, take five minutes to write a quick review for me. Reviews are the life-blood of independent authors.

If you haven't gotten your copy yet, click here.
And thank you to all of you who have bought this book. I hope you're looking forward to the sequel, because I'm hard at work on Hacker for Hire.

I expect to have the cover ready by next week. Stand by for a first peek.
Mi Hijas Come to Visit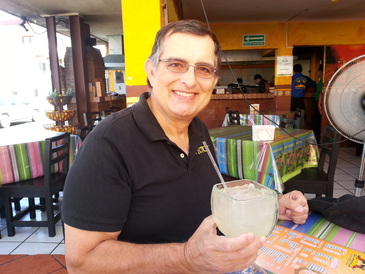 I just had four days with my darling daughters Katie and Libby. When I took off on this mad adventure of mine, the hardest thing was leaving the girls behind. I got to see them last summer when I went north on my book tour. This time, they flew down to Cabo to see me.

I hate to say this, but they don't like Dawn. Dawn, to her everlasting credit, insisted that I meet the girls in Cabo and she would stay on the boat.

They flew in on Sunday afternoon. I picked them up, we checked into the hotel, then went in search of a taqueria. None of us had had lunch yet.

As luck would have it, there was a wonderful taqueria about a block from the hotel. With my knee still in bad shape, walking was hard for me, but the lure of tacos al pastor was strong.

We started with Margaritas, then Katie wanted guacamole. I am not really an avocado fan, but I have to say, they had the best guacamole I've had in Mexico. It tasted just like Mama used to make.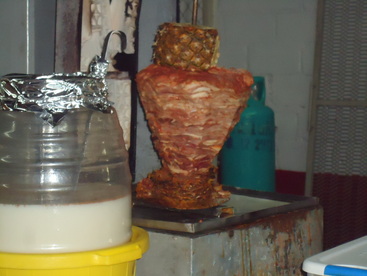 Then came the tacos. Heaven in a tortilla.

For those of you not familiar with tacos al pastor, they are cooked on a vertical spit called a "trompo (like a toy top, because that's what they look like)." The meat is marinated in an adobado sauce, then added to the spit in layers, narrow at the bottom and wide at the top. Then it is cooked in front of a gas fire where the heat is spread by fire bricks. It takes hours for the meat to cook, but the chef stands by with a sharp knife and as the outer layer gets charred and beautiful, he trims it off. The pieces fall into a tray at the bottom and stay warm from the fire.

These little pieces of pork are then wrapped in a tortilla with chopped onion and cilantro. You can add salsa and lime (I always do) and guacamole if you like. They are the best thing in the world.

We did ourselves proud at the taqueria, then headed to the pool.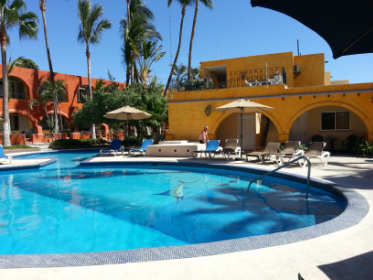 We stayed in the Hotel Mar de Cortez, right in downtown Cabo. We were about three blocks from the water and steps from good restaurants and the hot night spots.

Our hotel is Spanish Colonial architecture, with arcades and lots of Mexican tile work. Colors that we wouldn't think of using in the US somehow all blend together and work in Mexico. I guess it's the tropics.

There is a bar just off the pool and we took advantage of the happy hour every day. They also had the best Nachos I have had in Mexico. Nachos are an American creation and not many restaurants in Mexico get them right. For the most part, they use tortillas that are too thick for the chips and cooked in heavy old oil, then the cheese just doesn't compare with a good cheddar.

These Nachos had a mix of manchego and cheddar cheeses along with a liberal sprinkling of jalapeños slices and carne asada.

I might as well tell you right now that Libby was on a quest to find the perfect carne asada in Cabo. Everywhere we went, she ordered it. I don't think there's a cow left alive in the whole country.

On Sunday evening, we ate dinner at the hotel. Their Sunday Special was surf and turf, a filet mignon, prawn brochette and lobster tail. A very American meal, but Katie and Libby couldn't pass up the lobster (the price was $250 pesos, about $20 US) so they split one. There was more than enough food for both of them.

To my disappointment, the restaurant in our hotel didn't serve much in the way of Mexican food, so I had penne pasta with Italian sausage. It is almost impossible to get good sausage of any kind in Mexico, so I was very happy with my meal.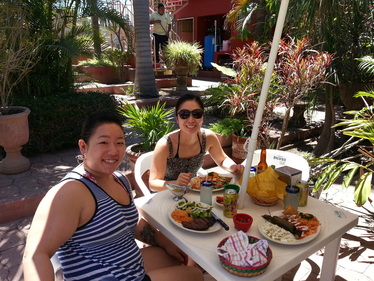 Monday morning we got up, had a leisurely breakfast and drove up to Todos Santos. If you haven't read my blog about Todos Santos, it's one of my favorite towns.

It is an artist community in the transition zone between ocean and dessert. It is right on the Tropic of Cancer and there are steams and springs that allow tropic vegetation. It is an oasis of green in a world of sand and cactus.

The town looks very colonial with old-style buildings. Their major industry is tourism so everything is dedicated to siphoning off as many gringo dollars as they can get. Of course we shopped through many of the stores and picked up a trinket or two. Did I mention that my knee was killing me. I gulped pain killers all week.

We had lunch at one of my favorite restaurants, El Fuente. El Fuente is right across the street from a nice park and is under a palapa. I've described it here before. The giant palapa (palm thatched roof) is held up by logs about six inches in diameter. The kitchen is back in the building next to the palapa, but the tables are under the thatched roof.

Katie wanted to sit in the sun, so we sat in the garden rather than under the palapa. One of the nicest things about this restaurant is the grounds. There are actually grass lawns, lots of flowers and tropical plants, not to mention the obligatory coconut palms.

We returned to our hotel in time to catch the happy hour at the pool and get a little reading in.

For dinner we returned to our favorite little taqueria.


That's enough for today. I'll fill you in on the last part of our visit next week. Stay tuned . . .

In the meantime, buy your copy of The Inside Passage today.