Happy Easter

I hope everyone had a nice Easter holiday. Here in Mexico it's a big deal. It isn't a public holiday like Dia de los Muertos or Christmas, but the whole country takes the week before Easter off to spend time with their families.

During Semana Santa (Holly Week) most businesses and government offices close. Only tourist-oriented businesses and grocery stores are open. No business is transacted this week.

I wanted to make a traditional ham dinner for Easter. Try finding a ham in La Paz. I was at Costco in Cabo after dropping the girls off at the airport, but stupidly didn't buy a ham. They were too big for two people and I thought I could pick up a smaller one at Mega.

So, I went in search of a ham yesterday. It didn't happen. There was not one to be found in La Paz. Fortunately, I bought some Kirkland ham slices at Costco. They were a poor substitute for a nice spiral-cut ham, but they were better than nothing.

So, I ended up making a pineapple glaze for my ham slices, baking sweet potatoes and serving it with some nice broccoli. It wasn't a big American-style Easter feast, but it was a nice dinner.

Now, back to Katie and Libby's visit.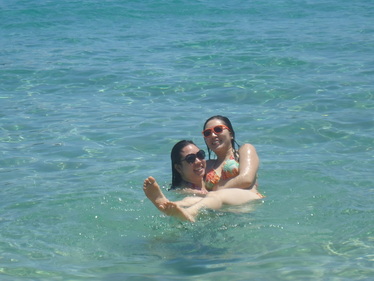 Tuesday was supposed to be a kayak trip to Los Arcos, the rock formation at the end of the Baja peninsula. It was not to be. We couldn't find any place that would rent kayaks to us. It is Semana Santa (Holy Week) in Mexico and most everything is closed (except for those businesses catering to American tourists). Why the kayak places were closed with all of the other tourist dollar grabbers were open, I don't know.

To mask our disappointment, we went to the beach. And wonder of wonders, we had our best day of the visit.

The water was warm, there was a gentle swell and the sun was hot. It was a perfect day.

They have water jet packs here and they look like so much fun. These are like something out of a James Bond movie. You either strap them on your back, or in the case of the one we saw, you stand on them, and a couple of jets of water lift you out of the water and you can actually fly. There is a long hose attached to the pump on a trailing boat that lets you get about one hundred feet away from the boat and up into the air.

It was hilarious watching a guy trying to stay on top of one of those things. He'd get twenty or thirty feet out of the water, then lose his balance and go tumbling in. It looks like a blast.

After our prolonged march to the beach and the death march back home (remember, I'm gimping around on a bum knee) we headed to the pool for Margaritas, reading and napping.

I felt like having a steak for dinner, so Libby asked at the front desk. She was directed to El Patagonia, an Argentine steak house about three block s from the hotel.

Walking on normal, American sidewalks would be a challenge for gimpy here, but in Mexico, the sidewalks are not exactly what you would call level. It seems that every few feet, the builders decided to either go up or down. The steps are anything but standard. Sometimes they have tiny risers, sometimes you need a fork lift to get up them.

Then there are the obstacles. The builders think nothing of building the sidewalks around a tree or telephone pole, so you have to go into the street to get by. Remember, you probably have to jump down a foot or so into the street, then climb back up to get on the sidewalk on the other side of the tree.

Then there are the obstacles that are put in after the sidewalk is built. These include overhanging dangers that the girls and most Mexicans can ignore, but that smack me squarely in the head. My favorite was a spiral staircase coming down from a second story balcony right into the sidewalk. There was no way to get around it, so you had to jump down about 18 inches into the street, walk around it, then climb back up.

The girls loved El Patagonia. I thought it was so-so. The décor was great, open aired with lots of tropical plants, but the tables and chairs were just pedestrian. Libby had the Argentine equivalent of an arrancherra steak and loved it. It was much more tender than the Mexican version and more flavorful. Katie had a fillet in mushroom sauce and sucked it up. She's usually not a steak person, but she did back flips for her dinner.

I had a fillet in a peppercorn sauce and thought it was just average. I thought that they gave too few potatoes and it could have used a vegetable.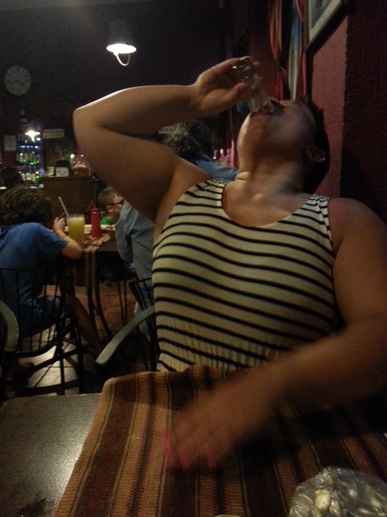 After dinner our waiter brought us complementary shots of tequila. Libby is not a drinker. Alcohol makes her turn flaming red and embarrasses her very much. I was shocked when she popped her shot, licked the salt off of her wrist and squeezed a lime down her throat.

Katie took hers in two gulps. I am more of a sipper. I wasn't going to drink it at all because I had a Margarita at the pool and wine with dinner, but what the hell. I wasn't driving and my daughters were showing me up.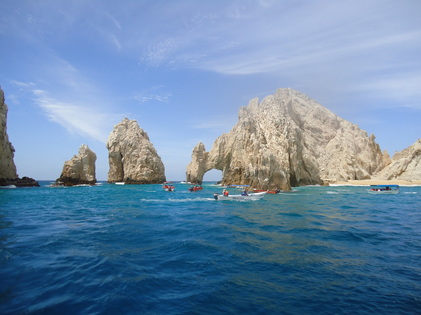 Wednesday was a highlight, but still a disappointment. One of the "activities" salesmen on the marina dock sold us a snorkeling cruise on the EcoBaja catamaran. He told us that they had kayaks on board and do a barbeque after the snorkeling.

"What do they serve?" I asked. "Hot dogs?"

"On no," he replied. "They do BBQ ribs and potato salad and stuff."

He was lying in his teeth.

The trip started out fine. We cruised by Los Arcos on an overcrowded boat and got some great pictures.

The salesman said "There will only be 30 to 50 people on the boat. They have room for over a hundred, but never fill it more than half full so you have lots of room to move around."

Once again, he was lying. There must have been more than a hundred people on the boat.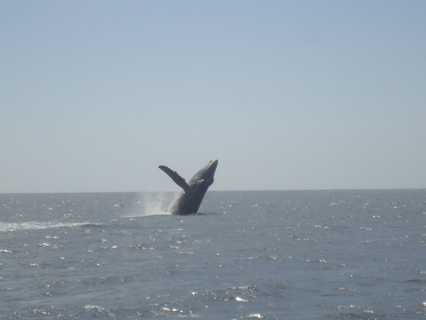 On the way to Chileana Bay to go snorkeling, we saw a humpback whale. He put on a dazzling display of jumping, flapping his fins and pounding his tail. We got some of the best whale pictures I've ever taken.

Katie was just complaining that she had never seen a whale, when I saw him jump.

"Whale ho!" I shouted and pointed at the expanding ring of white water. The whale must have been two miles off, but the captain immediately changed course and headed for Jumbo.

For at least half an hour, he jumped and cavorted as we got ever closer. Finally, we were maybe twenty yards away while he frolicked in the sea.

Then we got to the reef at Chileana Bay and the disappointment began. The wind and current were so strong that the captain couldn't get the boat close enough to the reef for us to go snorkeling. Most of the passengers put on their snorkeling gear and went over the stern, but I don't think anyone got even close to the reef.

This was a severe disappointment. I realize that the company can't control the weather, but I think that they should have warned us beforehand and given us the option to come back on another day. But they have to make their bucks.

Then came lunch. The famous BBQ. It was dried up hamburgers on cold buns, tasteless potato salad and insipid spaghetti. Not an inspiring meal and definitely not something that would make me want to come back.

When we got back to the dock, I talked to the owner about it. To his credit, he gave us a voucher for another trip to make up for my discontent. Libby still wasn't satisfied. She wanted our money back and a pound of flesh.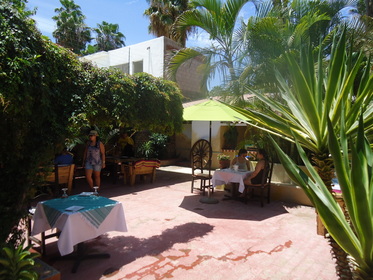 For dinner we went to a seafood restaurant that Katie found on-line. Las Mariscadas was highly rated in Trip Adviser.

Katie had a lobster burrito with chipotle mayonnaise dressing which she liked. I decided to be adventurous and was very disappointed. Instead of ordering something with which I was familiar, I went with blackened filet of fish. I don't remember what kind of fish it was, but it was soft and tasteless.

I will say that when the waiter picked up the plates he asked me why I didn't eat my meal. When I explained that I didn't like it, he took it off the bill. I told him he really didn't have to, I made the decision to order it, but he was insistent.

Libby was the big winner. She ordered camarones al mojo de ajo (prawns in garlic) and they were great. Not only did they look fabulous and taste awesome, she had more than she could possible eat. Katie and I gladly took a prawn or two off of her hands.

Thursday was our last day together. The girls had to catch their flight back to the States at 2:50 pm. We got up, wandered down to a coffee shop for coffee and a pastry, then headed into San Jose del Cabo where the airport is.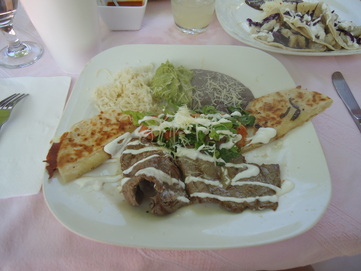 I was really impressed with San Jose. Dawn had been there with her mother last fall and gave good reviews. I like it so much I've decided that we have to go stay a few days and explore the town.

It has that "Old Mexico" feel. The buildings are all Spanish Colonial, the zocalo (town square) is gorgeous with a magnificent cathedral on one side and the government palace on the other. Of course, it's a tourist town and everything is geared towards separating the gringos from their dollars, but the sheer beauty and location won me over.

We shopped until I dropped. Libby has an insatiable urge to shop. If the vendor won't meet her price, she just turns and walks out. It's amazing how often this works. Often the vendor chases her out into the street and accepts her offer.

In this particular case, she was looking for a silver necklace. We must have hit a dozen (no, maybe twenty) silver shops. I finally gave up and found a park bench in the zocalo while Katie and Libby trudged on.

We had a great lunch in a beautiful restaurant whose name escapes me. It was just off the zocalo and we entered through a long hallway, then down a staircase into an outdoor garden. The food was good and the atmosphere exceptional. All that was missing were a few chickens roaming around in the garden.

Unfortunately, it all came to an end too soon. Before we knew it, it was time to head for the airport. I dropped the girls off, dried my eyes and headed back to La Paz.
I've managed to get all the way through this narrative without mentioning my new book. For those of you who haven't read The Inside Passage yet, you can buy it at Amazon.com by clicking here.