I know that I promised to tell you about the La Paz Founder's Fiesta, but this is too big to wait. I'll catch you up on La Paz goings on next week.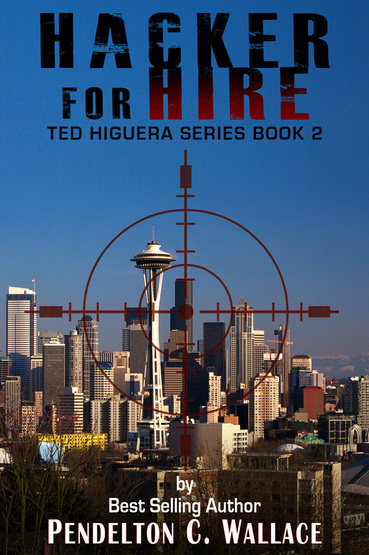 It's here!

I published Hacker for Hire yesterday. It is now available on Amazon.com. Click here to go to Amazon.com.

Hacker for Hire takes Ted and Chris into the high-tech world of corporate greed and industrial espionage. Be the first kid on your block to read the sequel to The Inside Passage. I think that Hacker for Hire is even better than The Inside Passage because we see Ted in his natural habitat.

You are my friends and the first to hear this announcement. I'm hoping you'll buy the book, but even more, I hope you'll write a review for me. Reviews are the lifeblood for unknown authors.

When a potential reader views a book on Amazon.com, the first thing they do is to read the reviews. What do other people think of this book? I do it myself. If the book doesn't have good reviews, I usually don't buy it.

I implore you to read and review Hacker for Hire. That is, if you like it. If you don't like it, then forget the whole review thing.

But wait, that's not all. I'm hard at work on Book 3 of the Ted Higuera series. I had to hurry and polish the first chapter so I could add it as a tease at the end of Hacker for Hire. I also had to name the book. So here it is, the first reveal of the name of the new Ted Higuera novel:

The Mexican Connection.

How's that grab ya?

If you are of my (somewhat aged) generation, hopefully it will invoke images of the movie The French Connection starring Gene Hackman. That was a movie about drug smuggling that took Popeye Doyle, the film's protagonist, to France to catch the bad guys.

Well, The Mexican Connection, takes Ted and Chris into the middle of Mexico's drug wars. When Ted's little brother disappears in Cuidad Juarez, the boys must journey to Mexico to find him. They are mistaken for DEA agents and all hell breaks loose.

Of course, if your are of a somewhat younger generation, you may never have heard of The French Connection. I'm sorry, you missed out on a classic (if somewhat dated) flick. Rent it today. In the meantime, hopefully, The Mexican Connection will still invoke images of Mexico's drug wars.

I'm working hard on this novel every day. I've completed the outline and the first two chapters so far. I expect to have it finished and available by Christmas. Stay tuned for further updates . . .

I also have another treat coming down the aisle for you. In Hacker for Hire we are introduced to a new character. Catrina Flaherty is a beautiful female PI who saves Ted's life. Ted goes to work for her and the adventure begins.

If you like strong female characters, you'll love Cat. And to help you understand what makes her tick, I have a short story, Mirror Image, which will be published in August.

The Mirror Image involves one of Cat's early cases. A big city police chief batters and terrorizes his wife. Only Catrina can save her.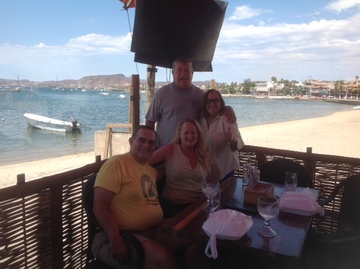 And now, one other little bit about the writer's life. I have groupies!

You heard me right. I received an email from a couple I had never heard of before. They own a B&B near Abreojos, where one of our life-changing adventures took place. They have been reading my blog and were in La Paz, so they wanted to meet me.

Dawn and I met them at Stella's Restaurant for lunch. Les and Blanca turned out to be a delightful couple. He is originally Polish, but grew up in the UK, then moved to San Diego for forty years. Blanca is Brazilian from Rio de Janeiro. They actually dug my writing. It was totally cool, telling them our stories and learning about theirs.

I could really dig this groupie thing.

That brings me to the end of this week's blog post. Thank you for reading. I promise that next week I'll get back to the La Paz story. And Odin is thinking he needs to write another post.

We're living in a lovely Mexican villa for the summer to escape the heat. Odin thinks he needs to tell you about living in a house vs. living on a boat. We'll see how he does with that story.