It's my birthday; I can party if I wanna.

Wow! Sixty-three. I can't believe I made it here. For years I've been telling people that I'm thirty-nine (with a nod to Jack Benny). My wife, Connie, use to say "You should claim your years. You look awful for thirty-nine, but really good for ____" (Fill in the blank.)

I woke up with the usual aches and pains. For some reason, my back decided to bother me today. My philosophy is that we were never designed to live this long. In the era when we evolved, we would have been eaten by a cave bear or a saber-tooth tiger long before now. So, it makes sense, that we start falling apart at this advanced age. In the caveman era, we really served no purpose and were a drag on the clan. Too old to hunt, we consumed what food the hunters brought in. We had only our gathered wisdom and stories to contribute.

Hmmm . . . I don't know about the wisdom, but I'll keep contributing stories.

So this is my twenty-fourth annual thirty-ninth birthday. And Dawn is throwing me a party.

It also happens to be my friend Ulla's birthday so we've combined parties. Together we're celebrating our one hundred thirty-seventh birthday. Dawn has the villa decorated in Mexican colors.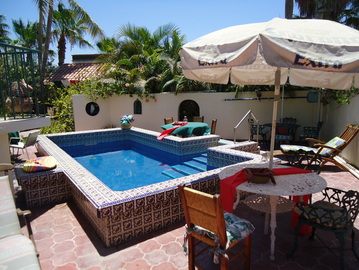 The tables are all clothed in green with red stripes down the center. She has a large cloth with three Mexican flags on it hung to block off the driveway and back of the property. She's set up the BBQ area with the grill, a green clothed table and ice chest. Opposite the BBQ table is the side dish table.

All of this is oriented around the pool. There are four round tables surrounding the pool and she has set out a bunch of beach towels for any guests who want to take a plunge. I told everyone to bring a bathing suit in the invitation; we'll see how many people comply.

Then, of course, there's the food. We expect a couple of dozen guests, so we had to prepare plenty. The main feature is "Penn's Taco Bar." I've marinated chicken in adobado sauce and beef for carne asada and prawns in my patented Margarita marinade. We'll put out a basket of hot tortillas, chopped cabbage, chopped cilantro, roasted onions, marinaded cucumber slices, grilled chiles, radishes and red and green salsa. Each table will have a bowl of guacamole and chips. It should be a blast.

We've asked our guests to bring side dishes. I expect everything from frijoles and arroz to fruit and vegetable trays.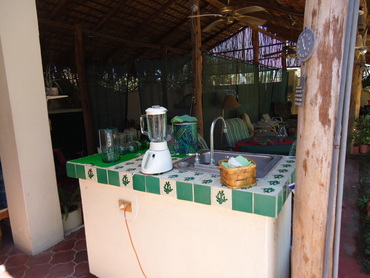 Since Mary Lou and her husband were Irish and Democrats, they have a tiled outdoor bar. It's set up with glasses, ice bucket, beer, soft drinks and pitchers of Margaritas. Something for everyone.

Dawn is still dashing around getting the grounds ready while I write. Even now, she is putting the finishing touches on her "bandidos." She found some small straw sombreros that she placed on top of some cactus. She's given her "bandidos" eyes, serapes and arms. It is soooo cute.

Since we have invited a lot of people that don't know each other, I've prepared an ice breaker. As each guest arrives, I will ask them to fill out a name tag. Along with their name, I want them to put the name of some place that they haven't yet visited, but would like to. Mine will be the Galapagos Islands.

We're still five hours away from the party and I promised you to tell you about the dance fiesta we attended, so I better catch you up.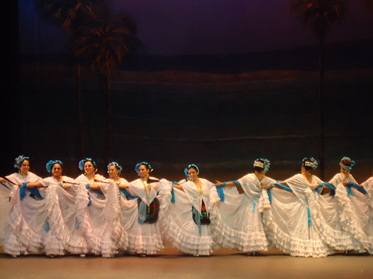 The local technical school has a dance program (you'll have to explain that one to me, but what the heck, ees Mejico."). As part of the Founder's Day Fiesta, the school put on a ballet folklorico. Their theme was Mexican Weddings.

The performance was held in the Teatro Cuidad, the City Theater. The State of Baja California del Sur built the facility for the city. It is a lovely theater which holds around a thousand people and has a great stage, art gallery and park-like grounds. This is where we saw the Dia de los Muertos (Day of the Dead) celebration last fall, a truly beautiful venue for any theatrical event.

I wish they had prepared a program. The dancers whirled and twirled to music, showing us wedding dances from all the different regions of Mexico, but we didn't have a clue where they were from.

We talked to one woman at intermission who told us the last dance was from Veracruz. She was born in Veracruz and recognized it.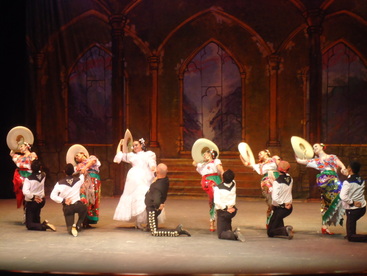 I recognized the Jarrabe Tapatio (The Mexican Hat Dance for your gringos out there) from Jailisco because Mama taught me how to dance it when I was about twelve years old. We were going to a Christmas party at one of her friend's house. Her friend was from Argentina and said that everyone was going to have to do a dance from their home country.

Papa wouldn't dance, so Mama made me her partner. I remember spending hours practicing the dance, but I don't remember if we had to do it at the party or not. Mama is a very shy person and would not have wanted to perform, but she loved music and dancing. Mama, do you remember this? Did we actually do the dance at the party?

Anyway, the troop did a masterful job. There were dancers of all different abilities from beginning dance classes to a professional troop that is preparing for a tour of Mexico. They even brought back alumnus who had been in the classes in years past.

This was the director's fortieth anniversary with the school, so it was a big celebration. The costumes were amazing, a blur of colors and movement. Someone spend hundreds of hours sewing. The music fun. A small band came on stage for part of the performance.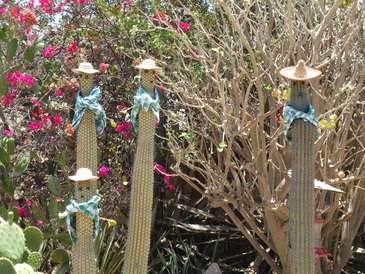 Dawn has made a new friend here in La Paz. She met Shari when walking Odin on the Malecon. It turns out that Shari has a seven month old Dane.

Shari came up to us before the performance and re-introduced herself to Dawn. Her daughter, Sabrina, was performing as part of the professional troop. Sabrina is a beautiful, tall red head, the only red head in the troop and the tallest person on stage. She did a wonderful job, but she stood out in all the performances she was in because she looked so different from the Mexican girls.

In one dance, Sabrina played the bride and that really worked, because her height draws the eye's attention to her.

Shari and Nicky, her husband, own a resort hotel up the coast a few miles from La Paz. Nicky inherited the property from his father who founded it in 1953. Nicky has spent his whole life in Mexico. Shari has been here the thirty years they have been married. Sabrina was born here and is as Mexican as she is American. I wish I had her command of the Spanish language.

Dawn has been helping Shari and Sabrina train their puppy, Toku. At seven months old, he is almost as tall as Odin, but very gangly. His paws and legs are bigger than Odin's, so we think he will be a big dog. He has had no training to this point and Dawn feels that he must be trained now. You can't have an untrained two hundred pound dog running around your house, much less taking him out in public.

They have had several sessions so far. Dawn is training Shari and Sabrina. She's merely encouraging Toku to follow their commands.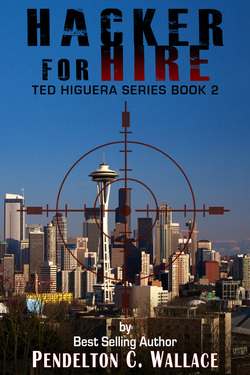 I made it all the way to the end of this post without any shameless self promotion, but you're not off the hook yet. I published Hacker for Hire last week. If you haven't bought your copy yet, click here.

I really need your reviews. So far, no one has written a review. Please, as soon as you finish the book, crank out a review for me.

One of the things that make reviews so important is promotions. There are several Websites that promote indie books. However, most of them require either ten or eighteen reviews before they will run a promotion for you.

If I am to ever make a serious run at selling these books, I need that kind of promotion. So PLEASE, write me a review. If you have read The Inside Passage and haven't posted your review yet, do it today. If you've read Hacker for Hire, get right on it. If you haven't read either one yet, shame on you. Download them today. To see all of my books, click here.

Think of it as a birthday present to me. What I really want for my birthday this year is reviews.

Have a good week. I'll have some exciting news for you next week. Stay tuned . . .