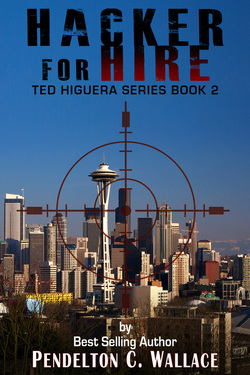 I have a big announcement to make today.

This was originally supposed to be my birthday present to you, but due to technical reasons, I had to postpone it for six days. BUT, for the next four days, you can download your copy of Hacker for Hire for FREE.

Click here to download.

Hacker for Hire is a morality tale about the conflict between money and ethics. It deals with corporate greed and industrial espionage. This time Ted and Chris get sucked into the battle when the CEO of a major computer corporation goes to war with the Chairman of the Board.

I'm also introducing an exciting new character to the cast. Catrina Flaherty is a former Port of Seattle Police officer turned PI. She specializes in women's issues such as divorce cases, abuse and sexual harassment, but when the female CEO of Millennium Systems asks her for help, Cat can't refuse. Women love her character.

That's right, I said you could get your copy of Hacker for Hire for FREE. Well, not totally. Yes, you can download the book without charge, but in exchange for a free book, I ask that you write me a review.

I've explained before how important reviews are to independent authors. They are the lifeblood of the industry. Most promotional websites won't even look at your book if it doesn't have between ten and eighteen reviews. Customers judge whether or not they will by a book by the reviews that other readers have posted.

So, when you finish reading Hacker for Hire, I implore you, go to Amazon.com or Goodreads.com and post a review. As always, that is if you liked the book. Mama always used to tell me "If you can't say something nice, don't say anything at all."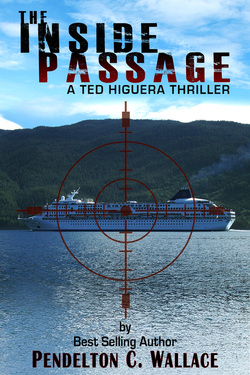 If you haven't read The Inside Passage yet, you might want to read it before Hacker for Hire. While Hacker for Hire is a standalone book, The Inside Passage takes place immediately before Hacker for Hire and you will understand Ted and Chris a lot better if you read it first.

Click here to get your copy of The Inside Passage.

So, what else is going on in my writing world? Well, I'm about half way through the first draft of The Mexican Connection. This time our heroes are sucked into the drug wars south of the border. There's a lot of Mexican color and flavor and tons of action, so stay glued to my Web page for further announcements.

But here's a big announcement for you Catrina Flaherty fans. Cat is the female PI that hires Ted in Hacker for Hire and I guarantee you that you will be seeing more of her. Women seem to love her character. She is strong, yet vulnerable too.

Catrina will be appearing in a story of her own this summer. Mirror Image is a short story (about thirty-six pages long) about what happens when Cat comes to the aid of the abused wife of a big-city police chief. Who do you turn to when your abuser is the Law?

This exciting story with a shocking ending is based on a true story. You won't believe it. Once again, it's a case of the truth being stranger than fiction. I couldn't make this stuff up.

We're working on the cover now. Look for Mirror Image's release around August.

I hope this sets you up for a summer of good reading. Enjoy yourselves and don't work too hard. This is supposed to be the fun part of your life.