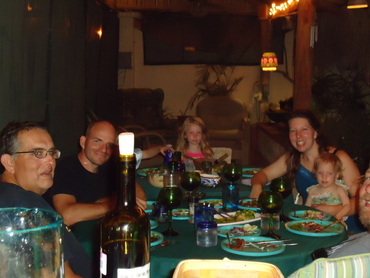 Time flies on the wings of thought and drags like a wheel in the mud.

As I told you last time, we had a bearing on the Victory's drive shaft burn out. I can't tell you how distressing this was, on the eve of our big adventure taking the boat back to San Diego. However, I didn't have time to mope around about it. We had to get it fixed and we needed it fixed right now.

I was really lucky that KC is here to help me take the boat north. He is a great mechanic. I would not have tackled this job by myself.

Friday we took the day off to take Jim and Susan to the airport in Cabo. We spent Saturday cleaning the bilge and prepping the area so that we can work.

On Sunday KC and family went to church with our friend Milton and I went to work on tearing the drive shaft apart. There are couplings that look like big donuts on each end of the shaft that have been sitting, rusting in the bilge for years. On Saturday, we soaked them in penetrating oil. While KC was at church, I went down and got the bolts loose. I didn't want to take the whole thing apart because I wanted KC to see how it went together.

Monday started with taking the couplings loose. Milton came down to join us and offer his not inconsiderable expertise. Once the couplings were disassembled, we had to take the flanges off the ends of the drive shaft so we could slide the bearings loose.

Naturally, nothing comes easy. The flanges wouldn't budge. I felt like I was living in an episode of Home Improvement. Every time something didn't work, Milton or KC would say "moooore power," and we'd make a run back to Milton's shop for a bigger sledge hammer, a grinder or some other power tool. Finally, they decided that the only way to get the flanges loose was with an oxy-acetylene torch.

Huh? You mean light one of those bad boys up inside my boat? I didn't want to be anywhere near by when they did. Maybe they'd burn it to the water and relieve me of my pain.

I had to make a run to the store for parts. When I returned, the smoke alarm was blaring and I could smell the torch from the dock.

"You're not supposed to be back so soon," Milton said.

They heated the flange until it was cherry red, then doused it with cold water and popped it off. Unfortunately, there was a snapping sound when they poured the water on. Oops! We cracked the spacer.

Finding this part in La Paz will be next to impossible.

OK, the flange was off, but we still couldn't get the bearings off. We had to remove the entire drive shaft from the boat.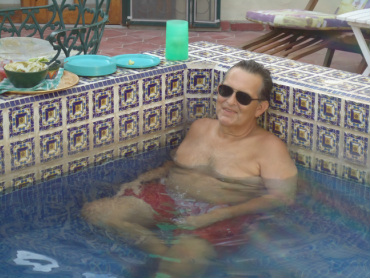 We undid all of the brackets, took apart the front coupling and it wouldn't come free.

"Do you have a saw?" KC asked.

He had to cut a piece of bulkhead out to get the drive shaft free.

I just held my head and worried.

I had visions of getting hit hard on the beam by a rogue wave and the boat folding up like an accordion. Oh well, c'est la vie.

Finally, the shaft was free.

"Let's take it to my shop and clean it up," Milton said.

Once again, I felt like I was living with Tim the Tool Man Taylor.

At Milton's shop "we" decided that the shaft really had to go to a machine shop. They would clean it and true up the shaft.

While I ran back to the boat for parts, KC took the flange off the other end and started buffing up the rusted steel parts.

Somewhere in all this mess, Mandy and the girls needed to go to the airport in Cabo and we needed to pick up Sam.

Sam is my brother-in-law, Connie's sister Marti's husband. Marti and Sam have been our sailing buddies for years. After all the abuse that Sam has endured sailing with me over the years, he keeps coming back. I think that there's something wrong with that boy.

Anyway, Sam is here to help KC and me deliver the Victory to San Diego. It isn't the first time that he's gone on a sailing adventure with me where we end up covered in dirt, grease and sweat as we lay up somewhere and repaired the boat.

Welcome to La Paz, Sam. We put him right to work. Did I mention that Sam is also an excellent mechanic?

Milton worked his magic at the machine shop and returned with a looking-like-new drive shaft. The spacer that cracked was a little more difficult story. They had to weld it up and then re-machine it. That would take more time.

By now it's Tuesday and all hope of setting sail on Thursday is gone. The good news though, is that neither Sam nor KC need to be back in the States anytime soon. So we trudge on.

KC and Milton got the bearings on the shaft and the shaft back in place while Sam and I scoured La Paz for parts. The following day, Milton picked up the spacer from the machine shop and we (actually KC) put the couplings back together.

Viola! We are back in business. The drive shaft is re-assembled and the propeller turns. The cost for this major project: $150 for the bearings and about $100 for the machine shop work.

I know that if I had hired one of the boat repair services here in La Paz to fix it for me it would have cost $5000. Thank you Milton, KC and Sam.

Today we will finish up a couple of little projects and start cleaning up. Tomorrow I intend to take the Victory out for a sea trial. If all goes well, we could be ready to leave by Wednesday, only a week behind schedule.

I would be remiss if I didn't mention Dawn's participation in getting the Victory ready to sail. I've mentioned before that she can't go with us. Her back injury makes it too dangerous for her to be off-shore on a small boat.

However, she can get the galley and pantry ready for a hungry crew. She has spend the week cooking, shopping and provisioning. In hundred degree weather she was baking cookies, making lasagna and casseroles. The kitchen was an inferno.

Everyday we dragged home in the evening, dead to the world. A no less dead Dawn would have a pitcher of Margaritas and happy hour snacks for us, then, after the requisite dip in the pool, she provided dinner for up to eight people.

This was a truly Herculean effort. Thank you Dawn. We will appreciate every bite as we sail up the coast. I will miss you on this trip.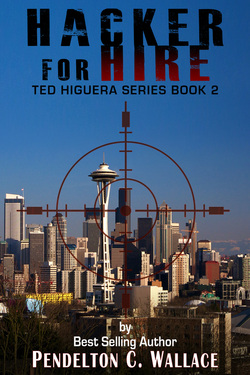 Now, turning to other matters, I got a review for Hacker for Hire that really bothered me. It was a three-star review, so it wasn't bad, but it wasn't good either. The woman who wrote the review said "I did not like the constant comment on breast size and legs."

This really bothered me. Was I wrong? Should I not be emphasizing the sex so much in these books? I thought long and hard on it and came to this conclusion: The reviewer is probably not part of my target audience. I do believe that a couple of twenty-something young men think about sex all the time. (I can't say this from personal experience, you understand, but I've read about it.) When they meet a woman, they notice her physical appearance first, including breast size and legs.

The books are written from Ted's point of view. If I were to de-emphasize women's physical appearance I believe that I would not be true to Ted's character. Some readers may not like the way he thinks, but that's who he is. No one is perfect, least of all Ted. If some women don't like how his mind works, I just have to apologize and say, "He is a twenty-three year old male. What do you expect?"

I have introduced a new character to the series that women will like. Catrina Flaherty is a strong female PI who kicks ass. My female beta readers love her.

What can I say? Something for everyone.
Speaking of Cat, I have a Catrina Flaherty short story that I will release in July. Here is your exclusive first peek at Mirror Image's cover.

This story is a standalone story, but it gives readers a lot of insight into Cat's character. It is based on a horrifying true story. I couldn't make this stuff up.

Cat comes to the rescue of a battered wife whose husband just happens to be the chief of police. What do you do when your abuser is The Law? You call Cat Flaherty.

There is lots of action, a little sex and an emotional roller coaster. If you don't remember the real-life event, I think you will be shocked by the ending. If you do remember it, then it should tug at your heart strings.

This will be my last post from La Paz for a while. We will begin our epic journey up the coast this week and I'll be out of Internet and cell phone range for most of two weeks. I should have lots of good stories to tell you when we get to San Diego, so stay tuned.