Dolphin Video - This is kind of long. Make sure you have at least 4 minutes to watch before hitting the start arrow.
First of all, I have to take care of some business.

If you've read Hacker for Hire and are a Catrina Flaherty fan, you're going to love this. I just published a Cat Flaherty short story. Down load your copy today from Amazon.com.
This story takes place before Hacker for Hire and before Cat meets Ted. But it's taken from a true-life story that is too horrible to believe.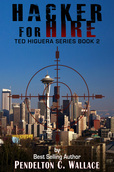 Tomorrow is the start of my Magical Mystery Bog Tour.

For the next four months I will be making a series of guest blog appearances and interviews. Here's my schedule for the first few days:

17th July – Book Feature at Mommy Adventures
18th July – Twitter View with OB Book Tours
19th July – Twitter Blast with OB Book Tours
22nd July – Author Interview 1 at Page Turning Books

Be sure to go to these sites and check it all out.

Download your copy today from Amazon.com.

Now, on with our story.

Monday, June 30th, 2014 - Day 5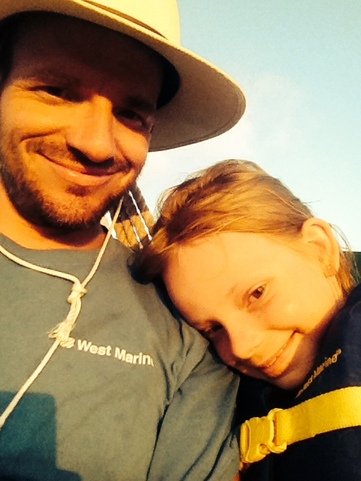 Today has been an uneventful day, just the kind you hope for when you are cruising. We started the day with a nice breeze. KC had the stays'l up before I got on deck this morning. There was a 15 knot wind, so I decided to raise the jib. Why not sail when there's wind?

Of course, the wind was coming from where we wanted to go, so we had to tack back and forth. It doubles the distance we need to cover, but it's a lot more fun.

All of the systems are working well. We make a thorough engine check and bilge check at the beginning of each watch. Nothing to complain about.

We've seen dolphin today and had an albatross do a fly by. Early this morning Vienne and I saw an oil tanker pass several miles astern of us. It was heading west. Where could it have been going?

We had a power boat to starboard that KC tried to hail on the radio. They didn't answer. A short while ago, we spied a sailboat on a parallel course and tried to hail it. Doesn't anyone listen to their radios?

Tropical storm Douglass is brewing to the south of us. It should not cause us any problems, but I'm still a little worried. We are crossing the big bight between Magdalena Bay and Turtle Bay. Rather than hugging the shoreline (there aren't any good anchorages there anyway) we are crossing from point to point. Our course takes us well off shore. We are out of sight of land. The crossing will take two days.

If Douglass does not behave himself and stay to the south and west, we could be in for it. I have every confidence in the weather services, but I still see the clouds developing to the south and worry a little.

We just stopped to do an engine check. We shut the engine down for the first time since Cabo and checked oil, etc. While we were lying to, we were amazed at how clear the water is. It is deep blue and we could see the day light penetrating far below the surface. I would guess that we could see forty or fifty feet down.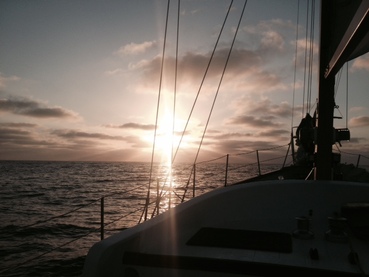 Late in the afternoon a pod of dolphin arrived. They were working a school of fish and dozens of dolphin swarmed the surface. They came from all directions. As we cruised along, we stumbled into their school. We were surrounded by dolphin. The water was so clear that we could see them well below the surface.

On the surface, the dolphin appeared to be dark gray on top with lighter gray sides. Underwater, their sides looked like glowing green neon. They swam alongside the Victory, then leapt from the water to draw a breath before submerging again.

What fun! Vienne absolutely loved the dolphin.

It is now 12:30 am. I just got off of my night watch. I hate night watches. The world is black. OK, there is a canopy of stars above, but the black sea merges with the black sky, We are totally alone, far out in the Pacific Ocean. No other vessels in sight, no land. I feel like an infinitesimal speck in the universe.

Sam has been having problems with sea sickness. He feels all right on deck, but when he goes below, he gets sick. Tonight, he decided to stay on deck after dinner. It was great for me. I had company to help pass the long watch. We chatted about a thousand things. Then he got one of the mats out and sacked out on the aft cabin roof.

I continued my watch alone. At first I read my Kindle. It ruins the night vision. I stop after each paragraph, put the Kindle to my chest to hide the light and let my eyes re-adjust to the dark. Then I do a quick inspection of the boat and the sea around us. No other boats, so I can read the next paragraph.

Unfortunately, it was almost discharged so I couldn't read long. After I put it down, I sang. There's no one to hear me so I can go through my entire repertoire. I know enough songs to fill about an hour. That left one hour of my watch to fill.

It is surprisingly cold. I wore long underwear tonight. Last night with just jeans, my knees were killing me by the end of my watch. It was better tonight. My knees don't hurt, but they don't work either. I have a hard time climbing down the companionway ladder or going up and down the steps in the cabin. I gotta get them fixed.

Now, I am warmed up. I have had a quick snack, left over orange chicken and rice, and I'm going to bed. We have completed five days of our journey. We should hit the halfway point late tomorrow morning. We will probably be back in San Diego by Sunday, one day after our reservations for flights home.

Tuesday, July 1st, 2014 - Day 6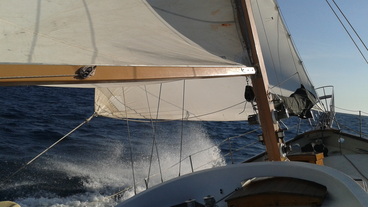 Not much to report on today. We continue to cruise across the southern bight in Baja. Tomorrow we should make Turtle Bay.

We decided not to stop at Magdalena Bay. We were well off-shore and I didn't want to run in, then have to run back out again. It would cost us a full day. So, we continued on our course.

I thought I'd talk a little about night watches since there was nothing special going on.

I have the 8 to 12 watch. Not bad in the morning. I get up, make coffee and take a cup to KC up on deck. We have a cuppa together and watch the day begin, then I do my pre-watch checks and take the deck.

At night it's different. I make dinner and we eat on deck between 7 and 7:30. After dinner, I do my checks and take the deck. It is cooling down, so the rest of the crew disappears below.

The first hour is easy. I watch the sun set and get the boat ready for the night. I turn on the running lights and check that everything is working. I do a tour around the deck to make sure that nothing is out of place that might trip someone in the dark. Then I clean the cockpit up and get ready for a long night at sea.

The sun goes down around 8:30. I change the lighting on the instruments for night running. By 9 it is totally dark.

I watch the stars, sing a little, then get out my Kindle. Reading sure helps pass the time.

I am overjoyed when 10 pm rolls around. I am at the halfway point in my watch. I leave the deck and go below after checking for other vessel's lights. I plot our position on the chart and note our progress. If we had serious navigation mistakes, this is where they would show up.

I lolly gag below for a few minutes, warming up, then I grab a chocolate chip cookie and go back on deck. It is getting cold. Tonight Sam brought a blanket on deck with him when he relieved me. What a good idea. We used to do this when we were coming down the coast from Seattle. Wrap the blanket around your knees to keep them warm.

This is sub-tropical Mexico folks, why is it so cold at night?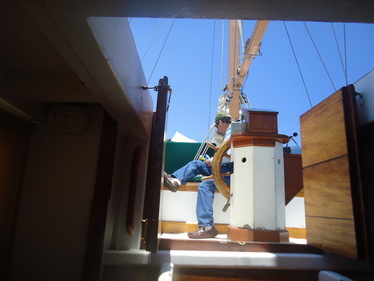 Time passes slowly. I read some more. I start singing. A few rounds of "Barnacle Bill the Sailor" will usually warm me up.

I get very stiff, sitting behind the wheel. I get up and move around. My joints are stiff, I have to work them out a little to be able to move. Whose idea was this trip anyway?

Time passes even more slowly. I check my watch with a flash light. Only fifteen minutes have passed. Damn! I ponder the fate of the world. I think about my writing. What kind of trouble can I get my heroes into?

It's now 11:30. I can do the last half hour of my watch standing on my head. (Can you tell I've watched too much Sopranos?).

The minutes drag on. Where is Sam? Surely he should be doing his pre-watch checks by now. Is he even awake? Should I go down and rouse him?

No, I better wait. It would show a lack of confidence if I went looking for him. He's a big boy. He'll do what he has to.

Sure enough, it's midnight and Sam appears in the companionway. We chat for a few minutes. Everything is OK on his checks, nothing is going on on deck.

Finally, I turn the deck over to him and I'm free. I go below and warm a snack. I'm cold, hungry and tired.

I'll eat my snack and crawl into bed. Then I'll try to sleep while the boat is jostling around. It's a little like trying to sleep in a cement mixer.

Then the day is done.

For me. Sam is at the start of his watch and poor KC has the 4 am to 8 am watch.