The Beautiful Metropolis of Turtle Bay

Wednesday, July 2nd, 2014 - Day 7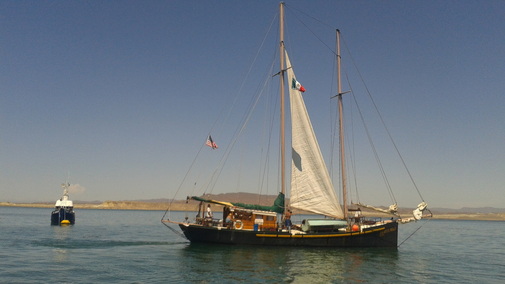 We've been at sea a week. The good news is that we are well over half way there. Today we will make Turtle Bay.

KC and I have been debating whether we should stop or not. Turtle Bay is probably the best anchorage on the Pacific Coast of Baja, but it is a festering sore of a town.

They used to be a prosperous fishing village, but the fish processing plant closed down. Now it is a dying town. Their only source of revenue is visiting yatistas. And man, do they try to get every centavo they can.

Pedro, the one-armed guard on the dock (or should I say the one-armed bandido?), asks for a tip to watch your dinghy. I have heard that if you refuse to tip him, your dinghy just might come untied and drift away.

The dock itself is a death-trap. A long narrow float rocks back and forth, threatening to dump you in the putrid water. A steel staircase is a short four-foot leap from the dock, but the bottom two steps are rusted out and it doesn't have a hand-rail. At the top of the staircase is a rotting pier covered in bird poop. A not at all inviting way to come ashore.

The town is ugly. Butt ugly. It is built on dirt. There are no paved roads, no lawns, no flowers. I see no reason to stop there.

Most sailboats need to stop for fuel. Sailboats don't carry a lot of fuel because they are supposed to sail. However, the Victory was designed to cross oceans. We have 300 gallons of fuel aboard. We can motor to San Francisco, maybe Portland without filling our tanks.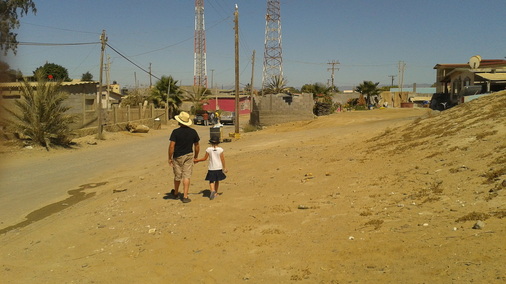 So, we don't need to stop at Turtle Bay. However, I really want to anchor and have a quiet night and a good sleep.

KC is pushing for going on to Cedros Island, about twenty or thirty miles north of Turtle Bay and stopping for the night.

We got to Turtle Bay around 2 pm. I decided that we had had enough. We went in and dropped the hook. I didn't want to sail on for another four or five hours. I was tired and so was the crew.

Vienne wanted to go ashore. Sam thought he'd like to see the town too. We dropped the dinghy in the water and put the outboard on her. Then KC, Sam and Vienne went into town.

I stayed on the boat and cleaned and organized. I also put a ham in the oven for dinner.

Wonder of wonders, we had cell phone connections. All of my texts to Dawn were sent out. Sam called Marti, I called Dawn. We got weather reports and canceled our airline reservations. The wonders of modern technology.

I just forgot it was the first of the month. I should have paid bills before we left.

We had a wonderful ham dinner, then retired to our neutral corners for the night.
Thursday, July 3rd, 2014 - Day 8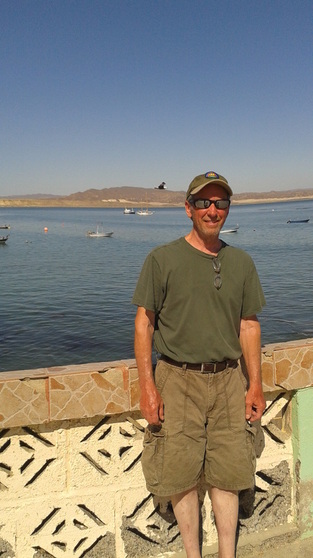 I talked to Dawn this morning. Tomorrow is the 4th of July. Unfortunately, we will spend it in International Waters off the coast of Mexico. I had hoped to be in San Diego by now.

We left Turtle Bay at 8 am. We motored out of the bay, then KC and I set the main. It was my watch so everyone else went below. A little later Sam came on deck. The wind was beginning to stir so we set the stays'l.

In about an hour, I raised the jib. We were flying along at around six knots. We have to sail west for about twenty five miles to clear Isla Natividad and Isla Cedros. I want to pass west of them so that we can have unrestricted access to whatever wind there is.

And the wind is quite nice thank you. As I write this, we are bowling along at about 7 knots with all four sails flying. We're holding our course. In about two hours we will tack and head north.

Did you hear that? NORTH! That's the direction we've wanted to go since we left La Paz. We are finally almost clear of all the capes, islands, headlands, etc so that we can sail north to the USA.

We are about 300 miles south of Point Loma right now. That means we should be able to get to San Diego by Sunday. I'm really hoping.

This has been an adventure, but we're all ready to be home.

Dawn told me the weather report was for 13 knot winds today, then light wind and smooth sea for the rest of the week. The wind has held steady at 13 knots all day today.

On my night watch, we negotiated the channel between Isla Natividad and Cedros Island. The wind was right on our nose, as is to be expected, so we had to tack back and forth.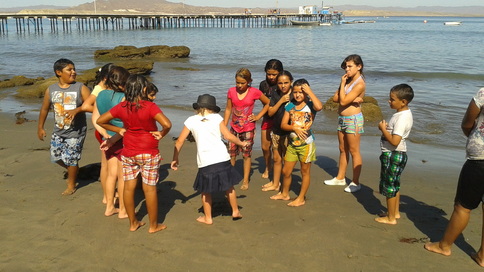 A big power boat passed us in the night. At first I saw a light on the horizon to the south, then as my watched progressed, they pulled up even with us, then disappeared over the horizon to the north. I hate them. I am so jealous of their speed. Of course, I wouldn't want to pay their fuel bill.

Speaking of fuel . . .

I settled into bed, but wasn't asleep yet when the engine stopped. I jumped from bed and ran forward to see what happened. Sam met me in the galley.

"What's going on?" I asked.

"Nothing. I mean, I didn't do anything. The engine just stopped."

KC was up and running for the tool chest.

"Hold on," says I. "Let's check the fuel."

Sure enough, the port tank was empty and the fuel filter was black with yuck. KC crawled down into the engine room and changed tanks and filters, then the engine started right up and ran like a champ.

We carry 300 gallons of fuel. The port tank was empty and the starboard tank was down about 1/8th. That means we have about 100 gallons of fuel left. We have about 235 miles left to go. At 4 knots that's 58.75 hours. We're burning about a gallon an hour, so we'll have about 40 gallons left in the tank when we get to San Diego. That sounds like a safe margin to me.

I'll check the fuel gauge when we get close to Ensenada, the next available fuel stop, to see if I still think we'll make it, but I'm pretty sure we won't have to stop.

Anyway, in less than fifteen minutes we were up and running and on our way again. Then I couldn't get to sleep. What a long night.