The Victory Beats to Windward

This video will give you a small taste of what it is like to be sailing on the open ocean.

Friday, July 4th, 2014 - Day 9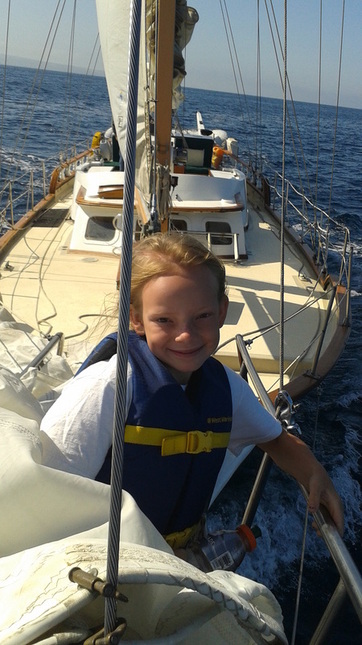 Happy 4th of July.

We are crossing the Gulf of Sebastian Viscaino today. That means we are standing off shore. At the peak, we were about fifty miles out. We are closing with the coast on the other side of the gulf at 5 pm tonight and have land in sight about twenty miles away.

Today has been a glorious day at sea. The day broke cloudy, but on my watch (8 am to noon) the clouds burned off. The sea is a dark, indigo blue. The sky is light blue with a few straggling clouds to be seen. The winds are (unfortunately) light and the sea is calm with a long, slow undulating swell.

We are motor sailing along at about 4.5 knots. Not as fast as I'd like, but at least we're making progress.

The day is so beautiful, that I can't help but think of Papa. This was his neighborhood. We saw a tuna boat yesterday, heading south to the fishing grounds. At this time of year, the albacore are off the southern end of the Baja Peninsula. They will work their way north during the summer and by fall, they'll be off the Washington coast.

I stand at the shrouds and look out over the sea. I feel Papa's presence. He is out there somewhere, in his little wooden troller, chasing the elusive albacore. And he is having the time of his life.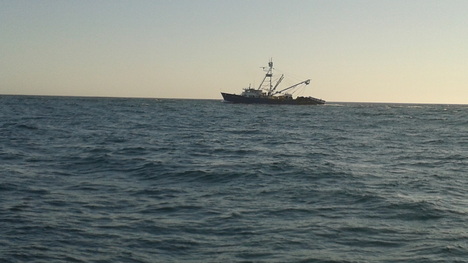 We are still about twenty miles southwest of the Sacrament Reef. The reef is the sight of numerous shipwrecks. We will give it wide berth. Now we are coming up on the places that Papa and I fished and visited that one summer so very long ago. This is why I made this trip, to revisit those locations and connect with Papa.

If you want to read about our adventures, pick up a copy of Blue Water & Me, Tall Tales of Adventures With My Father.

I remember one time, after I moved away from Eugene, that Papa told me that sometimes he would stop in my old VIP's Restaurant for a cup of coffee, "with Penn's ghost.' Well that's how I feel. I am sailing with Papa's ghost today.

It was a gorgeous day, so it stands to reason that it was a beautiful evening. KC and Vienne came on deck at sunset to watch the sun go down. We didn't see the green flash today. After it got dark, we had a little 4th of July celebration.

I had some expired flares, so I let KC fire them off for Vienne. She was very disappointed that we didn't make it to San Diego in time to see the fireworks, but she really liked the flares.

I made it through another night watch. Did I mention that I hate night watches? Anyway, only one more. We should be in San Diego before my night watch on Sunday. We'll be able to tie to a dock, hook up to electricity and water and have showers and clean clothes. We're all looking forward to it.

Saturday, July 5th, 2014 - Day 10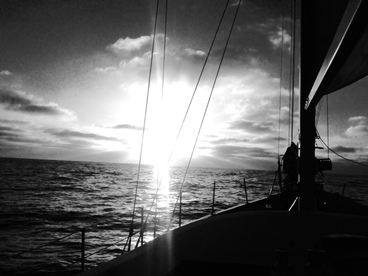 Another beautiful day. I wish everyone could see the color of the ocean miles off shore. I can't really describe it.

We have clouds today and the temperatures seem a little cooler. I think we're getting close to the USA. We are currently 100 miles from Point Loma, the entrance to San Diego Bay.

We had favorable winds all night long and the Victory has been charging along at 6 to 7 knots since midnight. I think she's heading for the barn.

It has been a long trip. Fortunately, we have not had any major mechanical problems. Dawn supplied us well with food. We are starting to get anxious about going through customs.

One time KC was bringing a boat from Mexico to Canada. They did not intend to stop in the US. However, when they stopped in Ensenada for fuel, the fuel dock was out of diesel. They had to stop in San Diego for fuel.

Even an hour's stop for fuel means going through Customs. For some reason, the CBP agent was in a snit and confiscated all of the food aboard the boat. Even though they would only be in the USA for an hour, he wouldn't allow them to bring their food into the country.

That cost KC and his crew over a thousand dollars and a lost day to restock their galley.

We don't want to have to give up all the food aboard. However, if we do have to, we wouldn't have to replace it. We are just going home after we get the boat secured, we're not sailing on.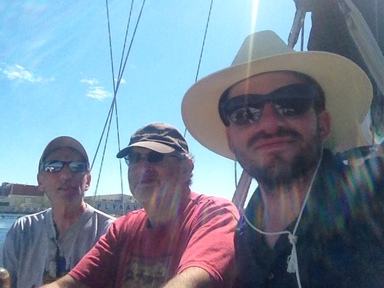 The weather for the last few days has been idyllic. Very light wind (which is usually not a good thing for a sailboat, but when you're headed north into a northwest wind, that isn't bad.) and calm seas. That allows us to motor into the seas without taking a lot of water over the bow. The boat has been comfortable. With the exception of one night, we have had a nice smooth motion to rock us to sleep at night.

I have been cooking all of the dinners because my watch has me off the deck at dinner time. On occasion, cooking has been a challenge as the boat heels over to the wind. Try keeping two hot pans on the stove while trying to chop onions.

Fortunately, our range is equipped with fiddle rails. These are metal rails that we can use to fasten the pots down to the stove so that they can't move. All you need to do is use a deep enough pot that the contents don't slop over.

Late in the evening, just before dark, we got the treat of the trip. Vienne and I were below eating dinner. KC and Sam were on deck, they had already finished dinner.

"Vienne, get up here NOW!' KC shouted.

We clambered up to the deck.

"There's a whale, just off the bow."

Sure enough, we saw a spout. For the next several minutes, we saw spouts in front and on our starboard side. Then we saw the whales. Fin backs. Finbacks are the world's second largest whales.

One surfaced within a few feet of the boat. It was amazing, awe inspiring. The whale that surfaced next to us was bigger than the boat, and this is a big boat.

For about a half hour a pod of three or four whales paced us, swam along side of us. I am overwhelmed by the size and grace of these creatures.

After the whale show, I decided to reduce sail for the night. KC suggested that we go with the stays'l and mizzen for the night and I concurred. We had a slight breeze and the stays'l would give us some drive and maybe an extra half knot.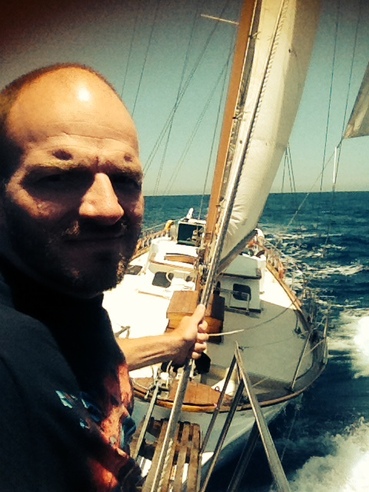 I learned on the trip south that we reduce sail before dark. On two nights on that trip, we got caught with too much sail up. At three in the morning, I had to call the crew on deck to reduce sail in the dark. It wasn't fun. We lose a knot or so in speed, but we don't have night time emergencies.

KC climbed the main mast (we have steps to allow a person to climb high enough to work with the big sail) and I manned the winch. I put the winch handle in the winch (mind you, this is a big, heavy, steel handle) and undid the brake.

The sail plummeted down the mast. The winch handle spun. My head was in the way. I got knocked on the head like you wouldn't believe. It hurt.

I staggered and yelled, but of course, I had to get back to my station and get the sail down. We couldn't stop in the middle of the process to attend to the fool who couldn't keep his head clear.

We got the sail secured and KC began to fuss and fret about my head. It hurt. I was dizzy and it felt as if my head was filled with cotton.

I know that you're not supposed to sleep when you've had a concussion, but I couldn't keep my eyes open. KC took the first hour of my watch and I went below for a nap.

Now, I thought about playing the knock on the head for all it was worth and getting out of my last night watch. KC volunteered to stand it for me. I guess I have too much Papa in me. I got up in an hour and finished my watch, fuzzy head and all.

As we end the day, we are about ten miles off of Ensenada, the last port in Mexico. Tomorrow we will cross into the United States.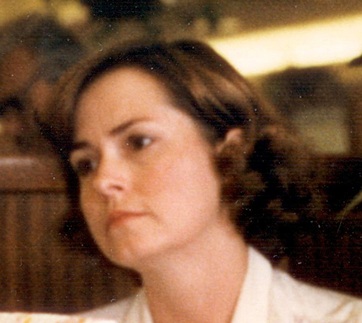 Something very strange happened to me today.

I already told you that I am sailing with Papa's ghost. These are his home waters; this is where he fished for sixteen years. They were the best years of his life. He explored and adventured and made a great living. He met and married the girl of his dreams and she went off adventuring with him. He has been sailing with me all week.

Today, I met another ghost.

I was on watch and KC was in the cockpit talking with me. I sneezed and reached for my handkerchief. It was a fresh hanky; I had showered and put on clean clothes that afternoon. I brought the hanky to my nose and smelled her smell.

Connie always used to iron my handkerchiefs and put a drop of her perfume, White Linen, on them. Every time I used them, I thought of her.

This handkerchief must have sat in the bottom of my drawer unused for four years. When I packed for the trip, I grabbed all of my hankies and threw them in my duffle bag. I just happened to pull that one out.

My heart stopped. I felt her presence. She was there with me for an instant. Connie was a good sailor. She went off adventuring with me time after time, even after she knew better. And here she was, fifty miles off the coast of Baja California, sending me a message. It was OK. Everything was going to be all right.

I told KC about it and he came over and hugged me. It wasn't until he hugged me that I cried.