Whale Shark Video

We Prepare to Leave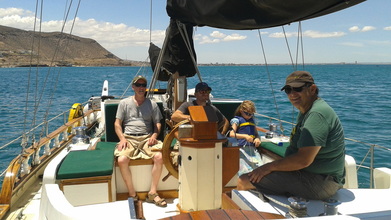 Tuesday June 24, 2014

Day -2.

We have completed the repairs and need to take the Victory out on a trial run. Kathy and Jenifer want to come with us, so we'll make a day of it.

We started out leaving the dock and heading up the channel to open water. As we got to the entrance to the harbor, KC noticed a disturbance in the water. We watched it closer and it became a school of manta rays. I've never seen them school up before.

They were flopping around on the surface, flapping their wings in the air. It was really hard to tell what they were at first, but eventually we figured it out.

Our guests were amazed. Unfortunately, none of the rays took to the air so we had to watch them in the water.

A little further out of the bay, we saw something big in the water.

"Shark" KC yelled. I put the binoculars on it and sure enough, it was a juvenile whale shark. The Mexican fish and game people won't let you go whale shark watching during the month of June, but we figured that if we took the boat out of gear and drifted, they might come to us.

And they did. There were several, ranging in size from twenty to thirty feet long. They came over to the boat to check us out. What were we?

I have never been so close to a whale shark in my life. Two of them swam up to the boat, then swam underneath us.

These guys have a pattern of little squares on their back. They are brown in color but the squares are defined by white lines. In the center of each square is a while dot. It gives them the overall look of a fawn's colors.

They were so close that we could see the remoras attached to their backs. I've never had such a good look at their mouths before. They have enormous mouths that look like the air scoops on a 1967 Ford Cobra racer.

They cruise through the water picking up plankton, shrimp and little fish, then filter the water out and swallow their dinner. Their entire lives are dedicate to feeding themselves. Hmmm . . . we have a lot in common.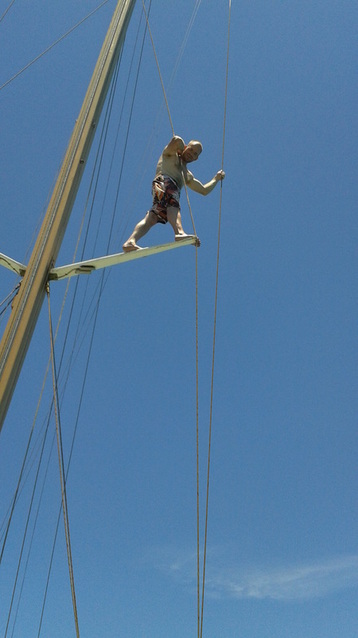 After playing with the whale sharks for about an hour, we headed out to Pichilenque Bay where we dropped the hook and went swimming.

Kathy, KC and Sam put on quite a display of diving. KC climbed the mast to the spreaders and dove from there. Kathy and KC practiced their synchronized diving. I don't think the US Olympic synchronized diving team has much to worry about.

Vienne, KC's eight-year old daughter became quite the boat monkey. She climbed the swim steps back to the boat, then walk along the rub rail and climb over the lifelines to get aboard.

She told me "I really miss the ocean. I miss Mom and Aubrey, but I miss the ocean the most." She went to sea with KC and Mandy when she was still in diapers and lived on their boat for three years.

There are two palapa restaurants at Pichilenque Beach. I decided that we should lower the dinghy and go ashore for lunch. KC ferried the first group in, but when he came back, Sam claimed the dinghy's controls to run the second group ashore.

We ate at Luna Bruja (Witch Moon) restaurant and had a grand time. KC ordered a bowl of civiche for the table that was the best I have ever eaten. I ordered Almejas Granitee for Dawn and myself. They are chocolate clams that are removed from the shell, diced and mixed with onions, tomatoes and chiles, then covered in cheese and baked. Yummy.

Kathy and Jennifer shared a pescado in mojo de ajo. Fish cooked in garlic.

We ate lunch at a plastic table under a palapa in the sand. The Margaritas helped. It was as wonderful a lunch as I've ever had.

But, alas, the day was waning. We dinghied back out to the Victory and took one last swim. Then up anchor and head back to port.

As fate would have it, our return trip was uneventful. All systems worked and we declared the Victory ready for sea.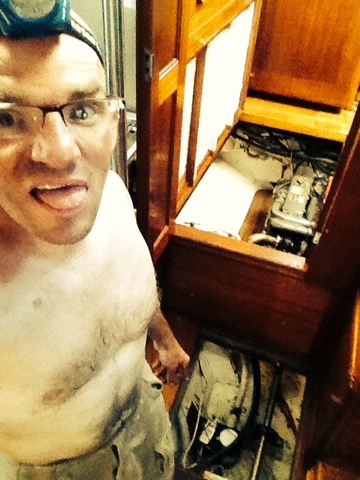 Wednesday June 25th, 2014

Day -1

I am in hell!

Today we needed to grease the new bearings before we left on our trip. A half hour job.

KC had a doctor's appointment, so Sam and I went to the boat to do the bearings. It was hot. The inside of the boat was like a furnace. I bought a grease gun from Auto Zone and it didn't work. Sam spent three hours trying to figure out how to use it. Of course, there were no directions.

I hate to sound dependent, but we finally had to wait for KC to ride to the rescue. I called him and told him of our problems. He stopped by Milton's and borrowed a grease gun. This one worked. We had the bearings greased in half an hour.

After that we tuned the rigging and called it a day.

We retired to the pool as all of us were way overheated.

For our last night ashore dinner, we went to Tail Hunter.

Kathy and Jennifer went on a snorkeling cruise but returned in time for Kathy to join us for dinner. Jennifer was not feeling too well.

After dinner, Dawn dropped us off at the boat and we slept on the boat. I wanted to get away early the next morning.

Naturally, fate put an obstacle in our way. They have been dredging the marina and the dredge was directly behind our slip. I had a shouted conversation with the operators and told them that we had to leave in the morning. I wasn't sure that they understood, but when they wrapped up for the day, they moved their dredge.