Vienne Rides the Waves

OK folks, I've been breaking the rules of Marketing here. I know I'm supposed to give you a pitch for my books before I post my blog for the day. I just got so excited about the trip that I forgot.

So, to make up for lost time, go read Hacker for Hire. There, I said it, now on to today's positing.
Saturday, June 28th, 2014 - Day 3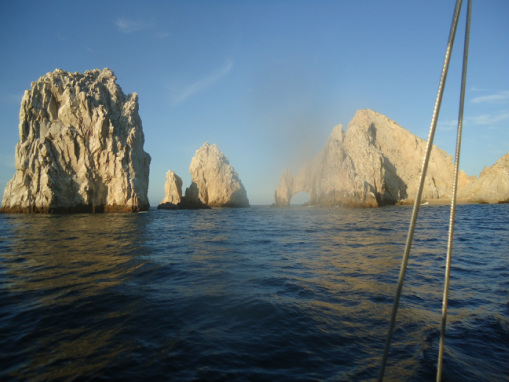 KC and I were up at 6:30 to get the boat going. We pulled the anchor and were underway shortly after 7. In the quiet morning air, we rounded the Cape that had so frustrated us yesterday.

A gentle breeze picked up. Soon we were bashing into twenty-two knot winds trying to get around Cabo Falso. This time I wasn't turning back. If we could round Cabo Falso, the wind was favorable for us to raise the sails.

It took two hours, but finally, we were far enough at sea and free of the cape. We raised the double reefed main to stabilize the boat's motion. We motored on for an hour or so, and the wind began to abate slightly.

When the wind gauge read twenty knots, we decided to raise the stays'l. This gave us the ability to sail into the wind. Our motion settled down remarkably. The wind dropped to fifteen knots and we raised the big Genoa jib. Now we were moving, but not fast enough. It didn't take me long to shake the reefs out of the main.

KC wasn't enthusiastic about shaking out the reefs, but he was happy as a pig in mud when the wind caught the big main and we started scooting.

While raising the main, KC has to climb the mast. He lost his footing and was dangling from the rigging. We thought he was showing off. He said he was in fear of his life. That's what happens when you show off all the time. When you are in danger, no one believes you.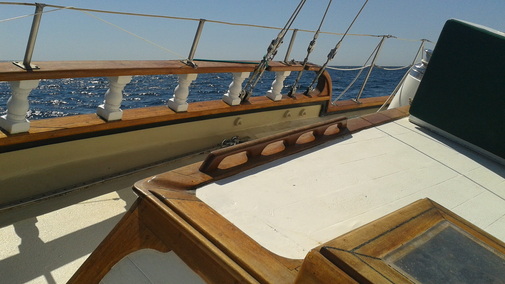 When we shook the reefs out of the main, I had to climb onto the cabin top. I lost my footing and took a fall. I have a big knot on my head where I hit it against the mast and I'm sore all over. Not only that, but I broke my sun glasses.

I told KC that I can't be held responsible for any decisions I make for the next 24 hours. He really wants to turn southwest to Hawaii. Don't be surprised if I send this from Hilo.

We were doing six and seven knots motor sailing into the wind, flying along. All of a sudden, there was laughter and song in a crew that had been tired and moody an hour earlier.

The wind held for the whole morning and into the afternoon. We tacked in towards shore, then tacked out about ten miles off shore. The wind shifted slightly to the south and we were able to hold a course just west of north. We couldn't have asked for better.

Sailing along on a deep blue sea, under a light blue sky, fat, dumb and happy, what could go wrong?

As the afternoon passed, the wind continued to die. After I got up from a nap at about 2:30, we took down the head sails and motored directly northwest on our rhumb line course.

At 3:30 KC started his checks before taking over the watch. We were in trouble. The V-belt on the engine broke. Damn! Without the V-belt, the water pump wouldn't work to cool the engine and the alternator would not produce electricity.

"Do you have a spare belt?" KC asked.

A perfectly legitimate question. What self-respecting sea captain would go to sea without spare V-belts?

"No."

Then I thought about it. I had a spare parts kit and I vaguely remember seeing a V-belt in the kit. Was it the right one? I dug it out and viola! It was!

KC had the new belt on in fifteen minutes and we were on our way.

Tonight we have Dawn's lasagna for dinner. It's cooking as I write and the smell is driving me crazy. I hope that we have no more adventures that I have to tell you about before tomorrow, but if we do, I'll be back at the keyboard.

By the way, KC has informed me that adventure is the ability to withstand suffering. I guess we are very adventurous people.

We just saw our first albatross. They bring good luck to a ship. We need all the good luck we can get. We also saw marlin jumping and flying fish. We had a squid on deck this morning.

Sunday, June 29th - Day 4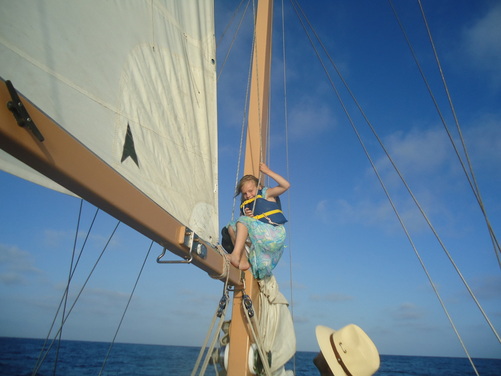 What a lousy night. We bashed directly into the wind all night and the boat bounced around like a fishing bobber. Every time I was just about asleep, I got jostled out of my bed. Neither Sam nor KC got any sleep either. We're all zombies this morning.

I got up and made coffee, then took it on deck for KC. I relieve KC on the watch and Sam relieves me. We had wind this morning. Before the watch change, we raised the jib and started motor sailing. Unlike yesterday, the wind hasn't died yet. We have been sailing all day.

We can't go directly on our course; the wind is blowing from exactly where we're going. However, we are flying along so I don't mind tacking back and forth every four hours or so.

I just read a passage in Windy Hinman's Cheapskates on the Loose that says navigation is simple. You can always tell the direction you want to go by the wind direction. The wind is always blowing from your destination. That's certainly true of this trip.

At this rate, we will make Magdalena Bay tonight. This is our first big check point on the West Coast of Baja and a planned rest stop. I'm not sure if we'll stop or not. We'll get there around midnight and I'm not anxious to negotiate the channel in the dark. On the other hand, we are all tired today and a restful night's sleep would be welcome.

Our next planned stop is Turtle Bay, about thirty-six hours further up the coast. Two days and a night will get us there.

Vienne is coming into her own. She has managed to keep herself occupied the whole trip, but yesterday she discovered the rigging. She learned to climb onto the main boom.

Today, she climbed onto the mizzen boom and promptly decided it was her horse. After a while she changed that. Now it's a Pegasus. The mizzen is White Wings. She named the stays'l boom Midnight because it still has its black sail cover on it.

She straddles the boom like a horse and rides off to adventures.

She also took a little nap on the mizzen boom this afternoon. What a monkey.

On my watch, Vienne and I saw a sea turtle. We were far enough off-shore that land isn't visible, just us and the great big ocean. And there, in the middle of the great big ocean, was a turtle floating lazily by. My father would have wanted to catch him for dinner.

Sam has been fighting sea sickness. He hasn't done an off-shore passage before. He seems OK on deck, but when he goes below, his stomach does cartwheels. He is being very selective about what he eats. I'm guessing he will lose weight on this trip. I should be so lucky.

KC is in his element. The worst day at sea is better than the best day ashore for him. He hasn't been to sea for five years, so I'm scratching a major itch for him. We'll see how long it takes him to get back on his boat after this.

The Victory is performing like a champ today. No mechanical problems, everything looking good. We are motor sailing. For the uninitiated, that means we have the sails up, but are using the engine to give us a boost.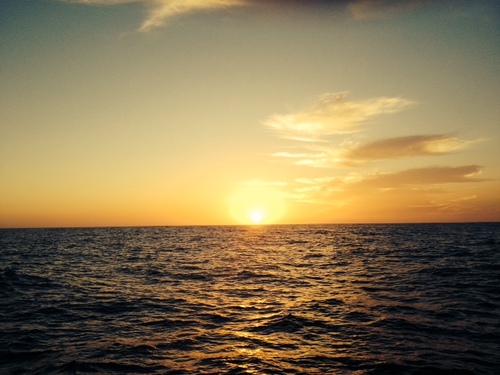 We're bucking into a pretty stiff current. With the engine alone, we were doing about 4 knots. With sails alone, we mushed along at about 3 knots. But with the sails and the engine, we are doing 6.5 knots. Pretty good for a heavy old concrete boat working her way to windward.

Of course, we can't go directly towards our destination. The wind is blowing from exactly where we want to go. But with the engine's help, we can sail pretty close to the wind and we are flying through the water. Even if we aren't getting there any faster, we're having way more fun.

The sunset tonight was spectacular. We had a clear sky and the big orange orb slowly descended into the darkening sea. As the last of the orange disappeared, we had the famous green flash. You don't see it very often, but in the tropics, when the sun sets sometimes you get a momentary green flash. It's wonderful to see.

It was cold tonight. I just came off of my night watch. I wore jeans, a sweat shirt and a wind breaker. About half way through my watch I traded the wind breaker for a parka. I should have put on long underwear too. My knees are killing me from the cold. And we're still 600 miles down the coast of Baja.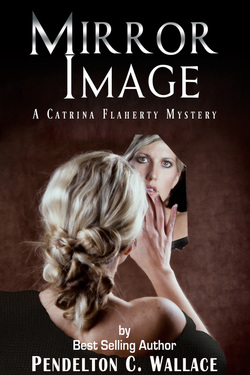 Here's a little bit of writing news. I got back the proofs for Mirror Image today. I will be publishing this Catrina Flaherty short story soon.

This is a kinda, sorta prequel to Hacker for Hire. It's your chance to see Cat Flaherty in one of her early adventures, before she met Ted Higuera.

Watch for it. It should be available for a free download in the next couple of weeks.