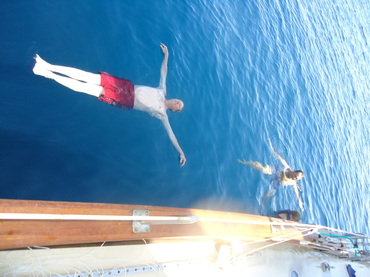 Thursday June 26th, 2014

Day 1

KC had the nerve to wake me up at 7:45. My plan was to be up at 7, go to the fuel dock, top off the tanks and get underway by 8.

We got the boat ready to go, motored to the fuel dock and topped off the tanks. Then I walked up to the Marina office to pay our bill. I left with a sour taste in my mouth.

We stayed in Marina Palmira for over a year. We spend tens of thousands of dollars with them. We were good tenants and helped them publicize the marina and make it a more pleasant place for boaters and they slapped me in the face.

When we first arrived, we paid $50 apiece as deposits on our dock key cards. Dawn lost hers several months ago and she had to get a new one. When I turned in our cards, I expected to receive my deposit back.

"We can't give you your deposit for this one," the girl behind the desk said. "It's over a year old."

"What?????"

If they told me that the deposit was only good for one year, I long ago forgot about it. The key still works, it's still in good condition. I was angered.

I vented for a few minutes and she called the manager. The manager was resolute. No refund for me. I was incensed. After spending over $15,000 in their marina, they were going to gyp me out of 50 bucks? I couldn't believe it.

I told them they were stealing from me and left in a huff. I will not say anything good about that marina to any other boaters I meet. I hope they lose business because of this.

By 9:30 we were under way. We cleared the harbor and set our course for the San Lorenzo channel. We didn't see any more whale sharks or other interesting sea creatures. We just motored on down our course.

It was fiercely hot. About three in the afternoon, I couldn't take it anymore. I grabbed a deck bucket, pulled up a bucket of water and splashed it over myself.

KC liked the idea and he and Vienne put on their swimming suits and splashed themselves. I had wet my clothes, but the swimming suits seemed like a good idea, so I changed.

I was thinking it might be nice, just to heave to and go overboard when KC suggested the idea. I pulled back on the throttle, took her out of gear and let the Victory coast to a stop. By now, Sam had his swim suit on too.

As soon as the way was off the boat, I was over the side. Sam and Vienne quickly joined me. We had to leave one person on the boat at all times. I came back and gave KC a turn.

The water was refreshing, but still warm. It took away the pain of the heat of the day.

We frolicked in the sea for about a half hour, then were under way again.

This time, for about an hour or so, then we had a problem. KC heard a new noise in the engine room and went down to investigate.

One of the lag bolts that hold the engine mounts to the engine bed had worked loose. What to do?

We surmise that the engine and the new drive shaft installation are slightly out of line, causing a vibration in the engine. The vibration caused the bolt to back out.

The bolt is screwed into the wooden engine bed. The engine bed is bonded to the concrete hull so there is no way to through bolt them.

I decided to put the screw back in and head for San Jose del Cabo. We could get help there if we needed it.

I had been running the engine at 3000 rpm all day. Usually I cruise at 2500 rpm. This was a test. I wanted to see what our fuel burn rate was at 3000 rpm and to see if anything shook loose. Well, it did.

After we got under way again, we discovered that the vibration began at 3000 rpm. At 2500 rpm we had no problem. At each watch change, when we check the boat, we check that the lag bolts are still secure and have had no further problem.

It will cost us about one knot keeping the speed down to 2500 rpm, but we'll save about fifty gallons of diesel. At $4 per gallon, that's $200. I think we can afford the extra time.

Dawn provisioned us with all kinds of great meals before we left. While we spent the week repairing the drive shaft, she spent the week cooking.

Vienne hadn't eaten lunch ("I don't want a sandwich.") so I decided to cook the macaroni and cheese with chicken and broccoli that Dawn sent with us. It was a big hit. Everyone went back for seconds.

The night passed quietly and in the morning, we were at San Jose del Cabo.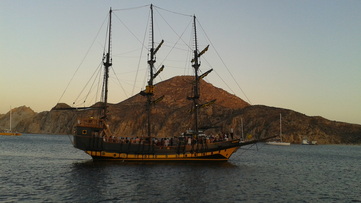 Friday June 27th, 2014

Day 2

KC and I talked our engine problem over and decided not keep going. We stopped at San Jose del Cabo for fuel, then were on our way by 930.

What a miserable day.

"I wouldn't object if the weather for the whole trip was like this," KC said as we left San Jose. It was flat calm.

It's about fifteen miles from San Jose to Cabo San Lucas. In that time, the wind had freshened and the seas built.

We were bashing into thirty knot winds and six to eight foot seas. Everything on the boat was wet. Sam and Vienne were sea sick.

And we were making no progress. We were barely making headway. I knew if we could get around the cape, the weather would slacken and favor us, but we had to round the darn cape. Hour after hour we bashed into the seas and got no closer to our objective.

At about 3 in the afternoon, I held a brief conference with KC.

"It doesn't make sense to me," I said. "We're bashing into these seas, going nowhere, burning up fuel, equipment and people. I'm thinking about heading into Cabo and anchoring for the night, then we can sneak out in the morning before the wind picks up."

"I would," he said.

So we bashed into the harbor at Cabo and dropped the hook.

KC and I went over the side to cool down, but this wasn't the Sea of Cortez. The water was cool Pacific water. It was bracing. We jumped in, swam back to the boat and got out.

While everyone read or napped or played chess, I made a beef stew for dinner. By the time I was done cooking, I was so hot I jumped back in the bay. Then I showered off the salt water and took a nap. I was beat.

Cabo is a party town. The Mexicans encourage the Americans to come down, get drunk and spend their money. The Americans misbehave badly, doing things they wouldn't do at home and the Mexican police look the other way. It's good for business.

Jet skis go flying by, the occupants having no idea of the rules of the road or that they are disturbing the anchored boats. Party boats float in the bay, blaring music, hosts encouraging the party-goers to have "one more tequila" on the loud speakers. This went on until late at night.

As soon as a party boat hit the dock, they unloaded their guests and loaded up another bunch, then the same old jokes and the same old music. Music and loud speakers blared from the tents and palapas on the beach. Everyone was after the gringo dollar.

I'm not fond of Cabo. We couldn't leave soon enough.