Party Time at Chula Vista Marina

On With Our Story . . .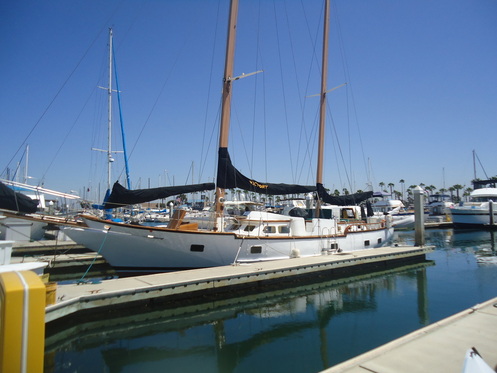 We've been in San Diego two weeks now and I don't have anything exciting to report. We are settling in, learning our surroundings and getting in touch with family and old friends. It's a shock to the system, being back in the USA. We have to relearn all the things we un-learned in Mexico.

Going to the grocery store was a strange experience. I walked in and it didn't look that much different from the Mega or Chedraui supermarkets in La Paz. But I could read the labels on the products and there were all the old familiar brands. In the meat department, there were the cuts of meat that I'd grown up with.

There were many food items that we just couldn't get in Mexico. In San Diego, they are available in abundance. I felt like a kid in a candy store. I wanted one of those and one of those and one of these over here

Dawn had a similar experience. I went to the store a couple of times before she went. I watched her as she stood in the middle of an aisle with her mouth open. She did a three hundred and sixty degree turn, just taking in the sheer variety of the items on the shelf.

"Here's Chinese mustard. I can make cole slaw again," she said. She had to physically touch every item on the shelf that she had coveted in Mexico but was unable to get.

We're on a tight budget and we had the boat stocked with month's worth of food, so we're spending the bare minimum for fresh items. However, I have been having a cherry orgy. I love cherries and haven't had any in two years. They're in season and relatively inexpensive so I've gone wild.

Driving in the US is another experience. I have to catch myself all the time. If I drove here like I drove in Mexico, I'd have an endless series of traffic tickets. In Mexico it's "every man for himself." You kinda, sorta pay attention to traffic laws, but they're really just suggestions. If it's easier to go down a one way street the wrong way for a block, then go ahead. No one's going to complain. Don't bother with stop signs. If you stop, you're likely to get rear ended.

We learned the unofficial rule for stop signs in Mexico. If it is a four way stop and there are no cars coming the other way, you don't have to stop. If it's a two-way stop, then you must stop. Of course, this isn't the law that the police enforce, it's just the rule of thumb that the drivers obey.

So, I find myself consciously thinking "Careful, you're not driving in Mexico anymore." Maybe it's making me a better driver.

Most of our days are taken up looking for jobs. The job search itself is a full-time job. We came north because we both need medical attention. We need health insurance to afford the care. To have health care, we need to either have jobs that provide coverage or pay enough that we can afford to buy it.

Ergo, we are in the job market. I never thought I'd be looking for a job again, but I'm back on the tread mill. The market looks good here, there are lots of jobs advertised. I've been sending out resumes but haven't heard back from anybody yet. How come they're not breaking down my door with job offers?

Dawn is, likewise, sending out bunches of resumes. It's only a matter of time. We will eventually find jobs and get back into the swing of the American Way.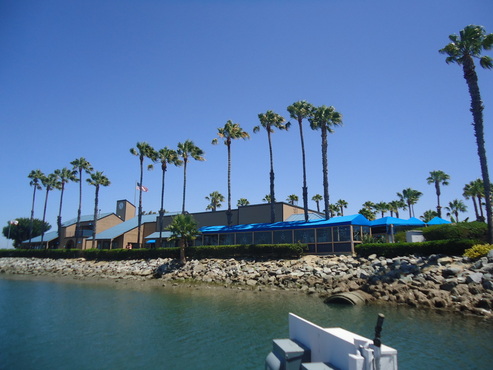 Moorage in San Diego is ridiculously expensive. I guess the owners figure that we're all rich yachties and they can take advantage of us. We are in the least expensive marina I could find. We're tucked away way down south in Chula Vista, far from the center of any boating activities. I'm paying more than double here what I paid in Seattle. It's outrageous.

However, it's a really pretty marina. There's a city park wrapped around the marina and an RV resort next door. The RV resort is owned by the same people, so we get the use of their facilities.

Their facilities include a pool, spa, exercise room and a much better Laundromat that we have in the marina. We take our clothes over there to wash and there's a lawn where Odin can lay in real grass. Real grass is a treat for him, having lived for the last two years in a country where grass doesn't exist. He's used to laying in a clear patch of dirt.

The marina put on a "thank you" party with some of that exorbitant amount of money that we've been paying them. It was really quite fun. They had "Joe and the Island Band" playing Jimmy Buffet tunes and reggae with some old-time rock and roll thrown in. The marina provided a BBQ with really nicely done ribs, potato salad and baked beans. Oh, and did I mention the free bar?

There must have been a couple of hundred people there. Many RV resort people were there too. As a matter of fact, there were probably more RVers than boaters. But we all had a good time, eatin', dancin' and rockin' the night away.

That was last weekend. This weekend, the city of Chula Vista decided to outdo the marina. We had the Chula Vista Harbor Fest at the park that surrounds the marina. It was sheer chaos. Thousands of people descended on our quiet little part of the world. Cars were parked on the street all the way up to the freeway. Crowds mobbed the park.

There were all sorts of family activities. Laser tag, bouncing castles and face painting for the kids, three band stands for the adults, vendor booths (with a really good BBQ place), a sea food "taste of Chula Vista" and lots of bars.

You could load yourself down with the free give aways. Of course, we didn't take much home, we live on a boat. Where would we put it?

I absolutely exhausted myself walking around the park. I had to stop twice on the way home. My knee is bothering me so much that I can't take that much walking. We got back to the boat and I died.

A pain pill and a Margarita helped. We sat in the cockpit and listened to the music until they shut it down at about eight pm.

I can't give you an update without letting you know how the writing is going.

I'm well into The Mexican Connection. This is a suspense novel about the Mexican drug wars. Our heroes get lured to Mexico and find themselves in the middle of a war between rival drug cartels.

I'm most of the way through. I've got over 65,000 words so far. I expect that I can finish the story in about another 10,000 words. I hope to have it done by the end of the month.

That's the first draft. Then comes the endless editing, proof reading, designing the cover, designing the interior and all of the hundreds of other task that come with publishing a book. But I'm making good progress and on track for publishing The Mexican Connection this fall.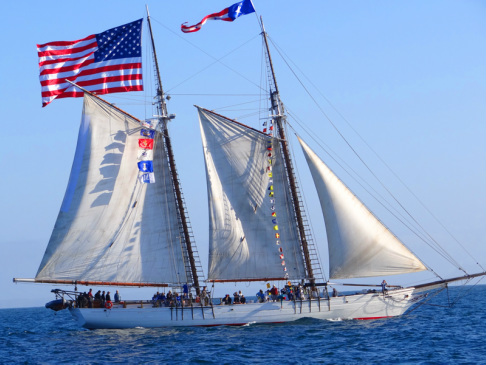 Now for the big news. I've kept the best for last.

I have been asked to crew on the one hundred thirty-seven foot schooner, The Bill of Rights, this week. We're sailing her up to Los Angles for a tall ships festival, then we'll enter a schooner race from Los Angeles to San Diego to bring her back.

The Bill of Rights is a beautiful ship based here in Chula Vista. She was built in 1970 as a replica of an old-time sailing ship. She didn't have an engine and has no winches or modern equipment. This is sailing as it was in the 1850's.

I should confess that they added a two hundred and fifty horsepower Caterpillar diesel engine recently, so we're not totally at the mercy of wind and current.

I'm a little concerned with the size and complexity of the vessel. I would never captain such a ship, but I'll be a lowly deck hand so I should be all right.

You know the term "learning the ropes?" That came from sailing. There are miles and miles of ropes (lines) on The Bill of Rights. I will need to learn what each one is for.

She is a gaff-rigged schooner. That means she has two masts, the front mast shorter than the aft mast. She also as two booms on each of her two masts. One boom is under the sail, like on a "regular" sail boat. The other boom is on top of the sail. The sail is suspended between the two booms.

This is an old-fashioned rig. You don't see it much anymore for several reasons. First of all, it does not go to windward as well as a modern Marconi rigged sail. (That's the triangular shaped sails you're used to seeing.) Secondly, there is much more weight aloft, requiring more ballast and making her a heavier boat. Thirdly, it takes more crew to handle the sails.

When we raise the sails, we're going to have to hoist the gaff boom from the bottom of the mast to the top. This is a very large, heavy piece of wood. It's actually a tree trunk. We have no winches, a gang of five or six men will heave on a line to lift it to the top of the mast.

When we're trimming the sails, we will do it by hand too. On most modern boats, we have winches to give us mechanical advantage and make the job of trimming the sails easier. Can you imagine how big the sails are on a hundred and thirty-seven foot vessel? Those bad boys catch a bunch of wind. And we have to trim them by hand. Once again, it will take a gang of men heaving on the lines to bring them under control.

Going north to Los Angeles, we will motor sail, much like the Victory did in our trip north from Mexico. The wind and the current will be against us. I re-read Two Years Before the Mast a couple of years ago in preparation for our sail down the Pacific Coast.

Richard Henry Dana told of the brig Pilgrim's sail from San Diego to San Francisco. It took them two months against the wind and current. Their return trip to San Diego took two weeks.

That's the way it will be for us. We will motor north because it would take days of endless tacking to sail there. Then we'll fly south when we participate in the schooner race.

I'm excited and anxious about this adventure. I've dreamed of sailing on such a vessel since I was a little kid, but I'm a little scared that my worn out, beat up old body won't hold out. Of course, I made it from La Paz to San Diego, so why shouldn't I be able to do this?

Anyway, when next I write, I'll have all sorts of new adventures to tell you about. Until then, smooth sailing.