It's a new month and we're in a new country. Here is our last day of the epic journey from La Paz to San Diego and a wrap up.

Now I can go back to important things, like finishing The Mexican Connection.

Speaking of writing things, I can still use your help. I need reviews. It doesn't matter which of my books you've read, I need reviews. I'm getting ready for a September promotion and need at least 20 reviews of The Inside Passage. I only have 7. Surely 13 of you stalwart readers can spare five or ten minutes to write a review on Amazon.com or GoodReads.

Sunday, July 6th, 2014 - Day 11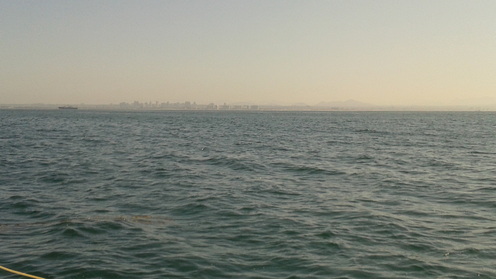 Back in the USA, back in the USA. Sing that to the tune of Springsteen's "Born in the USA."

We made Point Loma, the entrance to the channel for San Diego Bay at about 10 am. After eleven days at sea and more than a thousand miles, we're finally here.

For most of our time at sea, we have been alone. The occasional albatross or dolphin visited us, but there have been few boats and no human contact.

Now, it's rush hour on I-5. There are boats everywhere. The channel is full of them. Big boats, little boats, speed boats, fishing boats, sailboats, you name it. (That sounds a little bit like a Dr. Seuss book, doesn't it?)

I can't believe the traffic. There are traffic laws for boats, just like there are for cars. The only problem is that most of the idiots out on boats don't know them. You can't depend on the other boat to obey the rules, so the main rule is "Don't hit anybody."

We weave through the plethora of boats and make our way to the Customs dock. It's Sunday, remember. As captain, I'm the only one allowed to leave the ship.

I trudge up to the Police Dock office and call Customs. They are supposed to send someone down to clear us into the country.

I get a recorded message "Our office hours are 9 am to 5 pm, Monday through Friday."

How am I supposed to get us cleared in if no one's there? I call their emergency number and get a message. "I'm away from the phone right now, leave a message."

I leave a message.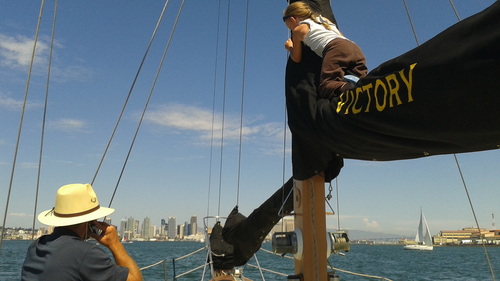 My US cell phone doesn't work. I asked the girls to suspend my number to save money. Now I have to call Verizon to get it turned back on. Thankfully, that is a simple process.

We wait. And we wait. We are tied up at the police dock right next to the holding tank pump out station. A large harbor cruise vessel wants to come in and pump out. We can't move. We are waiting for Customs. Finally, the cruise vessel gives up and goes away.

An hour passes, then two hours. Finally, Customs calls me back. They are checking in a Japan Airlines flight at Lindbergh Field. They'll come to the dock when they are done.

Another half hour passes and finally, two CBP agents arrive.

They were very nice and polite. It was the easiest border crossing I've ever made. They didn't confiscate our food. But it took forever for them to get there. I guess a sailboat entering the country with four people on board is not a high priority.

We fought our way through the vessel traffic and made it to the fuel dock. We took on 199 gallons of Diesel. That, along with the thirty gallons we put in the tank in San Jose, added up to 229 gallons of fuel for the trip. Our tanks hold 300 gallons, so we had plenty of reserve when we got here.

Total fuel costs: $996. Ouch.

Back out into the bay and in all that traffic. We motored south to Chula Vista.

We found our marina and slip easily. I have been here before. As a matter of fact, the Victory was in this marina when I bought her.

I pulled into the assigned slip and several marina residents and the dock master were there to handle our lines. Fortunately, it was a smooth landing. We were headed directly into the wind and that helped.

When I checked in, the dock master asked for my license. I handed him my Coast Guard captain's license. I didn't realize he meant my driver's license.

"A real licensed captain, huh?" the dock master said. "That explains why you made such a good landing."

I just kept quiet and accepted the praise.
Friday, July 11th, 2014 - In La Paz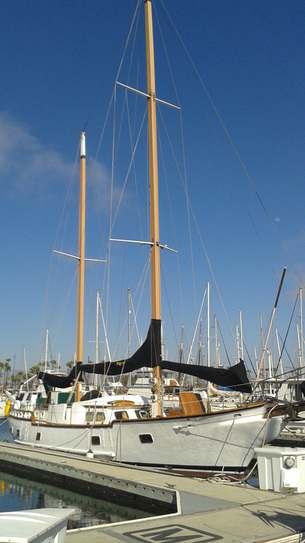 I'm back in La Paz now. KC and Vienne flew back to Spokane safely and Sam is home in Seattle. The trip back to La Paz was easy, but I can't say "I'm home." My home is tied up to the dock in San Diego.

It's hot in La Paz. I'm anxious to get back to the mild temperatures of San Diego. Dawn wants to buy a second air conditioner for the house here. We made a commitment to Mary Lou that we would stay here through the summer, but I'm really questioning the wisdom of that decision.

The crew of the Victory spent all day Monday cleaning her up after her long voyage. On Tuesday we went to the Birch Aquarium at Scripps Institute in San Diego. Wednesday I spent cleaning and organizing and putting away. I needed to get Victory ready for her two-month hiatus.

As I cleaned and put things away, I sang "I'll See You In September" to myself over and over. I am sad at leaving her alone. I imagine this is how Dawn felt when we left Odin in San Francisco and San Diego. I want to get back to her and make sure she's all right.

My friend Ron will watch her for me. He has a boat in the marina there in Chula Vista and is there every weekend. He'll go down to the Victory and make sure the mooring lines are OK and the bilges are dry. If something bad happens, I guess I'll have to drive up, but I don't anticipate any problems.

Now it's time to turn to writing. I have to get my short story Mirror Image ready for publication. I have the cover done, but I need to format the inside of the book.

Then I have to complete The Mexican Connection. I'm about half-way done with that. But once the manuscript is complete, the process just begins. I need to have it edited, proof-read, formatted, etc. It's a long complicated process, not for the faint of heart.

So, for the next couple of months I will put the Victory and sailing out of my mind and focus on the business of writing.

I hope you have enjoyed this little tale and that everyone has a great summer.