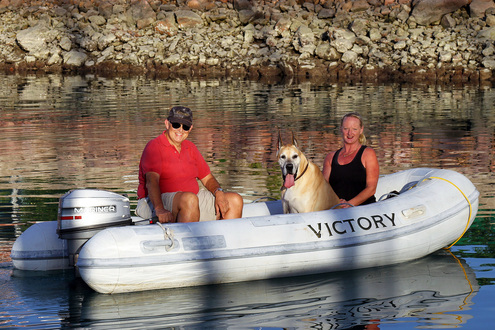 I haven't updated you in a couple of weeks because I've been heads-down working on the Mexican Connection.

I completed the first draft last night, so I can get back to my blog for a while.

Things are moving forward in San Diego. Last weekend I helped sail the Bill of Rights up to San Diego for the Festival of Sail at the San Diego Maritime Museum. It was so much better organized than the Los Angeles Tall Ships Festival. It was pure pleasure participating.

On Sunday, Dawn, Odin and I acted as docents on the tall ship, giving tours and answering guests' questions. It was really fun. Odin was the center of attraction. He had his picture taken hundreds of times. I think we talked more about Great Danes than we did about sailing ships.

This weekend the Bill of Rights sailed up to Dana Point for their tall ships festival. Alas, she sailed without me. I am too tied up looking for work to give up another week sailing.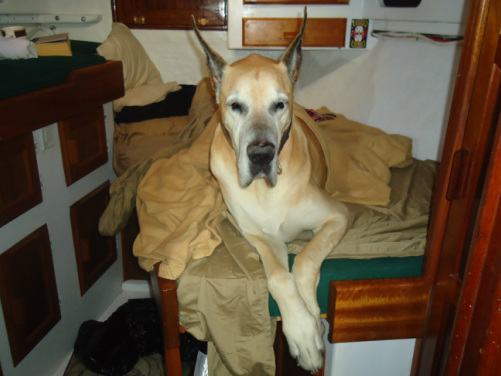 You heard me right. Looking for work.

Dawn and I are both looking for jobs. We've signed up for Obamacare and need the income to offset the cost of medical coverage. We also want to move ashore for a while.

Odin is quite old and not doing too well. His hips are really hurting him and he's having trouble walking. It is a loooong walk from the boat to the shore and he can't jump up onto the boat anymore. We have to lift him.

We have had some cool nights, so Dawn brought him down to the cabin. Once again, he can't go up and down the ladder, so we have to lift him. And remember, he's a one hundred and seventy pound dog.

So, the bottom line is that we will look for a house or apartment close to wherever we find work. We'll probably move closer to my job since it will be the primary job. I'm looking for a position as a project manager or software engineer.

So far, I haven't had much luck. There seems to be a vigorous job market here in San Diego, but I've put out nearly 50 resumes and haven't had one call back yet.

What I'm doing is obviously not working, so I went to a seminar on resume writing at the local employment office. The instructor said that what works in other cities doesn't necessarily work in San Diego. I took his advice and re-wrote my resume. We'll see how well this one works.

In the meantime, Dawn is way ahead of me. She has three interviews set up for this week. There is a new steak house opening on Coronado Island and she's meeting with the manager there on Thursday. Break a leg Dawn!

It looks like summer is over and fall is fast approaching. I hope you're ready for a fun fall season. I'm already getting into football and thinking ahead to Thanksgiving.

I'll keep you updated on our adventures in San Diego. For the time being, this short piece will have to do.