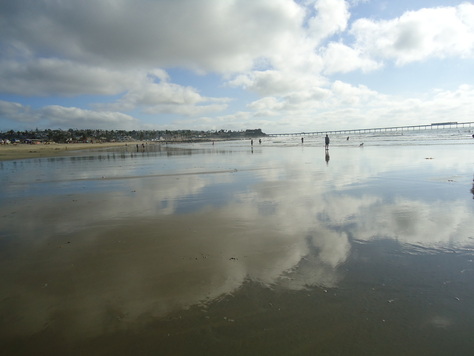 I can honestly say that the only thing in my life that I've ever feared is dogs. I have been in several life-threatening situations and not felt fear, but let a Chihuahua sneak up behind me and bark and I'll wet my pants.

It's not a rational fear. When I was three years old, I was attacked by two German Sheppards and have been afraid of dogs ever since.

My late wife, Connie, loved dogs. She begged me for seventeen years to get a dog. I always put it to her simply, "The day a dog moves in, I move out." For all of those years, she put my welfare above those of dogs.

Then one day, as we were driving back from visiting our friends in Spokane, she got me. Gary and Kay had a big old Australian Sheppard named Katie. Katie was just about as nice and mellow a dog as you could ever wish to meet. On our long drive home Connie asked ,"Wouldn't you love to have a dog just like Katie?"

"No," I responded. "I don't ever want to have a dog."

"But if you had to have a dog, wouldn't you like a dog like Kate?"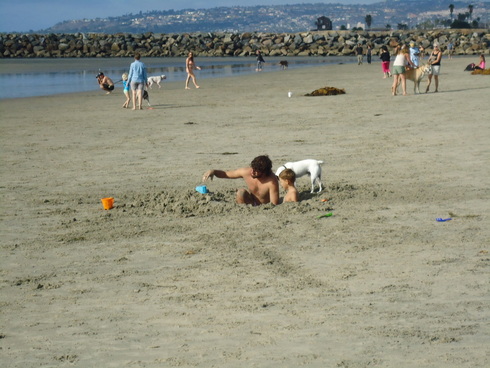 They say you should never show fear. If a dog senses fear, they will be on you like ugly on a Husky. (Sorry, I just had to get that University of Washington reference in there since my Ducks smashed them this weekend on the grid iron.)

Well, I had a moment of weakness. "I supposed if I had to have a dog, I'd want a dog like Katie."

The next day we had a chocolate Labrador retriever puppy which Connie and the girls named Phoebe.

Connie and Phoebe are both gone now, but I tell you this to explain my relationship with dogs. Or should I say, lack of relationship?

Let's fast forward a couple of decades to when I met Dawn. You can read the whole story in my "Great Dane on Board" series on my Web site. Suffice it to say she had two Great Danes when we first met.

Somehow or other, we managed to build a relationship in spite of the two huge beasts that lived with her.

Odin, the big male, followed us down the coast from Seattle to Mexico and lived with us on board the Victory in Mexico for two years.

Now we're in San Diego and safely ensconced in a nice apartment in Normal Heights.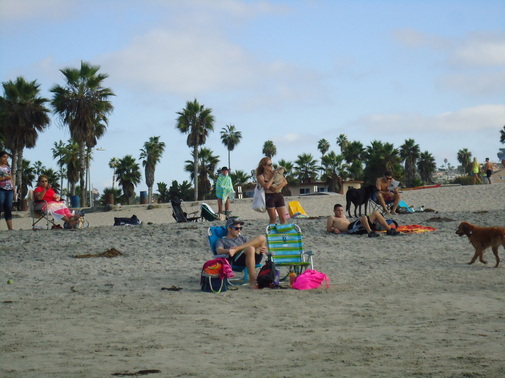 Dawn likes to take Odin to the dog parks. Odie enjoys living with his people. Nothing makes him happier than curling up at Dawn's feet in the evening while we watch TV. But he loves other dogs.

Going to an off-leash dog park with lots of other dogs to play with is his idea of heaven.

It's my idea of hell.

Connie used to like to watch The Dog Whisperer on TV. When Caesar Milan entered his compound with twenty or thirty dogs, I had to get up and leave the room. I broke out in a cold sweat and my heart ran wild, just watching him with all those dogs on television.

I think that when you die and go to hell, you are inundated in whatever you feared the most in life. My idea of hell is being in a room or yard with a pack of dogs.

You get the picture? Dawn and Odin like to go to the dog parks; I would pay good money not to have to go with them.

But it was a nice day and we had been working our little (or not so little, in my case) tushies off moving into our new apartment. The construction crew had moved into our bedroom and the office and torn the walls open. The demolition crew upstairs had power tools running all day, tearing the burned out drywall from the studs. We were going nuts. We needed a break.

"Odin and I are going to the dog beach," Dawn announced. "I have to get out of here."

I had another instance of momentary insanity. "I'll go with you. I can take my book and read while you guys play."

San Diego is a dog friendly town. There are many off-leash dog parks. The elementary school a couple of blocks from our apartment has an unofficial off-leash area where neighborhood dog owners congregate. Balboa Park, a mile or so south of us, has a huge dog park. Ocean Beach, a ten minute drive down I-8 has a big off-leash area in the park just south of Sea World, but Odin and Dawn's favorite dog park is Ocean Beach.

From the life guard stand north to the jetty is about a half-mile of beach that is reserved for dogs and their owners. All sizes and shapes of mutts, from Chihuahuas to Great Danes, play off leash in the surf and sand to their hearts delight. There is a steel cage filled with tennis balls that owners can use to throw for their pets. Several disposal stations have plastic bags for dog lovers to pick up their doggie poop with and deposit them in the conveniently provided waste receptacles. There are water fountains, with the handle and spout at human level, but with a built in bowl on the ground at dog level. What more could a dog owner ask for?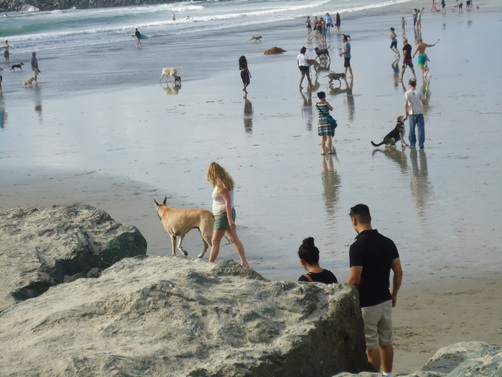 We arrived at the beach on a sunny Thursday afternoon. I ensconced myself on a rock beneath the life guard tower, safely out of the off-leash area. Dawn and Odin bravely invaded the doggie domain.

There must have been at least a hundred owners and their pets. Some people brought lawn chairs and lounged on the beach while Fido ran and cavorted with the other dogs. Other people felt the need to play with their pets and threw balls and Frisbees or chased their dogs along the beach and into the surf.

What I didn't understand were the surfers. Several people came down to the beach and left their pile of clothes in the sand while they strapped on their surf boards and paddled out to sea. Why did they come to the dog beach? They could just as easily leave their stuff on the south side of the life guard tower and not have to brave stepping in a pile of doggie doo. And the beach to the south was much less crowded.

I watched the dogs and the people with a clinical eye. Being the story teller that I am, I make up stories for people I am observing.

A very pretty little girl comes to play in the rocks beneath me. No, she's not pretty, she's beautiful. She's going to grow up to be a movie star. She's all alone. Where are here parents?

After a few minutes, an attractive, but not as beautiful as her daughter, woman comes up the beach and calls to her. I can't hear what they're talking about, but after a couple of minutes, the girl goes back to playing. Mom watches for a little while, then walks back down to the beach.

She puts her bag down and strips off her T-shirt. She is built like a swimmer with broad, powerful shoulders and trim hips. She sashays over to the water, then wades out. When the water is about knee deep, she dives over a wave and disappears in the froth.

She surfaces twenty or thirty feet further out to sea and swims with powerful strokes. She has played this game before.

It's not a hot day, I'd say in the mid-seventies. The weatherman on TV last night said that the water was sixty-nine degrees on the surf report. (That's right, for those of you who don't live in Southern California, the weather report always includes a surf watch.) If I fell overboard, I'd swim in that water, but I wouldn't choose to go in of my own volition.

Our mermaid swims far out, then turns around and comes back in.

All the while, her daughter plays by herself on the beach. No one pays her any attention.

When mom is back ashore, she towels off, pulls her shirt back on and gathers up her daughter. They walk back to the parking lot hand-in-hand. Was this outing for the girl or the mom?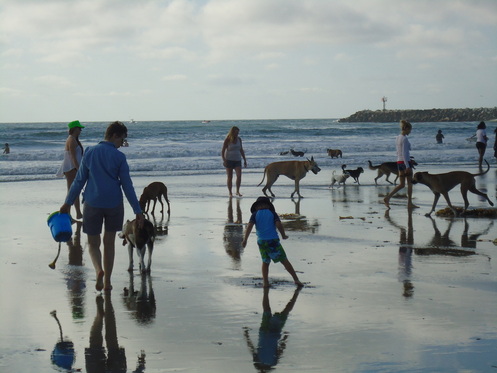 An old couple limps down to the beach with their little mutt, unpacks their lawn chairs and sit and read. Their dog runs wild with the rest of the pack. He has short little legs and has to take two or three steps for each step the larger dogs take. It is comical watching him try to keep up with the big dogs as they play some sort of doggie game up and down the surf line.

Then there is the tall, thin woman, very nice looking I might say, who showed up with her little white Chihuahua. She was wearing shorts and a T-shirt and waded out into the water, throwing a little black ball for her pouch to fetch. The little dog ran after the ball, grabbed the ball, and took off like demons were chasing him, until he finally made his way back to his owner and deposited the ball at her feet.

The woman threw the ball as the waves receded, letting her tiny dog chase after his ball on the wet beach, but out of the water. One time she threw the ball a little too far out. The dog went after it and grabbed the ball, but the waves were surging back in. Understand that this dog probably stood eight inches tall. The water was up to the woman's ankles, but the dog was in for a bad time.

She flew up the beach and grabbed the dog by the scruff of his neck and lifted him out of the water just as the wave was about to inundate him.

Then there was the chocolate lab. I've already mentioned that Phoebe was a chocolate lab, so I have a soft spot in my heart for these beautiful animals. Keep in mind that any admiration for the breed is from a distance. I don't need to get close and have them slobber all over my legs.

This was a big, young male. He took charge of the beach like he owned it. He immediately teamed up with a Doberman pincher and they ran for miles up and down the beach, usually with a half dozen or so smaller dogs in their wake. I don't know what their game was, but they burned off massive amounts of doggie energy.

Labs, of course, are water dogs. The big chocolate would bound out into the waves, with the other dogs following his lead. When the water got too deep for him to run, he started swimming. The other dogs stopped and watched for a second, then headed back to shore.

Like all labs, he was a magnificent swimmer. His strong strokes carried him far out into the bay, then he'd turn and head in. As he reached the depth where he could touch bottom, he came bounding out of the water, leaping the waves as they crashed ashore.

Immediately, the other dogs in the pack rejoined him and they charged up and down the beach for a few minutes, then he'd head out to sea again and leave them behind.

This was a display of the exuberance of being a dog. These dogs ran and barked and smelled each other's butts and did all the normal dog stuff. They were overcome with the sheer joy of being alive.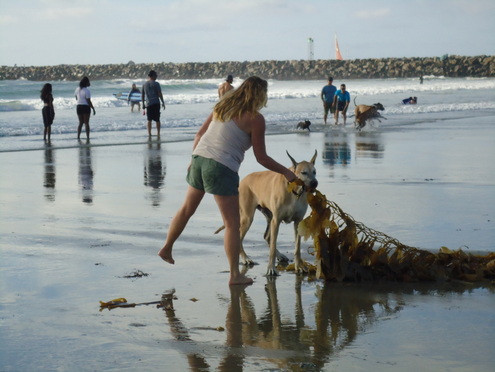 Into this mix, we now inject Odin, the one hundred and seventy pound Great Dane. The big dogs on the beach, the lab, the dobbie and several others, came up to Odin's shoulders. I could pick him out anywhere he was on the beach because of his sheer size.

Odie is an old boy. Great Danes typically live from seven to nine years. Odin is ten and a half. He has arthritis and experiences a lot of pain is his hips. After a walk around the block with Dawn, he snuggles down on his bed in the living room and naps for an hour or so, it exhausts him so.

On the dog beach, however, the years melt away. He goes into puppy mode and runs with the other dogs. He is the undisputed king of the beach. None of the other dogs challenge him. He joins the pack for a while and blows off what little energy he has stored up. Then he settles down and watches. None of the dogs bother him.

He and Dawn have regular games that they play. Odin loves finding long strands of kelp on the beach. He grabs one end and snaps it around like a whip. Dawn grabs the other end and a tug-of-war ensues.

"Grr," Dawn growls. "Sea monster."

You try taking a piece of kelp from a hundred and seventy pound dog with a head the size of a rhinoceros and jaws like the jabberwocky. It ain't easy.

Odin learned the game of sea monster in Ensenada. You don't get this kind of kelp on the beaches in the Northwest. He loves to shred the kelp in his sharp teeth. The sea monster doesn't stand a chance.

Dawn has to outsmart Odin. She feigns disinterest until he finally drops the kelp, then she quickly snatches it and tosses it up the beach. Odin runs after it, grabs it to show her it's his, and brings it back to within her reach to taunt her. She makes several attempts to grab it, but he pulls it out of her reach. She finally manages to get her hands on it. Then the tug-of-war begins again.

Wash, rinse, repeat. They do this over and over.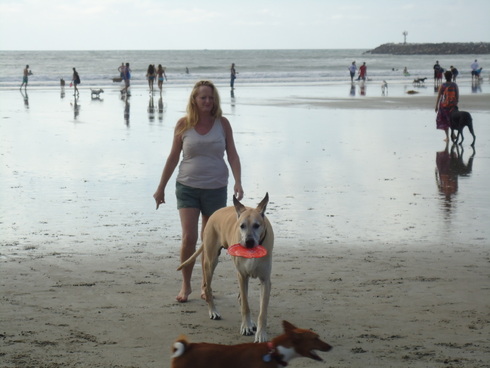 Then there's Odin's Frisbee. Dawn bought him a bright red Frisbee to chase. It is permeated with punctures from his big canines. She flips it out into the water and Odin plunges in after it. As soon as the other dogs see the Frisbee flying, they are on it.

When most of the dog owners throw a ball or flip a Frisbee, it's anyone's guess as to which dog will retrieve it.

When Dawn throws Odin's Frisbee, the other dogs all chase after it, but only Odin touches it. He isn't a bully, but the other dogs all recognize that it's his Frisbee and let him retrieve it.

Odin goes after the Frisbee in the water and plucks it out. Then a big wave washes over him, jerking the Frisbee from his jaws. He looks around confused. Where did it go?

I can't see it from my vantage point, but Dawn gets a bead on it. She wades out into the water and retrieves it, tossing it for Odin again and he takes off after it.

Odin would play until he drops, but Dawn is a good dog-mom. She recognizes when he's getting tired and reins him in. They gather their toys and come over to me on my rock.

"It's time to go home," Dawn shouts up to me.

So ends my afternoon at the dog beach. I've read several pages in my book, but I've also had a great time watching people and dogs as they frolic on the beach.

What's wrong with me? I must be getting old. In my past life, I would never have wasted an afternoon watching people play with dogs.


Now for a brief afterward: I went to the beach and wrote this story, but didn't take a camera. Needing pictures for this blog, we went back to the dog beach yesterday to get these photos.

I am told that the definition of courage is being afraid of something but going ahead and doing it anyway. You will never know what it cost me to suck up my fears and venture down onto the dog beach, armed only with a camera, to get these pictures for you. I hope you enjoy them.