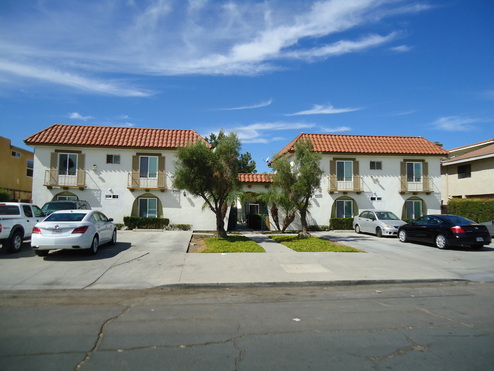 OK, so I promised to tell you about the fire.

I woke up about 5 am in a Motel 6 in Santa Nella, a wide spot in the road about an hour south of Stockton in California's Sacramento Valley. I was dead tired, but had many miles to put behind me to make it home.

I drug myself from bed, got dressed, checked out and walked across the street to Denny's for a bite before I headed out. I was on the road by 6 am.

I climbed the Grapevine, slid down the mountains into the Los Angeles Basin and stopped in Tustin to pick up a new holding tank for the boat.

Sometime around 6 pm I pulled into the driveway at our new home. I was dead.

Dawn and our friend Ken waited for me. Dawn and Odin had been living on boat cushions on the floor in our apartment for a week while I flew up to Seattle, packed up and drove south. She was ready for a real bed and maybe even a chair or two.

All I wanted to do was collapse somewhere.

Things rarely go as we want them. I decided that we should at least unpack the bed from the truck before I totally ran out of energy.

Ken, Dawn and I began the ant work of carrying boxes and furniture from the big truck into our apartment. I had thought ahead. The bed was in the back of the truck, but my computer desk and the dining room table, chairs and a bunch of boxes were in front of it.

We had to dig our way back to the bed. I don't know how I kept going, but eventually we got Dawn's big bed into the bedroom. Then we discovered that the screws necessary to put the bed frame together were missing. I knew that we packed them away somewhere safe so that we would have them when we put the bed back together. Two years ago.

Who knew where they were now?

Enough is enough. I made the decision that we would put the mattress and box springs together on the floor and sleep there. We couldn't find any king-sized bedding, so Dawn spread queen-sized sheets and a blanket from the boat on the mattress and I collapsed.

Now we get to the good part,

Naturally, we didn't have time to unpack any of the boxes. I went to bed without my superhero cape and leotard.

Around three in the morning, Odin woke me up. I got up to use the bathroom and take a pain pill. It takes about an hour for the pain pills to take effect, so I fired up the computer and played FreeCell while I waited. In the meantime, Dawn decided to take a shower since they were shutting off our water in the morning.

I heard the beeping, but in my sleep deprived state, I thought nothing of it.

Dawn asked "What's that noise?"

I didn't know and didn't care, but she was insistent. She was afraid that our 24-foot U-Haul was being towed away since I parked in someone else's spot.

"Is that coming from your computer?"

"No," I replied and reluctantly got up to satisfy her curiosity. I stepped out into the courtyard and heard the beeping coming from the apartment directly over ours.

I stumbled up the stairs and was shocked to see bright yellow flames licking at the ceiling of the apartment. I moved to the sliding glass door and saw that the big recliner was on fire. The blinds were melting against the windows.

In an instant, the apartment filled with smoke and flames. I began banging on the door to wake anyone within. I didn't dare open the door for fear that the influx of fresh oxygen would cause the fire to explode. Smoke and flame dribbled down the other side of the glass.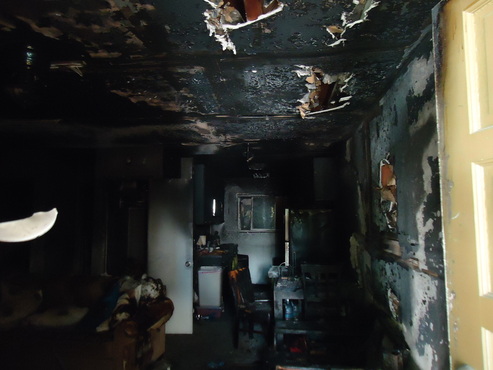 I banged and banged on the door.

"Is there anyone in there?" I shouted.

The sliding bedroom window opened fifteen feet to my left and a cloud of heavy black smoke blew out.

"HELP!" a female voice shouted.

I dashed down the stairs to get a better look at the situation. I ran into our apartment and grabbed my cell phone.

"What's going on?" Dawn was standing, dripping wet and naked but for a bath towel, in the hallway.

"FIRE, get out."

I ran back outside (I can't get cell phone reception in the house) and dialed 911.

"San Diego 911, what is your emergency?"

"Fire. There's a fire in my apartment."

"Hold please while I connect you to the fire department."

It was only seconds before another voice came on the line, but it seemed like a lifetime.

The woman in the apartment was trapped in her bedroom. Her living room was engulfed in smoke and flames. I could see the flames flickering from down stairs. I was more than a little worried.

"Where is the fire?" the voice on the phone asked.

I told her.

"Stay on the line. I have help on the way."

"I'm putting the phone down," I shouted at her. "There's a woman trapped in the apartment. I have to get her out."

"Sir, stay back. Help will be there in two minutes."

I set the phone down on the stairs and ran into our apartment.

Odin was smarter than the rest of us. At the first scent of smoke, he cleared out. His bed lay empty on the living room floor.

I grabbed his bedding and yelled to Dawn that I needed help.

I ran back out to the window where our upstairs neighbor was leaning out and shouting in panic.

"Don't worry, help's on the way," I yelled up to her. "We're going to get you out of there. Hold on."

"I can't," she shouted down to me. "My bedroom's on fire."

By this time, Dawn appeared on the scene.

"Grab the other side of the blanket," I yelled. "We're going to catch her."

Dawn ran into the center of the courtyard to see what was happening.

"Get over here," I yelled.

"Wait," she yelled and dashed back inside.

She emerged a moment later with one of the large cushions from the boat that she had been using as a bed.

"This will give her a soft place to land."

I spread the cushion on the bushes under the window.

"Jump ," I screamed.

The woman (I later learned her name was Shonna) climbed out the window. I don't know how she did it, but there is a 3/4" thick trim around our bedroom window directly below her. She managed to balance on that thin ledge and hold onto her own window sill.

She was covered from head to foot in black soot. I later learned that she has blonde hair, but you couldn't tell it. She was barely dressed. A tank top and a thong didn't leave much to the imagination, but her modestly was everyone's last concern.

"MY CAT!" she yelled. She tried to climb back into the window.

"Don't," I cried back. "Don't go back in there."

It didn't matter. She couldn't pull herself up to the window.

"Jump!" I yelled.

She froze.

Two police officers ran into the courtyard.

"Help's here," I shouted up to Shonna.

"Fire's only a minute behind us" one officer said.

"Get a ladder," a loud voice shouted.

I turned to see a fireman, decked out in his firefighting gear, shout back to the engine crew.

She was saved.

I was standing in the courtyard in my bare feet and jammies. I decided that I needed to get dressed and save my computer.

Why, you ask, was I worried about my lap top?

Because my new book is on the hard drive. I didn't want to lose all of the months of work I put into that baby.

By the time I ran inside, got dressed, put my lap top in my computer bag and returned to the courtyard, the woman was off the ledge and gone. Fire fighters swarmed the area. Four fire engines, an aid car and two command vehicles flashed lights in front of our building. News trucks began setting up across the street.

"ODIN!" Dawn shouted. "Where's Odin? Is he still inside?"

"No," I yelled to her over the commotion. "I saw him leave by the back gate."

Dawn took off down the alley shouting "ODIN!"

I headed up the alley in the other direction, precious computer bag on my shoulder. "ODIN! Come here, boy." I shouted.

I looked up the alley and around the block. No sign of him. I'm telling you, a one hundred and seventy pound Great Dane is hard to lose, but I couldn't find him.

As I came around the block to the front of the building, I found Dawn, with Odin in tow, talking to another building tenant. She found Odin a couple of blocks away, hiding in a bush.

We were all safe.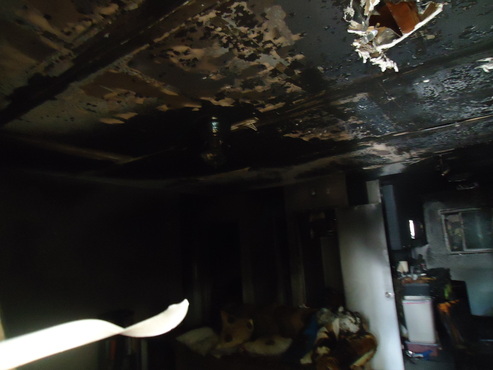 "Where's the woman from the apartment?" I asked.

"I don't know, I haven't seen her," Dawn said.

An attractive woman with a microphone in her hand and a camera man over her shoulder came running up.

When we saw the news trucks pull up, We agreed that we didn't want to comment on camera because we didn't know if Shonna was okay.

"Hi, I'm with Channel 7 news. Can I interview for our live coverage?" the reporter asked.

"No," I said. "The federal marshals don't like us to go on TV."

"Are you a federal marshal," she asked?

"No," I quipped. She had taken the bait. "We're in the witness protection program."

Dawn groaned and slugged me in the arm.

"Don't pay any attention to him," she told the reporter.

The reporter mumbled something and wandered off.

It didn't take long for the firemen to douse the fire.

They entered our apartment and cleared what little furniture we had in the living room and put down a plastic sheet to protect the floor from any dripping water from above.

The fire had been contained to the one apartment. Fortunately for us, the building is built out of concrete and there is a layer of concrete between the floors. The fire couldn't burn down to our level.

If this had been in Seattle, the building probably would have been built of wood and our apartment would be toast.

I decided to go looking for Shonna and see if she was all right. I couldn't find her. Apparently, she had been put in an aid car and whisked to the hospital.

Eventually, the fire crews rolled up their equipment and headed home. The crowds dissipated and our neighbors went back to their apartments.

I'm told that the story dominated the TV news the next day, but we didn't have cable yet, so we couldn't see any of the coverage.

Even though no water made its way into our apartment, I was grateful that we hadn't unloaded the truck yet. What if we had moved everything into the apartment only to have it burn down that night?

The next day, we unloaded and started the process of moving into our new digs.

Later that evening there was a knock at our door. I opened it and an attractive blonde woman threw herself into my arms.

"Thank you, thank you," she cried. I could feel her tears on my shoulder. "You saved my life."

"It's okay I said."

She clung to me like her life depended on it.

"I didn't hear the alarm," she said. "I wouldn't have wakened up except for your banging on the door."

I have a new best friend.

We learned the whole story from Shonna.

She and a friend had been out when a guy approached them in a bar. He apparently followed her home and broke into her apartment. She threw him out, but later, after she was asleep, he returned and set her recliner on fire.

A few minutes later, he broke into her friend's apartment and set her place on fire too. A couple of days later, we heard the rest of the story. The weirdo stole a bicycle and tried to rob a bank. He was apprehended and is now a guest of the state.

Shonna and her boyfriend stayed and talked with us for a while, then left in search of her cat. Tiger had disappeared during the fire.

Much to everyone's relief, Tiger showed up the next evening. I spotted him on the stairs and Dawn went up and got him. Tiger reeked of smoke. He was obviously in the apartment during the fire. We're not sure how he got out because the firemen boarded up the apartment when they left.

We held him in our bed room while Shonna came over to pick him up.

The apartment over our heads is a total loss. The walls and ceiling are charred and the whole complex smells of smoke. Today, work crews are working above us demolishing the remains of the apartment. They'll strip it to the bare walls and rebuilt it.

In the meantime, the building maintenance supervisor discovered a water leak in our building. The pipes are under the concrete slab that is our floor. Rather than break up the concrete and dig up the pipes, he decided to re-pipe the building.

For almost two weeks now, we've had work crews in our apartment every day, shutting off the water at 9 am and turning it back on at 5. Our belongings are shuffled from room to room as they tear apart the walls and install new pipe.

I'm sure it will be really nice when they're done, but it's a pain in the sitter downer to be living in the middle of a construction project.

So that's life in the big city. Now we need to settle into our new home, get to know our neighborhood and I need to get going on my knee replacement surgery.

I have an appointment with the surgeon on Monday, so we'll see where we go from there.

Before I sign off, I want to take a moment to thank the real heroes of this story. The San Diego police and fire department responded within minutes of my call. The fire station is about five blocks away. They were here within two minutes. The police were even faster.

They were fearless and professional in their response to the crisis. They swiftly put out the fire, searched the apartment for Tiger and made sure that we didn't suffer from any water damage.

Thank you guys, you're the best.