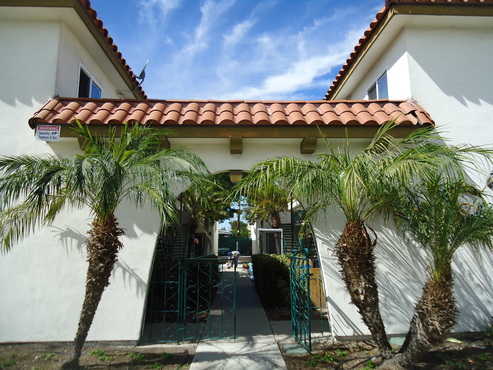 I know I said that now that we've moved ashore, nothing exciting was going to happen.

Ever again.

I put my super hero cape and leotards away and prepared to settle into a mundane existence for a year or two.

It didn't take long for me to need the leotards again.

But first things first.

I told you about our apartment. As I said, there is an application process that we had to go through to get the property management company to consider us. Whatever happened to Grandpa Joe renting to you because he thought you were a nice young couple?

We filled out the application and they said we didn't have enough income. Duh! We haven't gotten jobs yet. Of course, they aren't going to rent to us on the prospect that we might get jobs. They want cash, now.

So I sent them a bank statement. It showed the deposit from the sale of my house. That should do it, right?

Well, no. Of course not. They average out the bank statements for the last two months and last month the well was pretty dry. They needed more.

Now I have to contact my broker, who is in Las Vegas at a convention, to get statements for my brokerage accounts to convince these Bozos that I'm solvent. His lovely assistant, Jennifer, came to my rescue. She provided the necessary documentation and soon the property management company was calling me "Mr. Wallace" again.

The whole process was, as you can tell, very irritating. I can't tell you how stressed out Dawn was about the whole thing. She desperately wanted to get off the boat, for Odin's sake, and was sure they would find fault with us.

I, on the other hand, didn't give a rat's ass what they thought of us. My money is as green as anyone else's. But be that as it may, we are now ensconced in a nice apartment for the next eight months. After that, who knows?

Anyway, that brings on the next big phase in this adventure, moving my stuff from Seattle to San Diego. I told you that I stored all of the stuff from my house in Lynnwood in a storage locker for the last two years. Now that we are ashore again, we need furniture, sheets, towels, china etc. Where better to look that in my locker? Besides, they've been gouging me for two hundred dollars a month to store my stuff.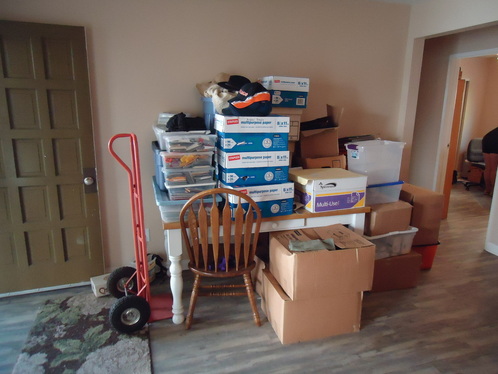 But how to get it to San Diego? I initially thought I would fly up to Seattle, rent a U-Haul and drive it back. Then I saw the cost of the U-Haul. After I added in gas, a couple of night's stay in motels, meals, etc. it didn't seem like such a bargain. That's not to mention the wear and tear on this tired old body.

I found a couple of bargain movers on the Internet who offered to move my stuff for a reasonable price. Why not use them?

Then I talked to Libby. She had some stuff in my locker. I sent her an email telling her she needed to remove it before I took my stuff south. She called and we talked it over. After talking to her, I knew that I needed to fly up to Seattle.

Damn the cost and the trouble, I wanted to see my kids.

So, I bought a ticket to Seattle and reserved a truck. Man oh man, was I asking for trouble.

I flew up on Saturday morning and Susie and Steve picked me up. Originally, Libby was supposed to pick me up, but she was sick. Susie and Steve graciously let me stay at their new house for a couple of days while I visited with my girls.

You know about best laid plans. Katie was out of town and Libby was sick. I spent Saturday watching the Mariners fight for the playoffs and catching up on lost sleep. On Sunday, Susie cooked a family dinner and Katie came up to visit. Libby was still sick and opted to stay at home in bed.

Then came Monday. Moving day. Argh!!!!

Susie took me up to Everett to rent the truck from Budget Rent a Truck. She dropped me off, then headed down to my storage locker. She had selected herself as Libby's surrogate since Libby was too sick to look after her own interests.

I stopped by Home Depot and picked up a couple of guys to help me load the truck.

Moving is not fun under the best of circumstances. I opened the door on the storage locker and almost wept. There was so much crap in the locker I didn't know how I would ever get it in the little apartment.

Susie was a trooper. She pulled stuff aside for Libby and valiantly offered to store it at her house. I was embarrassed at how much stuff I dumped off on them, but could easily have doubled it. I certainly didn't need it in San Diego. As things are, I will probably give most of it to Willy-Willy (Goodwill).

We had a large house in Lynnwood and our furniture reflects that. I don't know how I'm going to fit a king-sized bed, a huge armoire and china cabinet into our apartment. But, I have confidence in Dawn's ability to decorate.

And the stuff weighed a ton. It takes three men and a boy to move the armoire. Dawn's bed frame must weigh roughly as much as a Buick. My helpers did an admirable job lugging this stuff and Susie and I worked ourselves into the ground. I should have stopped at a drug store and bought Susie a bottle of Tylenol to compensate her for her efforts.

When we got the truck loaded, I swang by Susie and Steve's house to drop off Libby's stuff. Then, after a tearful good bye, I was on the road.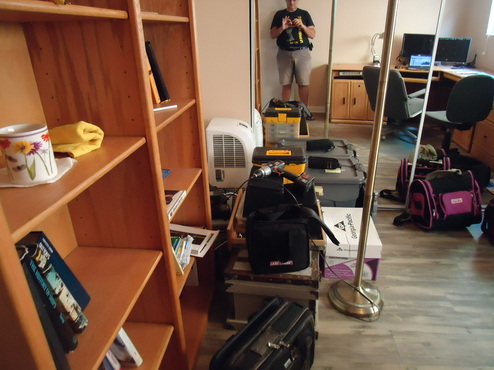 This truck, which I named Bessie, was a monster. I have driven large motor homes before, but somehow this twenty-four foot van seemed huger. You can't see behind you. The side mirrors are good for seeing who's in the next lane, but you have no idea of what's behind you. And it drove like a truck.

After spending the morning loading the truck, I drove to Portland for the night. I wanted to stop and spend an evening with Mama before heading south.

It was a relatively easy drive to Portland. I arrived around six pm. I parked the truck at the end of Dave's (Mama's new husband) cul-de-sac and went in to say "hi." Mama thought that the truck would be in someone's way, so she asked me to move it in front of their house.

I pulled forward, then, because the cul-de-sac is curved, backed up to get out of the street.

Remember what I said about not being able to see behind me? Well, there was this big tree that stuck out over the road. Notice that I used past tense? Yep, you got it. I backed into the tree and tore down the huge branch that hung over the street.

I couldn't believe the extent of the damage when I didn't even feel the impact. When I got out of the truck, I was stunned that I had done it.

"We just paid $275 to have a tree taken down in the back yard and $350 to take down a tree next to the house," Mama said.

"Well, you got this one taken down for free," I replied.

I moved the truck forward and pulled the downed tree off of the sidewalk.

"That will give Dave something to do," Mama whispered to me.

Jon and his family and Jim (my brothers) came over for dinner. Mama made a big pot of chile colorado and frijoles. Jim brought rice. Jon and Jennifer brought guacamole and queso fundido. We had a grand family meal.

After dinner I went to see Jon's new bar. The lease ran out on his old place and Jon, in his best diplomatic way, insulted the land lord. The land lord refused to renew their lease. They had to move somewhere.

So they found a new spot, and with Mama and Jim's help, have the new place up and running. I hadn't seen it yet, so I dropped by to check it out.

We had a drink and I got the tour, then headed back to Mama's for a night's rest before heading back out on the road.

Have I mentioned how tired I was yet? I didn't sleep well the night before flying north, then spent a day loading the truck and driving south. I was beat.

The next morning Mama made strawberry waffles ("That's what the angels in heaven eat for breakfast," she told me.) for breakfast. We had a pleasant meal, then I was on my way.

On the road again. I planned to stay around Reading or Red Bluff in Northern California for the first night. I didn't make it that far. By the time I made it to Medford I was so beat I had to stop.

Trying to drive around on city streets to find a motel or a restaurant is an interesting challenge when you are driving a twenty-four foot truck. I found a place easily accessible from the freeway with an Elmer's Pancake House across the street.

You know how much trouble I have walking. It was easier for me to hobble across the street than to try to drive Old Bessie around the block a couple of times to get there.

The next morning, I filled up the fuel tank and got on the road early. Como friegas! Do you have any idea how much fuel a big truck like that burns? Suffice it to say that Bessie was one hungry girl. I paid $3.89 for Diesel in Medford, which seemed reasonable enough for me. At my next fuel stop, I paid $4.19 a gallon and out in the wilds of California's Central Valley I paid $4.39 a gallon, a full fifty cents more than in civilization. They really gouge you when they're the only gas station in town. Back in San Diego, the cost dropped to a more reasonable $3.99 a gallon.

As I drove the 1200 miles from Seattle to San Diego, I tuned the truck's radio to NPR. Every couple of hours, I ran out of the signal area for the local station and had to search the radio dial until I picked up the next station. It was comforting to have the same old familiar voices keep me company as I drove mile after mile.

Climbing the mountains between Roseburg and Medford, Oregon, I learned how long a trip this would be. Climbing the steep grades, Old Bessie slowed down to 35 to 40 miles an hour. We crawled up the hills and I knew that I wasn't going to average 60 miles an hour on this trip.

The next morning was one of the most challenging of the trip. We had to climb the Siskiyou Mountains between Southern Oregon and Northern California. We crawled up the slopes, cars flying past us in the fast lane. The road slogs up the hills, around curves and through little whistle-stop towns.

I was stunned and depressed when I drove over Lake Shasta. It isn't there anymore. The water level is so low that in some places, all that's left is a trickle of water in the river that feeds the lake. The last time I was there, marinas on the shore were high and dry, with their docks a couple hundred feet from the water level. This time, they had moved the docks down the slope to the meager shoreline.

What's going on with our planet? Where has all the water gone? I just read a story about one of the world's great lakes in Russia somewhere disappearing. Did this happen to the dinosaurs before they went extinct? What's going to happen to us?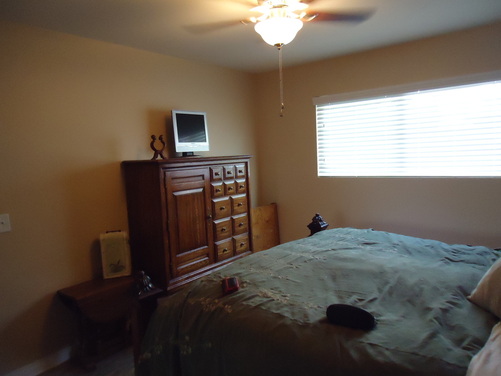 My plan for night two was to stay in Bakersfield. I didn't make it. Once again, I was so tired and couldn't stay awake at the wheel. I pulled over at rest stops a couple of times to close my eyes for a few minutes, but I knew it wasn't safe to keep going. I finally found a Motel 6 in a tiny wide spot in the road called something like Santa Nella.

The room was not luxurious, the bed felt like it was made out of concrete, but it was clean and there was a Denny's across the street. Once again, I limped over for a quick meal, then headed back and died in the bed.

I had a whole different adventure the next day. As I drove south, I was visited by the tourista. Out in the middle of the Central Valley, with no towns or businesses, I had to watch for rest stops very carefully and made use of all of them. This slowed my progress immensely.

At the last rest stop, there were warnings and instructions for climbing the Grapevine. Oh God! I had forgotten about the Grapevine. It is one of the most treacherous patches of road in the country's Interstate Highway System. As a matter of fact, I think I heard somewhere that it had the steepest grades of any interstate highway in the country.

And I had to coax Old Bessie up that mountain.

I gulped a deep breath, climbed back into the truck and started out. When I was a kid, there was a country song called "The Highwayman" by Curtis Leach. Itwas about a truck driver going over the Grapevine. He was in an 18-wheeler with a flat bed loaded with "twenty tons of building stones." His brakes failed and he rode the rocket sled down the hairpin curves and switchbacks. I loved the song. Now I didn't want to repeat it.

We inched and crawled and fought for every inch up that hill. Old Bessie fought and clawed, I gave her all the support and help I could. It was a long, torturous climb, but we finally crested the summit. Then we had to head back down.

There are turn offs for trucks to stop and check their brakes before they head down the hill. I had no idea what to check, so just kept on going.

I dropped her into third gear and rode the brakes. I kept her under 65 miles per hour most of the time, sometimes having to slow down 40 or 50 for curves.

The good news is that we made it. By noon we were gliding down the slopes and into the Los Angeles Basin.

Traffic through Los Angles was a dream. We flew on through with hardly touching the brakes. I had to stop in Tustin, near Newport Beach, to pick up a new holding tank for the boat. I rented a GPS just for this side trip. Finding Ronco Plastics was no problem.

We loaded up the tank and headed out for the final stretch home. I can't tell you how glad I was that this trip was almost over.

Then we hit San Diego rush hour traffic. Actually, there was an accident on I-805 that turned it into a parking lot. The last sixty miles took me almost two hours.

I pulled into our apartment tired and dirty and beyond caring.

Dawn was waiting for me with our friend Ken, who was going to help us unload. The last thing I wanted to do was unload the truck. But Dawn had been sleeping on a mat on the floor for a week. We needed to at least get the bed out of the truck.

So I opened up the truck and we went to work. I honestly don't know how I did it. One foot in front of the other. We unloaded boxes and tables and pieces of my desk that were in front of the bed. Finally, we dug down deep enough to get the bed out.

Then we couldn't find the screws to put it back together. Damn it! I was too tired to go on. We set the mattress and box springs on the floor, Dawn found some queen-sized sheets that didn't really fit and we decided to just bunk down for the night.

The next morning Ken showed up ready to go back to work. God bless him. He had energy and strength and got us moving. I was so tired and hurt so badly, I would have just stayed in bed. He drove my truck up to the Home Depot and hired a couple of guys to help unload the truck. He stayed in the truck and supervised the unloading. I was in the apartment, deciding where to put stuff. By early afternoon the truck was unloaded and I could return it to Budget.

I was never so glad to get rid of something in my life. I couldn't find a service station that sold diesel on the way to the Budget lot and was so tired I just let them worry about filling it. I would rather pay the thirty dollar filling charge than take another step.

Ken and I stopped for lunch on the way home, then we put the bed together. He left and I collapsed into the bed. There weren't enough pain killers in the world to ease my pain.

Now we have an apartment filled with boxes of stuff and furniture that needs to be re-assembled. The china cabinet is easy. My dining room table somehow broke its legs in the storage locker. I need to put it back together. Then there's my desk. I'm setting up an office in the second bedroom. My desk is roughly the size of the flight deck of the USS Abraham Lincoln. I disassembled it when we put it in storage. Now I have to try to remember how it goes back together.

So, you can see, we have a week or so of fun left for us.

Oh yes, and I didn't have room to tell you about the fire. I did need my super hero outfit again, but I'll have to tell you that story next time.