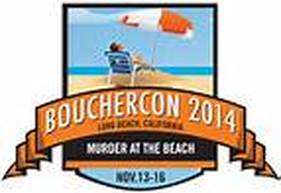 It rained the night before last. The rain brought San Diego to its knees. When the power went out last night, Dawn was sure that it was because the power lines got wet. When we heard about the Buffalo NFL game being moved to Detroit because Buffalo got eight feet of snow, she was sure the San Diego game would be moved to Phoenix because of the .01 inch of rain we got.

Needless to say, San Diegans are not equipped to deal with rain. Being from the Northwest, we laugh.

I promised I would keep you updated on my South Beach Diet progress. I lost three pounds the first three days, then in the next week I lost nothing. I'm discouraged.

Of course, Bouchercon was mixed in there too.

What, you ask, is Bouchercon?

Bouchercon is the World Mystery Writers and Readers convention. This year it was held in Long Beach, CA. I found out about it two weeks in advance when a friend announced on Facebook that she was going. I checked it out and signed up.

I really did try to stick to my diet, despite living in a hotel room for three days and eating all my meals out. I had breakfast at the hotel buffet. Admittedly I took bacon off of the buffet line, but I also had scrambled eggs, lots of fruit and steel ground oatmeal, all things within my diet.

For lunch one day I had a chicken Caesar salad from Starbucks. I see no reason to ever order that again. The next day I had a BBQ pork sandwich, but didn't eat the bread and had a salad instead of the French Fries. The third day I had a hamburger without the bun and again had salad for the fries.

I really tried to be good. However, on two different occasions, groups of large burly women held me down and forced cookies down my gullet.

I guess I should be grateful that I came out of the conference even. It could have been much worse.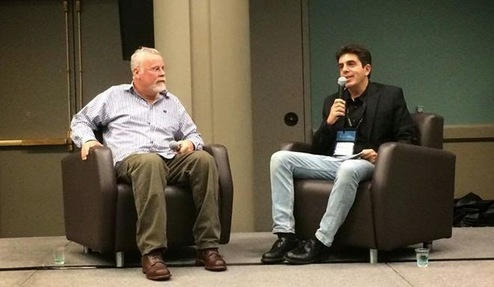 Now for a quick rundown on Bouchercon.

It was great. I haven't been to a writers conference in three years. I went to lots of workshops and seminars and attended several panel discussions.

The best seminars were two given by Cara Brookins and R.P. Dahlke on marketing your books on social media. I learned a bunch that I'm already starting to put into effect.

The highlight of the conference for me was seeing Michael Connelly. I love his books and characters. I got to sit and listen to him talk about his writing experiences for an hour. And the big bonus: he is working on a TV series starring Harry Bosch, his hard-bitten LA homicide detective.

The second big bonus: I got to see some of my writing friends from Seattle. It was great. We all had dinner together on Friday night and I bumped into them from time to time throughout the weekend. The conference was so busy that I didn't have time to catch up as much as I would have liked, but it was great to see them.

As you know, I published The Mexican Connection this week. I'm already doing research for the next Ted and Chris adventure, tentatively titled Bikini Baristas. Unfortunately, I haven't found any bikini barista stands in San Diego at which to do my research.

If you're a trial lawyer and have an extra hour, drop me a line at contact me. I could use a little expertise in this field to flush out the story line.

After Bikini Baristas, I'm thinking about giving Ted and Chris a break. I want to write a book about Dawn's dog, Odin. He has to be one of the most traveled and most photographed dogs in the world. He has lived an interesting life and I want to record it while I still have him here to ask about it. Naturally, I expect that he will want to write part of the book, as he did in my "Great Dane on Board" series on my web page.

Have a happy Thanksgiving everybody. It's my favorite holiday. Dawn and I will drive up to Santa Ana to spend it with my cousins. I hope you all surround yourselves with family and have great time.