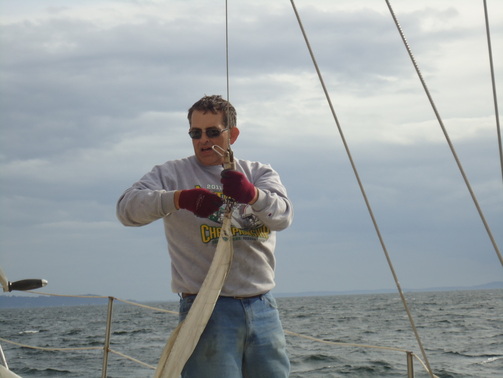 I was not born a fat person. As a matter of fact, for all of my early life, I was very athletic. Then I hurt my back.

On New Year's Day, 1997 I fell off the roof and broke my back. What, you ask, was I doing on the roof on New Year's Day?

Seattle had a very unusual ice storm. Boat houses in the marinas sank due to the weight of the ice on them. Power lines snapped and everyone was suffering from the cold.

Then it began to thaw out. Our basement flooded. That must be, I surmised, because our gutters were full and water was running down the side of the house and not the downspouts.

I put on my woolies and climbed up on the roof to check the gutters.

We had a metal roof on the house. It was frozen over. I lost my footing, slipped down the roof and went over the side.

I landed in a sitting position on our deck, some eight feet below. I broke three vertebrae in my lower back. When I was on my feet again, I examined the deck. I had driven it three or four inches down the side of the house with the force of the impact.

As a result of my injuries, I was confined to bed for several months. My wife, Connie, was very solicitous. She cooked me all of my favorite foods and left me with chocolate cakes or chocolate chip cookies to get me through the day.

Eating all of those calories and getting no exercise had the expected results. I put on fifty pounds.

I have spent the last seventeen years fighting those pounds.

In December of 2003 I finally had gastric bypass surgery and got back down to an acceptable weight. This is not a pleasant way to lose weight. For the first two weeks after surgery, I didn't eat anything that hadn't been processed in a blender first. This was about as appetizing as a glass of swamp water.

Anyone who thinks that gastric bypass surgery is the easy way out has another think coming.

After Connie died, I bought an old boat and spent two and a half years rebuilding it, then sailed it to Mexico from Seattle. Let me tell you, that kind of work will take the weight off like nobody's business. I was down to my best weight since high school.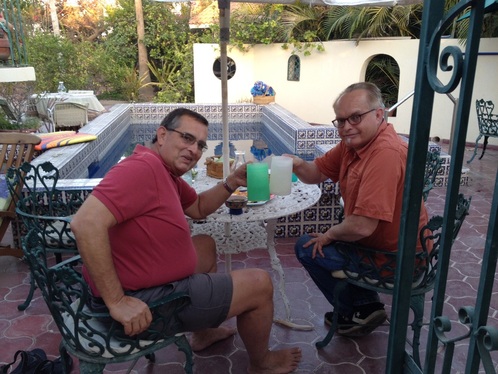 Then, in May of 2013, I hurt my shoulder. We had taken a charter party out on the Victory and I was on the foredeck raising the stays'l. The boom came flying across the deck and hit me in the right shoulder.

I felt instant pain and my right arm was useless. The impact tore a tendon in my shoulder. I spent a couple of months in physical therapy and resting per the doctor's orders, then in August, had surgery to repair the shoulder. In the meantime, I became inactive. I couldn't do anything with a bum wing.

About the time I healed from the shoulder, I hurt my knee. We had guests visiting us from Seattle and I took them out sailing in La Paz Bay. Climbing unto the boat, I felt something tear in my knee. It was the last of my meniscus.

I had surgery to remove the torn meniscus in January 2014. Now, I have bone rubbing on bone in my knee. The doctor in Mexico suggested that I needed knee replacement surgery.

In the meantime, I can hardly walk. I hobble around, but every step hurts and I can't sleep at night because of the pain.

My solution? Eat more, exercise less. A perfect recipe for getting fatter.

So here I am, a year and a half after being at my best weight and most healthy I had been since high school, way over weight and sitting around the house all day.

If my injuries have negatively impacted my sailing and adventuring, they've been great for my writing career. I haven't been able to get out and about, so I have lots of time to sit at my computer and write.

After moving to San Diego from Mexico and getting on Obamacare, my doctors advised me that if I want the knee replacement surgery to go well, I need to lose weight. Last night I went to a writers dinner and had to put on real clothes for the first time.

I've been wearing shorts and T-shirts for two years now. I don't remember the last time I dressed up.

I dragged some slacks and a Hawaiian shirt out of my closet and was mortified at how tight they were. I need to change my life.

So, according to my doctor's instructions, I started on the South Beach Diet this week.

In the next few weeks, I'll chronicle how the diet is going and what progress I'm making. I'm hoping that by baring my soul to the public, I will be forced to keep on plan and show progress.

I got off to a good start. I had to see the doctor yesterday and, to my surprise, I've already lost three pounds. That's positive reinforcement.

We don't have a scale in the house and the plan recommends against weighing yourself daily. I have such regular doctor's appointments scheduled that I'll get weighed every couple of weeks anyway. The real proof will be in how my clothes fit. I have another dinner to go to next month. I fully expect to be able to get into my dress clothes without a shoe horn.

Don't get the idea that I'm doing this to look good. I am totally committed to getting my knee fixed and being able to get back on the boat. The Victory is waiting for me. We have lots of places to see and adventures to have yet. We're thinking about the Caribbean for our next adventure.

Stay tuned to this Bat Channel, I'll keep you apprised as to my progress. For now, it's time for me to go have my egg substitute omelet for breakfast.

Writing News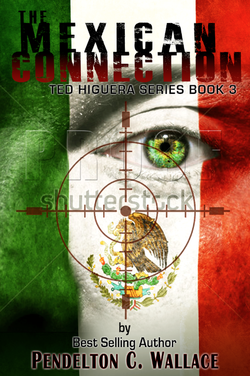 My life as a writer is extremely busy. I am almost done proof-reading The Mexican Connection. My next job is to format it for the Kindle. The Mexican Connection is the third book in the Ted Higuera series.

In this book, Ted and Chris get lured to Mexico by an old nemisis and end up smack dab in the middle of Mexico's drug wars.

I'm really excited about this book and it should be released by the middle of the month.

What's next? Ted and Chris are going to get involved in another case back in Seattle. This time, they'll be looking for the missing owner of a chain of bikini barista stands. My working title for this book is Bikini Baristas, but we'll see how it all works out.

Dawn and I are also beginning to put together the outline for a story about Odin's life. Odin is her one hundred and seventy pound Great Dane. My "Great Dane on Board" series on my blog (click here to go to it) was so popular that we want to write a whole book about Odin's life. I'll let you know how that's going as time goes by.

Finally, I just finished a promotion for Hacker for Hire. At the end of the four-day promotion, Hacker for Hire was #2 on Amazon.com's best seller list. It was #1 on the mystery and Hispanic literature lists as well. Thank you all for your support.

Now, I would like to ask the tens of thousands of you who downloaded a free copy for a favor. If you liked the book, please write a review on Amazon.com, GoodReads or where ever you go to find your books. If you didn't like the book, you can ignore this paragraph.

That's it for now. I'll be back next week with an update on The Amazing Shrinking Man.