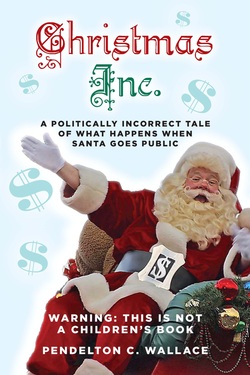 The holiday season is upon us.

If you haven't read my Christmas satire, Christmas Inc. yet, this is your chance. Click here to get your copy.

We started the season out with a trip to Westminster to have Thanksgiving with my cousins.

Carmen, Brenda, Yollanda, Suzi and Renee were our closest cousins and best friends when we lived in California. My sister, Quita, and I often walked to their house or they came to ours to hang out and play.

We lived in a little house at 2000 Anaheim Street in Costa Mesa. The Pantojas lived a couple blocks away. In those days there were still empty lots, so we could make a direct trip between our houses. Finding an empty lot in Southern California today is like looking for an honest man at a used-car salesman's convention.

We moved to Oregon in 1961. In the intervening fifty-three years, we have not had much contact. Four years ago, when Libby and I flew to San Diego to buy the Victory, I looked my cousins up. Libby and I drove up to Santa Ana to have dinner with them at Yollanda's house.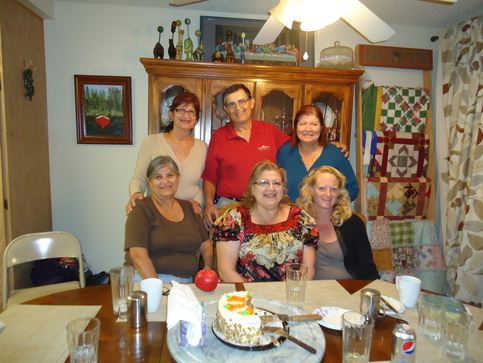 It was an amazing experience. Here we were, a bunch of old people, reliving our childhood memories. It was interesting that as I recalled an experience, they filled in pieces that I didn't remember and vice versa.

Now it's Thanksgiving and Dawn and I are hungry for family for the holiday. I got in touch with Suzi and kind of invited ourselves to their feast. Of course, they were very gracious. When I hinted at not having any place to spend Thanksgiving, they immediately asked us to come up there.

It's normally a ninety minute drive from San Diego to Santa Ana. It took three hours. We were supposed to be there by noon to help with the cooking. We got there at a quarter after one to help with the eating.

Carmen graciously left the gravy making and turkey slicing for me. She wanted everyone to participate in the preparation of the feast.

We had a wonderful time. There were about twenty-five people there. Children and their spouses and grandchildren. Can you believe it? My cousins have grandchildren? We were just kids ourselves yesterday.

I want to extend a hearty thank you to my cousins, Carmen, Brenda, Yollanda and Suzi, for the great time. They apparently are horrible judges of character. They invited us back for Christmas.

They do an American Thanksgiving and a Mexican Christmas. I was surprised and appalled that no one knows how to make tamales. I'll go up early on Christmas Eve and make tamales for the fiesta. More on that later.

Writing News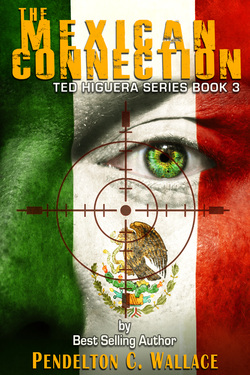 Things have been moving so fast that I can't keep up.

Of course, you know that I published The Mexican Connection, the third book in the Ted Higuera Series, the week after Bouchercon. I am pleased with the sales so far. If you're one of the hundreds of people who took advantage of the "Friends and Family" promotion, I would appreciate it if you would post a review on Amazon.com as soon as possible.

I want to run a promotion for The Mexican Connection in January and I must have at least twenty reviews for them to consider it.

Next, and this is really big, I am working with a group of well established authors on a Nautical Mystery Box Set. We will have seven novels in the set by bestselling authors Wayne Stinnett, RP Dalhke, CLR Dougherty, Steven Becker, Ed Robinson, Jinx Schwatrz and myself. I will include The Inside Passage in the collection.

It will be called Seven Seas Mysteries and should be out in time for Christmas. It will sell for 99 cents to introduce new readers to our novels.

I can't tell you how jazzed I am to be included with a group of such distinguished authors. I'm learning lots and we've built a nice camaraderie as we work on this project. I know that I will be in touch with these new friends for the rest of my life.

The third big piece of news I have for you is that I have been invited to make two presentations at the San Diego State University Writers Conference in January. I will hold a workshop on Critique Groups and give a presentation called "Marketing 101" recounting what I have learned about marketing your books. I hope some of you will be attending the conference and we get the chance to meet.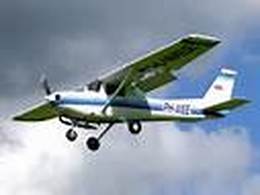 I found another benefit from my writing career. I have been hearing from people with whom I lost touch long ago.

First of all, I heard from Charlie Sablan, a friend that Connie and I worked with at VIP's Restaurants back about thirty-five years ago. It was great to catch up.

Then I got an email from Tom Reavley, who I have never met, but who had information that I asked for in the preface of Hacker for Hire. I soloed in a little Cessna 152 when I was working on my pilot's license more than forty years ago. Tom wrote to tell me that 3690J is registered in Shakope, MN. I hope she's still flying.

Now, here's the biggest surprise of all. My late sister, Quita's best friend, Terry Clark (now Theresa Aitchinson) contacted me. She Googled my name and found my web site. She used the "Contact Penn" form to send me a message. She read the first chapters from Blue Water & Me and was transported back to the Costa Mesa and Newport Beach of the Sixties. She wants me to sign copies for her grandchildren.

We are going to meet on Friday to catch up. After all, it has been more than fifty years since we've seen each other.

Wow! What gifts. It is a little scary, putting your writing (and heart) out there for the world to see and judge, but man, what benefits.

Now, before I sign off, Merry Christmas to all of you. I know that it is politically correct to say "Happy Holidays," but I celebrate Christmas. I want to wish all of you that celebrate Christmas a great holiday. And if you don't celebrate Christmas, I wish you a joy filled season as well.

And don't forget to get your copy of Christmas Inc.