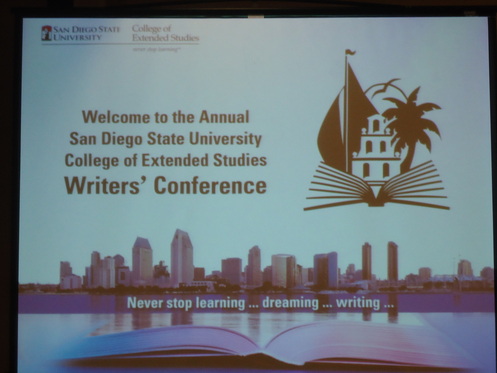 Okay, okay, I admit it. I've been a very baaad boy. I've been having so much fun writing Bikini Baristas that I haven't paid proper attention to my blog. You'll all be happy to hear that Bikini Baristas is coming right along. I'm about 68,000 words into the story, about 2/3rds of the way done. I expect to finish the first draft by the end of the month.

Click here to read the first four chapters.

This frenzy of effort doesn't excuse me from keeping up on my blog though. So, in contrition, I'm posting today's blog on the San Diego State University Writers Conference. We took a group out whale watching on the Victory on Saturday, so I'll post that soon thereafter.

The conference was held January 23rd to 25th at the Mission Valley Marriott here in San Diego. I was privileged to be asked to make two presentations. The first, Marketing 101, was well attended, it was standing room only, and had good audience participation. I think it went well and the attendees all learned something.

The second presentation that I made was Organizing a Critique Group. That was less well attended. We only had about a dozen or so people there. However, they were enthusiastic and asked many questions.

I loved making the presentations and felt like a celebrity. After the presentations, people stopped me in the hallway and asked questions or told me about their projects like I actually knew what I was talking about. It was great fun.

As a matter of fact, I don't think that anything that much
fun should be legal.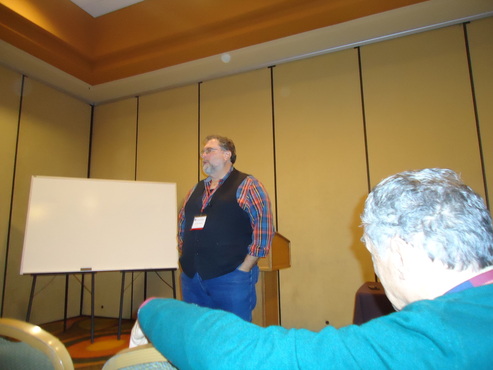 I also attended several presentations, the best of which were "When is the Best Time to Plan You Book Events?" By Susan McBeth, "Act Like a Writer" by Jonathon Mayberry and "Organize and Revise Any Manuscript" by Stuart Horwitz.

Susan is the president of Adventures by the Book in San Diego and an expert on staging outside the box book events. She told us about a book about horses. She staged a reception and charity event at a horse rescue ranch which not only sold books, but raised money for the charity. This month, she is staging an event at a French Lingerie store to coincide with Valentine's Day for a book about Paris. Her message was to get out of the book stores and go where your readers are.

I like this and since part of my 5-year Marketing Plan is to make at least one personal appearance a month this year, I will start contacting yacht clubs and boat shows to do readings of Blue Water & Me, Tall Tales of Adventures With My Father.

Jonathan Mayberry's message was if you want to be a writer, you need to act like one. I have a friend who used to say "I'm fakin' it 'til I'm makin' it." Well, that was thirty years ago. She is makin' it now. But she acted like a success long before she ever was one. Jonathon talked about how to build your brand as a writer, a subject which I endorse.

Stuart Horwitz has written a book on writing called Blueprint for a Bestseller in which he details his system for building a story's structure. Being a reformed software engineer myself, I appreciate his methodical approach to writing. This isn't a new topic, but Stuart has a unique take on it. His method is especially helpful when you get stuck or when you're editing your first draft. I bought his book, but haven't read it yet. However, if it is as good as his speech, I highly recommend you read it if you're interested in writing.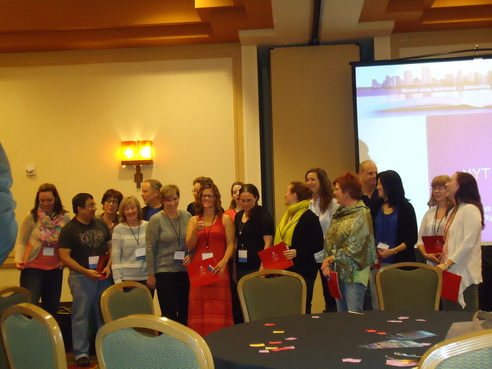 A big part of these writers conferences is the chance for authors to meet agents and editors. I lost count of how many representatives of the traditional publishing industry were there, but it was a bunch. (Who wouldn't want to get out of cold, snowy New York for a weekend in sunny San Diego?) I had the opportunity to speak with three agents.

Part of my Marketing Plan for this year is to get my Ted Higuera series in print. To this end, I pitched the series to these agents. I got mixed reviews.

Because the series is selling well as ebooks, they all expressed an interest in my writing. One reluctantly said to send her the first three chapters of my first book, then when I told her about my plans to write the story of Odin, our 170 pound Great Dane's life, she practically jumped out of her chair.

The second agent said that she would like to represent me, but that she didn't think she could sell a series that has already been published as an ebook. She wanted me to start a new series and send it to her. I do have starting a new series with a new hero on my Marketing Plan for next year, but this year I'll stick to Ted and Chris.

The third agent's eyes popped out when I told him about my sales numbers for the Ted Higuera series. He wants me to send him the whole series.

So, I'm hopeful that I can make progress on my plan to publish the Higuera series as hardcopy books this year. As I said, I plan to make at least one personal appearance a month this year and it would help if I had hard copy books to sell.

There were three excellent keynote speakers at the conference. Agent Chip McGregor told of his experiences in the publishing industry. Jonathon Mayberry gave a great speech titled "Good Guys Finish First," and Karen Karbo talked on "Quitting Your Day Job." She told us about her ups and downs as a professional writer.

One of the real fun things at the conference was that I got to network with friends. Joseph was down from Seattle. I hadn't seen him in years. Members of my writers group were there and I knew several of the presenters.

Writing can be a lonely profession, but it is wonderful to meet and exchange stories with other writers who face many of the same challenges that we do.

To top off a wonderful weekend, my friend Dave Larson won a Conference Choice Award for his biography The Last Jewish Gangster.

All-in-all, the conference was great. I will be back next year and would certainly recommend it to friends and colleagues.