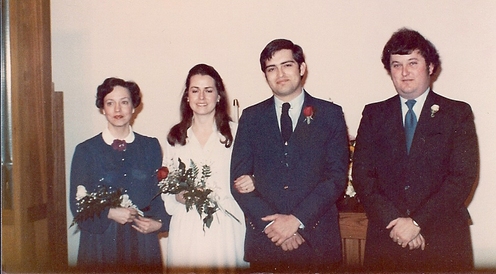 I didn't sleep well last night. I was dead tired and went to bed early. I dropped right off to sleep, then woke in about a half hour. I was up for a couple of hours, then drifted off again. This time I slept for about an hour until a nightmare woke me.

This pattern continued. I don't think I slept for more than hour at a stretch. When I did fall asleep, I was haunted by nightmares. I awoke with my heart pounding every time.

This morning I felt like crap. I got up, brushed my teeth, and went back to bed. Sometime later, Dawn brought me coffee and an English muffin. (Thank you, Dawn) I just couldn't get it going.

Then I got an email from a friend. She was expressing her remembrance of Connie. My wife died five years ago today from ovarian cancer.

I don't talk about this much, much less write about it, but it's really on my mind today.

The night of April 16th, 2010 was a horrendous. Connie was up all night. It seemed like every hour or so, she was in such pain. I gave her morphine intravenously. After the second injection, I got nervous and called Group Health's consulting nurse. She said to keep giving Connie the shots. Controlling the pain was the important thing. I was afraid I was going to give her such an over dose that I would kill her.

We couldn't seem to get on top of it. Sometime in the early morning hours I managed to fall asleep. At about 4 am, Connie let out a groan and slashed her arm, knocking down her bedside lamp.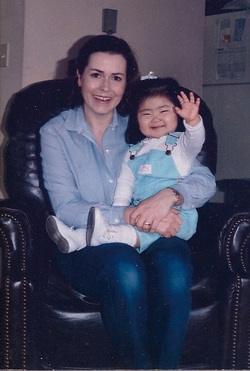 I was up in an instant. She was vomiting black liquid. I grabbed a wash cloth and cleaned her up. She was not awake. I asked if she was hurting, she didn't answer. I felt her forehead. She felt cold. I felt for her pulse.

She was gone.

I felt the breath leave my body. I sagged down on the bed. It was finally over. After a ten-year battle, Connie was finally at peace.

I didn't cry. I didn't feel a sense of loss. I lost Connie years before. This was just the husk that had been her body. The cancer had stolen her spirit years earlier. She had been in so much pain. It was a relief that the pain was finally over.

I went through the motions like an automaton. I called Hospice Services. They told me not to worry, they would handle everything. Then I called Barb, Connie's oldest friend, and her sister Marti.

"You need to get over here. Right now." I said.

They didn't question me; they just dropped everything and came.

I called the girls.

"Mom died last night. If you want to see her before they take her away, you need to get over here."

Time stopped. Somehow, the house began to fill with people. Barb and Susie showed up, then Marti.

"We'll clean her up and get her ready for the mortuary," Barb said.

I sat in the big green recliner in the living room, numb.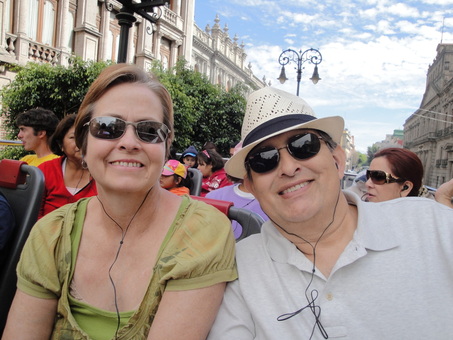 Somewhere during the morning, Barb's son, Chris showed up with pastries and orange juice. The girls arrived.

They wanted to have some quiet time alone with Mom. They went into the bedroom and lay with her. I couldn't help but think of the day that Connie's mother died. She did the same thing. She wanted to have some private time with her mother before they took her away.

"I'm done," I told Chris. I was exhausted. "I've spent the last ten years taking care of Connie. The girls are all grown now. I don't have anything left to live for."

I meant it. I felt like I had served my purpose here on Earth. I wasn't looking for a quick end, but if a car came speeding at me while I crossed the street, I doubt if I would have made any effort to get out of its way.

The people from the mortuary showed up. I signed the required paperwork and they took their gurney back into the bedroom. I couldn't go with them. I couldn't look at the shell that had once been my beautiful bride. I doubt that Connie weighed 85 pounds. Her wrists were pencil thin and her veins bulged beneath her skin.

They emerged a few minutes later with a body bag on the gurney. The houseful of people took a collective gasp. There was silence. Then they were gone.

I don't remember much about the next three weeks. I know we put together a memorial ceremony. I know a lot of people attended. I was in a daze.

Could it really end like this? Is this what we were living for?

A lot of water has passed under the bridge since then. I can't really say that I have gotten my life back, but I have a new life. I couldn't live in that house, in that town, with my memories. I tried to go back to work, but I just couldn't care anymore. Writing code and building web sites for rich corporations just didn't matter to me.

I bought a beat up old boat and spent two and a half years rebuilding her. Then I sailed her down the coast from Seattle to Mexico and spent two years living in Mexico.

I was fortunate enough to meet Dawn. She clearly understands that she is not taking Connie's place, but she has been a rock for me. She saved me, and the boat, more than once. She is a good sailor and is up for any cock-eyed adventure I want to try. I don't know where I'd be without her.

We're in San Diego now. I had to come back to the U.S. for knee-replacement surgery. I've got a new knee and am recuperating. I expect that we will sail south again in the fall of 2016 and head for the Caribbean.

Life goes on. I was exceptionally lucky to have had Connie in my life and was robbed of her way too early. But I go on, day after day, putting one foot in front of the other. I have new career writing; I'm living in a lovely place and have lots of exciting adventures ahead of me yet.

I have been fortunate to have had two such wonderful women in my life.