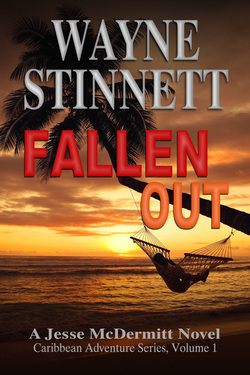 I hit the jackpot when I attended the Bouchercon last fall. I took a class led by Rebecca Dahlke about marketing your books. One of her suggestions was to publish a boxed set of several authors' books in the same genre.

I liked the idea and soon the Seven Seas Mysteries box set was born. I had the extreme good fortune to work with six other terrific writers in bringing this set to the public. Not only that, it was for a good cause and all of the proceeds from the sales went to the Veteran's Writers Project.

Now, here comes another benefit from the box set. We have developed a camaraderie among the group of authors and I suggested that we do a round-robin set of author interviews.

Today, I present the first interview, with Wayne Stinnett. Wayne is a great guy and a good writer. If you haven't read any of his books, I suggest you get one today. I love his characters and settings. Click here to buy your copy of Fallen Out.

So, here is my interview with Wayne.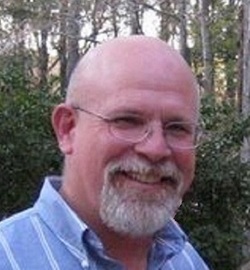 Wayne, Tell us a bit about your family.

My wife, Greta and I have four kids and four grand-kids, with another on the way. Our oldest is in her thirties and our youngest just became a teenager. We've had kids in the house for over thirty years and I have a grand-son who's a year older than my youngest daughter. I'm the second of four siblings and the oldest of three brothers. Sadly, we lost our youngest brother six years ago to cancer.

What books did you love growing up?

I was a big fan of the Hardy Boys Mysteries by the many ghost-writers collectively using the pseudonym Franklin W. Dixon. When my family moved to Florida when I was a young boy, I found a new book in the library by some guy named John D. Macdonald. I was hooked. Travis McGee lived a life that any kid growing up in Florida in the 60s and 70s dreamed of doing. When I got my first car, the first place I wanted to visit was Bahia Mar Marina in Fort Lauderdale. Imagine the disappointment of a sixteen year-old kid when I found there was no Busted Flush, nor slip F-18.

Who is your favorite author?

I've read all the McGee novels at least half a dozen times. I also enjoy James W. Hall, Carl Hiaasen, Randy Wayne White, and Elmore Leonard. Among indie authors, Michael Reisig and his books have been both mentor and inspiration. Michael reached out to me after reading one of my books and has been a great help in my writing. Over the course of reading one another's books we saw many similarities, even in character names. We chalked it up to our both having lived in the same part of the Florida Keys at about the same time.

Location and life experiences can really influence writing, tell us where you grew up and where you now live?

I grew up in Eau Gallie, Florida, about halfway down the east coast of the state. It's since been swallowed up by the city of Melbourne. The area sits on the west side of the Indian River Lagoon, which stretches over 150 miles, from Fort Pierce to well north of Cape Canaveral. As kids, we explored the lagoon close to home and all the creeks that fed into it, by canoe and later, power and sail boats. I spent a lot of time visiting and living in the Florida Keys as a young man. For the past thirteen years, we've been living in upstate South Carolina, near a small town called Travelers Rest. We're over two hundred miles from the coast and I miss it a lot. This summer we plan to move to Beaufort, to be closer to the kids and grands. The old man is returning to the sea.

What else do you do to make money, other than write? It is rare today for writers to be full
time…

I don't think it's as rare as most people think. I know of a whole lot of indie authors that are quietly earning a decent income from their writing. No, we're not on the tip of every reader's tongue and are, in fact, almost completely unknown. My only source of income is my writing and we live just as comfortably as we did when I was a truck driver. More comfortably in view of my being home every day and able to take our daughter to school, pick her up and kneel by her bed every night to pray. My wife works part time, but will be coming home for good at the end of May to take over a lot of the non-writing aspect of being an indie. That doesn't necessarily mean I'll write more. I intend to keep to my schedule of three books a year, but recently my work days have stretched into twelve to fourteen hour days. So, we'll be taking time off to enjoy life.

What other jobs have you had in your life?

You name it, I've done it. Through high school I worked in sales. Afterwards, I served in the Marine Corps for four years. When I came home from the Corps, I worked in construction and during down times, as a bar bouncer, commercial clammer and fisherman, cab driver, deckhand on a freighter, and divemaster. I took time away from the construction trade several times and worked as a divemaster in the Florida Keys, as well as overseas as a maintenance tech on Andros Island, Bahamas and again as a divemaster in Cozumel, Mexico. My last few years back home in Melbourne, Florida and then in South Carolina, I worked in construction management, but the stress was more than I wanted. In the early 2000s, two years after moving to South Carolina, I got a commercial driver's license and worked as an over the road truck driver, usually hauling over-sized loads from South Carolina to the Rocky Mountain States. For the last year, I've strictly been a story teller.

How do you write – lap top, pen, paper, in bed, at a desk?

My writing has evolved a lot over the years. In the eighties, I used pen and paper, then transcribed the short stories on a typewriter. A manual typewriter. I had zero success with my short stories back then and set the dream of being a writer aside to tackle life. In 2012, I took it up again, slowly developing an idea for a novel using a laptop and writing at night in the sleeper of the truck. Today, I still write with my laptop, usually sitting in my recliner in the den, with at least two dogs for company. I read dialogue to them and judge its realism by their reaction.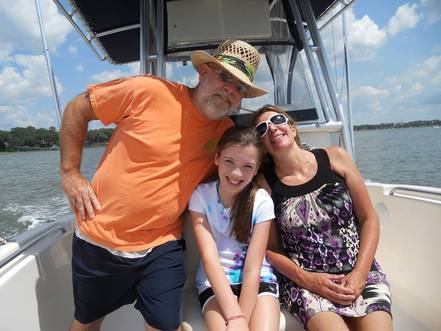 Do you have an organized process or tips for writing well? Do you have a writing schedule? Have you ever had writer's block? If so, what do you do about it?

I'll answer all these questions together. Writer's block is a real thing. Sometimes, you just can't sit down and start writing. It feels forced and uncomfortable. That's because your head's out of the story. To get my head back into the story, I follow the same process every day. Each day, when I finish writing, I type the word count at the end and set it as a style heading, so it appears in the table of contents, in MS Word. The next day, I go back to the word count number I entered two days previous, delete it and start reading, editing and expanding as I go. When I get to where I stopped yesterday, I drop below the latest word count number and start writing again, now with my head lost in the story. When I finish, I add the word count again, so there's always three word count entries in the TOC. I strive to write a thousand words a day, but sometimes miss a day, when other things need to be done. This also means that by the time the book is finished, I've edited the entire book twice.

How did you come up with the title for your first book?

Fallen Palm was my first book, though it's the second book in the series. Fallen Out was written fourth, as a prequel to the series, to answer a lot of email questions readers had about the characters' back stories. Fallen Palm was initially called Lynx Key Reign. It wasn't until the last two paragraphs that the new title leapt off the page. A single palm tree being cut down in the middle of an island represents a huge transition in life for the main character. It was my daughter's idea to stick with the word fallen in all the titles in the series. When writing Fallen Mangrove, the fifth book, she also suggested the titles follow the same pattern, since mangrove was the second tree used in the titles. Now I not only have to come up with a word that goes with fallen, but has to be in the order of tree, celestial body, and emotion, leaving Fallen Out out of the pattern. Fallen Palm references the palm tree that had to be removed so Jesse's island could be used as a helicopter landing zone. Fallen Hunter represents the time of year when the constellation Orion is setting just after the sun. Fallen Pride is named for the lost sense of pride a secondary character has after a dishonorable discharge from the Marine Corps. Fallen Mangrove deals with a clue to a buried Spanish treasure hidden in a mangrove tree. Fallen King revolves around the planet Neptune setting just after sunset. My upcoming Fallen Honor deals with the loss of honor in one of the regular secondary characters.

Can you tell us about your main character?

In the short stories that the first two books, Fallen Palm and Fallen Hunter, are based on, Jesse McDermitt was a twenty-four year-old Marine veteran, who moved to the Keys to escape society and earn a living from the sea, much as I was at the time. In the later novels, Jesse is a retired Marine Gunnery Sergeant, who buys a charter boat in the Keys and works only part time, to supplement his retirement pension. Jesse's a tall, physically fit man in his late thirties in Fallen Out, progressing to mid-forties in my current work in progress, Fallen Honor. A former sniper trainer in the Corps, he has a well-developed sense of survival and justice. Unfortunately, he doesn't have a lot of faith in local authorities to solve societal problems and often takes matters into his own hands. He's not perfect, and often makes mistakes. But in the end, justice is served. Whether it be by a well-placed rifle shot, or scavenging crabs and vultures doesn't matter.

How did you develop your plot and characters?

I'm a complete pantser, I never have a plot. Maybe a basic idea in my head and a certain setting. I like to write about places I've lived or visited, so I pick a destination, give the GPS coordinates to Jesse and he takes the helm from there. Sometimes, he goes completely off course, though. All my characters are based on people, or a conglomeration of people, I've met all over the Caribbean Basin. The settings are places I know intimately.

Who designed the cover?

While trying to create my own cover for my second book, Fallen Hunter, a long-time friend sent me a quick cover design that he did, which was far superior to what I was doing. I asked him if he'd do a new cover for Fallen Palm as well. Since then, Tim Ebaugh has done all my covers, using either his own photography or something I supplied. I've known Tim since were teenagers and I once dated his sister. Tim actually photographed the covers of Fallen Hunter, Fallen Mangrove, and Fallen King. His father is an accomplished photographer as well. Fallen Out is my own photo, taken years ago by my late brother. It's a picture of me, relaxing in a hammock at sunset on Big Pine Key, where the two of us rented a house two or three times a year and fed up to twelve people by lobstering and spearfishing. Fallen Palm was a photo I bought the rights to from iStock. Fallen Pride was photographed in three parts by my friend and Sister Marine, Nikki Godsey. It features her husband, Corey, and his friend Zach, both Wounded Warriors. I donate half the sale of every copy of Fallen Pride to Homes For Warriors, a non-profit that remodels homes in my home town and gives them to deserving vets. Tim does the graphics on the covers of all the books, though.

Have you included a lot of your life experiences, even friends, in the plot?

Being a Marine, Jesse is based loosely on my own moral convictions. I use a lot of my own experiences in the Corps and the Florida Keys, in describing Jesse's old life and his new life down there. He's kind of a mix of myself, Travis McGee, the character Thorn, in James W. Hall's books, the character Doc Ford, in Randy Wayne White's books, the character Jack Reacher in Lee Child's book and a lot of my late father's mannerisms and work ethic. In writing Fallen Pride, I asked my friends on Facebook if any of them would allow me to use their names for small characters. It was a lot of fun, matching friends to the people in my story. Rusty Thurman, Jesse's best friend, is based on two old friends, one from the Corps and another from the Keys.

What are your current writing projects?

In the five books from Fallen Palm through Fallen King, Jesse has been loosely attached to a government agency, working as a contract "transporter" of operatives and equipment, using his charter boat as cover to move members of the team around south Florida and the Caribbean. This wasn't something I'd designed to do. It just happened. Right now, I'm working on Fallen Honor, a book that will return Jesse to his hermit-like lifestyle, through a falling out between him and the leader of the government agency. At the same time, one of the team will be the main character of a whole new series, continuing the storyline of fighting terrorism in the Caribbean. Fallen Honor will debut in late July or early August and the first book in the new series should be published by the end of summer or early fall. I'm working on both at the same time, but with Fallen Honor as the priority.

Do you have any upcoming appearances that you would like to share with us?

This August, I'll be in Key West for the Mystery Writer's Key West Fest, along with my wife and youngest daughter. The convention is open to the public and I'll be selling my books at a booth and attending workshops on mystery writing. The convention is August 14th-16th, but we'll be there from the 10th to the 16th, so I can show Greta and Jordy around. There will likely be copious amounts of rum involved.