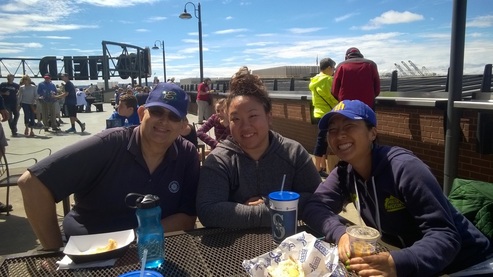 I've been MIA for the last two weeks. I made a trip to the Pacific Northwest to visit my family and friends. In April my daughters, Katie and Libby, came to L.A. for a concert. I was supposed to meet them there for a father-daughter weekend. However, I had not recovered from my knee surgery yet and had to cancel.

This is the makeup trip I promised them.

I started in Seattle where I went to a Mariner's game with the girls and friends Susie and Steve. I stayed with brother-in-law and sister-in-law Sam and Marti on Wednesday. That evening Katie drove down and we grilled hamburgers.

On Thursday the girls joined me and we had dinner with Barb and her kids, Jenn and Chris. Oh, we had hamburgers again.

Friday was spent at the ballgame where I had a hot dog for dinner.

On Saturday, Marti and Sam's middle son, Steven and his family came to visit and we, you guessed it, grilled hamburgers.

The next day, Libby and I drove to Spokane to visit our special friends, the La Plante's. We got there in time for dinner and guess what we had… hamburgers.

We went to River Front Park for old times' sake. When the girls were little, we would take them to the kiddie amusement park there every time we visited. They are tearing the amusement park down after the season and building a new one, so we had to see it one last time. We took two of the grandchildren so we had an excuse to act like kids. They put a gun to my head and forced me to ride the roller coaster, tilt-a-whirl etc.

Tuesday we went to a water park. By the time we were done with two days with the LaPlante's, I was dead. Fortunately, I headed south to Portland to see my mother and brothers.

My brother, Jon, picked me up and we headed over to Mama's for dinner. In the morning, Mama, her husband, Dave, and I piled into the car and drove to Astoria where Brother Jim is remodeling a house.

They failed to tell me that Jim didn't have any furniture in the house yet. There was a fold-away bed, but Mama got that. I wasn't going to ask a 90-year old woman to sleep on the floor. That means I got to sleep on the floor. With my knees, they had to rig up a crane to get me up in the morning.

For dinner, Jim had planned, wait for it…, hamburgers. I revolted and took them all out to a seafood restaurant for dinner. I don't need to see another hamburger for quite some time.

I got home Saturday. Dawn picked me up and on the way home we stopped at a local taqueria for a burrito. In the evening, Dawn, Odin and I walked down to the dog park. As we exited our apartment and stepped into the courtyard, I smelled carne asada cooking and heard ranchero music playing. On the way home from the park, we walked past the community center where they were holding a quincinera. I felt like I was home.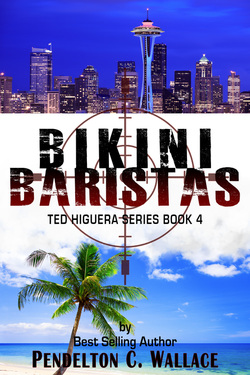 Okay, that's what I've been up to. I should throw in the commercial announcement here. We published Bikini Baristas on August 9th. We already have twenty-two reviews. Most of them are five-stars with a few four-stars thrown in. There is one malcontent who gave me one-star, but you can't please everyone. I want to thank all of you that took the time to write a review for me. They are the life-blood of the independent author. I am truly blessed to have so many dedicated readers. Thanx again.
The review contest for Bikini Baristas closed today. I'll announce the winners tomorrow.
You can get your copy at
http://tinyurl.com/pm8kp7m
.
What's up next? I have finished the first draft of a new Catrina Flaherty mystery. I don't have a name for the book yet, but it should be available by mid-September.
It's about a man whose two wives both die in mysterious accidents. Catrina is hired to find out what really happened. If you like Catrina in the Ted Higuera books, I think you'll love this story. She's at her kick-ass best.
We'll be working on the cover this week and I'll finish my first round of edits and send it to the proof-reader. Keep a weather eye out for it.
If you haven't read her first stand alone story, Mirror Image, you can get it at http://tinyurl.com/n5bxoed. It's about an abused house wife whose husband is the chief of police. When your abuser is The Law, where do you turn? To Catrina Flaherty.
Once again, I want to say how grateful I am to all of you readers out there who write reviews and send me your comments. You have no idea how encouraging it is to hear from you. Hang in there and happy reading.