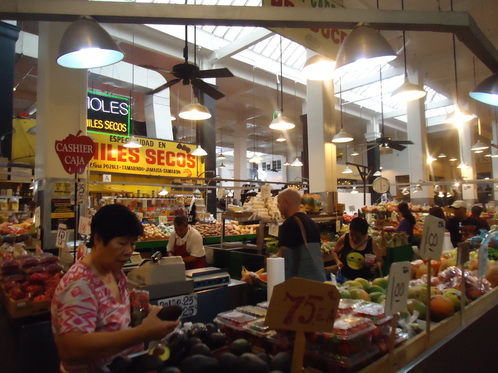 A long, long time ago, in a place far, far away, a boy who was fanatical about baseball had an idea. A wonderful, giddy idea.

I would take my motorcycle and cruise around the country all summer. I would stop in each major league city and see every major league ball team.

The idea was conceived in my new found freedom. I was eighteen years old and just graduated from high school. I was my own person now.

I had to have a motor cycle. After all, Peter Parker (my favorite comic book hero, Spiderman) talked his Aunt May into letting him buy a bike.

I fought and argued with my mother until I finally wore her down. She surrendered and let me buy a motorcycle.

It wasn't big or fancy. I could only afford a used Honda 305, but it was suited to cruising. I could pack a few clothes, a sleeping bag and take off.

Enter Mama. No way was she going to let me take off on a summer long Odyssey across the country. Baseball be damned.

"But Mama, this is probably my only chance to see all the teams in one season."

"They will still be there next year, won't they?"

"Yes, but there's never been a season like this. They just added four more teams and a playoff system to see who goes to the World Series. A season like this may never happen again."

"You're not going."

"But why?"

"I'm your mother and it's my job to protect you. You're only eighteen. Until you're twenty-one, I have final say. When you're twenty-one you can go out and kill yourself if you want, until then, you do what I say."

And that was it. End of story.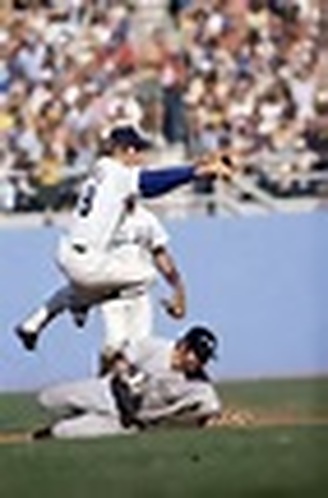 It was a wonderful magical season. With four new expansion teams, the good teams had lots of cannon fodder to prey on. I was a life-long Dodger fan and the Boys in Blue were caught in a monumental four-way struggle for the pennant. The Dodgers, the (hated) Giants, the Braves and the Reds were within two games of each other as the season wound down. And the Mets (yes, really, the Amazin' Mets, the Magical Mets) were leading the NL East. There was never again a summer like that one. And I sat it out.

As you may have guessed, I'm a dyed-in-the-wool baseball fanatic. Every winter, the prospect of Spring Training helps me get through the doldrums. After I moved to Seattle, where they had a "major league" team I never worked another Opening Day. I took the day off and took the family to the ball game

Flash forward forty-six years. I'm living in La Paz on my boat with trusty (and lovely) First Mate Dawn. Oldest daughter Katie calls.

"Dad, I'm taking a year off from work (She's a high-school Spanish teacher.) and traveling."

"That's a great idea, Katie. I wish I had done that at your age."

"I'm going to do a tour of Major League ball parks. Do you want to go?"

Does a monkey eat bananas? This was the trip I'd fantasized about almost fifty years ago. It wouldn't include motor cycles and hot chicks, but what the heck. I'm getting a little long in the tooth for that anyway.

I certainly couldn't afford the trip, but an opportunity like this only comes along twice in a life-time. I talked it over with Dawn and decided that I was in.

That brings us to today. I'm sitting in a hotel room in Kansas City. We're going to the Negro Leagues Hall of Fame today, going to eat (more) BBQ and catch the Mariners and Royals tonight. Does it get any better than this?

This is the story of Katie and Penn's Amazing Baseball Odyssey. Stick around, I'll give you the blow by blow.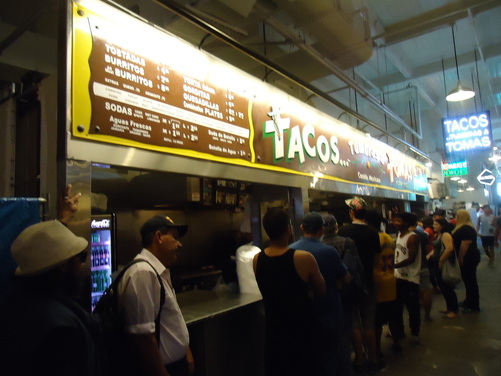 Day 0 Saturday, September 19th, 2015

Katie has been on a personal journey of discovery for almost three weeks now. She drove down the Coast, switched over to Eugene (home of the University of Oregon Ducks), then crossed back to the coast to drive all the way to L.A. I won't tell you about all of her adventures because that's her story to tell. I will say that she caught a couple of concerts and a ball game in Oakland.

My trip starts a day early. I met Katie in L.A, on the 20th, but my Uncle Santos was in town and I needed to make time to see him. He lives in South Carolina, so I have to make time when he's here.

I drove from San Diego up to Westminster in Orange County, about a two hours drive, to my Cousin Carmen's house. We all met and climbed into two cars for a jaunt up I-5 to L.A.

Our goal: tacos. I know you are thinking "Drive an hour to get tacos?" Well, you haven't had these tacos. Connie discovered the Grand Central Market when I was at a conference in L.A. She drug me back there that evening and we had tacos at the taco stand. OMG. The best tacos in the world.

So, we drove north for an hour to find these magical tacos. They lived up to their billing.

After gorging ourselves on tacos, Carmen (who is a sommelier at a Disney Restaurant) wanted to visit the San Antonio Winery. That's right, there is exactly one winery in L.A.

I was in Yolanda's car. Yollie got the address from Santos and entered it in her GPS. Santos entered it in his GPS. Guess what, they didn't agree. When one said turn right, the other said turn left. Finally, Yolanda decided to follow hers. We drove north on I-5 (that's "the 5" for you SoCal residents). We seemed to be going a long way. Then her GPS told her to get off on Riverside Drive. We wandered around the street s of L.A. for a while, then were directed back to I-5. What the hey?

Finally, the GPS told us to get off in Burbank. We wandered the streets of Beautiful Downtown Burbank for half an hour. Turn right here, turn left there. Finally, in a residential neighborhood, Mr.GPS said "You have arrived at your destination."

It was a private house. We called Carmen and discovered that they had been waiting at the winery for half an hour. They gave us directions and we headed back south.

Much to Yolanda's embarrassment, the winery was only a few blocks from the Grand Central Market. As we pulled in I noticed the address. It was 310 Lamar Street. Yolanda had put 310 LamEr Street in her GPS.

Oh, well. We had a fun drive and the trip to the winery was great. Anytime you can end an embarrassing moment in a place where they give away alcohol, it couldn't be all bad.

I stayed with Carmen that night so I didn't have to drive back to San Diego, then up to L.A. in the morning.

Other Stuff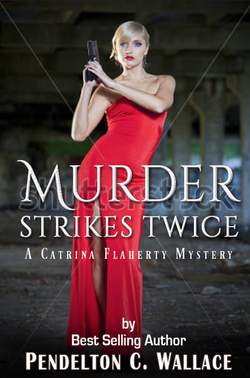 I do have other stuff going on besides the baseball trip. I'm working hard to get Murder Strikes Twice to publication. As usual, I'm behind schedule, but my proof reader brought up several salient points that I need to address. I also think I need to add a couple more scenes to explain the story better.

Watch for more news here. I hope to have Murder Strikes Twice available in early October.

What's the story about you ask? I'm glad you asked that question. Female P.I. Catrina Flaherty takes on one of her toughest cases. Brody Barrett's wife died in a hiking accident at Glacier National Park. Everyone is sad, until Catrina discovers that five years ago Brody's first wife died in a mysterious accident.

This is, as they say on TV, a story ripped from the headlines. The actual case is still going on, but I couldn't wait for resolution before I wrote the fictionalized version.

Don 't miss this one.

Other News: I'm still working away at my diet and exercise plan. The day before we left on the Magical Baseball Tour, I was down twenty pounds. I give no guarantees of how much I'll weigh when I get back. We're in the middle of BBQ territory

Stay tuned to this Bat Channel, the great adventure has just begun.