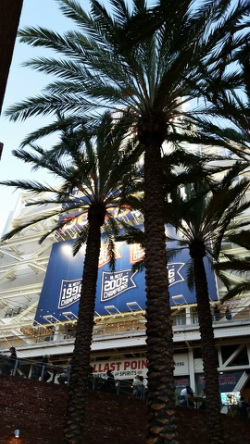 Day 2 - Monday, September 21st 2015

Today was a free day, no baseball scheduled. I can't begin to express how happy it made me to have Katie stay with us and get to know Dawn. I was near tears several times.

Katie got to meet Odin, our 175 pound Great Dane. I'm really sorry that she didn't get to meet him a couple of years ago. He is so old and worn out that he just sits on his bed all day and watches the world pass by. Katie would have loved going to the Dog Beach with him in his glory days.

The day started with Katie taking her cat, Kiva, who's staying with us, to the vet for a teeth cleaning at 7:30. Needless to say, we didn't get up for that one. After she got back, she climbed back into bed for a couple of hours more sleep.

After a big pancake breakfast we headed to La Jolla to see the Scripps Institute's world famous Aquarium. It was a beautiful San Diego day and we lingered at the outdoor tidal pool exhibit.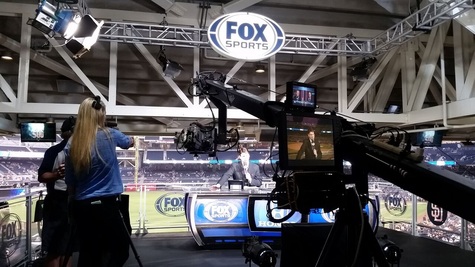 After the Aquarium, we headed into La Jolla for lunch. Katie found the El Pescador Seafood Market and Restaurant on Yelp! It was great. Dawn and Katie had salads smothered in seafood and I had a grilled salmon sandwich.

The day was getting away from us and I needed to get cooking. Katie had requested Mexican food for dinner.

We stopped to pick Kiva up and I stepped next door to Von's to get a few ingredients for my witch's brew, then we headed home.

I was pretty well spent after a day on my feet at the Aquarium, but I soldiered on. I made beef enchiladas, refritos and rice. Dawn's brother, Duane, came over for dinner. I was a little disappointed with my enchiladas, I used the ancho chile powder I bought at the Grand Central Market and it was a little stronger than I expected. Everyone else liked the enchiladas. Now that I know what a bang that chile powder carries, the next time I make enchiladas, they will be milder. You want to get yourself invited to that.

After dinner, Duane gave me his old smart phone. He's always up to date on the latest technological gimmickry, so he had to buy a Samsung Galaxy 6. The old Galaxy 5 is still a great phone so I eagerly accepted it. Now I have to learn how to use the darn thing.

What happened to the days when I just wanted a dial tone?

After Dawn got the kitchen cleaned up, we headed to bed. I didn't intend to stay up and talk, but when I came out to brush my teeth, Katie was in the living room. We got to talking about one thing or another and soon it was 1 am, way past my bed time.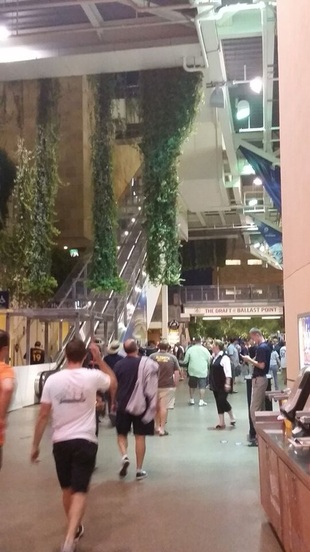 Day 3 Tuesday, September 22nd, 2015

Our second baseball day. Today we went to see the Padres, but first, we had some errands to run.

Katie asked that I make huevos rancheros for breakfast so I got up early to make the ranchero sauce. Everyone was still asleep, so I worked on my book for a while before I finally got antsy and woke them up.

Breakfast was a smash hit. Afterwards, Katie and I headed out to do our errands. We got her glasses fixed at Normal Heights Optometry, a nice little shop where I had just bought new glasses, then went our own ways. Katie got her hair done and I had to get my new smart phone hooked up to my network.

The reason I hadn't bought a smart phone before now was the expense. I was amazed at how easy the whole thing was. I was already on a data plan that I share with Katie and Libby, and the upgrade to a smart phone only costs me $10 a month, much better than I expected. A free phone wasn't bad either, thank you Duane.

We met back at the apartment and got ourselves organized, did some laundry and packed. We're leaving very early on Wednesday on our flight to Kansas City.

The clock continued to tick and soon it was time to go to the Padres game. We didn't eat dinner before the game since it's Taco Tuesday at the ball park. All tacos cost $1. Katie couldn't believe that you could buy anything at a ball park for $1.

I bought a ticket for parking when I bought the baseball tickets. It turns out that the parking garage was about five miles from the stadium. I paid $10 for the ticket. Drive ups only paid $5 for parking. I did feel a little better about it when we passed a lot that was charging $30 for parking.

Petco Park is a beautiful stadium. (Have I ranted about how I hate selling the naming rights to big corporations lately?) I have a friend who thinks it is the single ugliest piece of architecture ever designed by man. He apparently doesn't remember the Kingdome.

Be that as it may, I like the park. It uses a façade from an old warehouse on the southwest side of the stadium and the old warehouse is now filled with luxury suites. I'll probably never get to see those.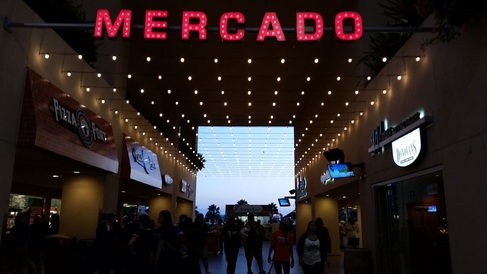 Katie was overwhelmed by the walking areas around the outside of the stadium. "This isn't a baseball stadium," she said. "This is more like a mall."

I guess she's right. I hadn't thought about it that way, but there are all sorts of high-end shops, bars and restaurants there. You can pay $50 or $60 dollars for a ticket, then go watch the game on TV in a fancy sports bar. What's not to like?

Okay, Petco Park is built to modern tastes. I've already ranted enough about our consumerism in this blog, so let's just say that it fits San Diego's young, affluent population to a "T."

The Padres played the (hated) Giants. The Padres are long out of the pennant chase, but the (hated) Giants are still fighting for a spot in the playoffs. Much to my disappointment, the (hated) Giants won. So far on our trip, the home teams are 0-2.

Did I mention Taco Tuesday? Katie went to find a beer and came back with half a dozen chicken tacos. They were actually pretty good. I can safely say they were the best tacos I've ever eaten at a ball park. (I must admit they were the only tacos I'd ever eaten at a ball park.) With Mexico only fifteen miles down the road, a lot of Mexican culture has seeped over to this side of the border.

We left after the eighth inning because the Padres were so far down. The Pads managed to scratch out a couple of runs, but still lost 4-2.

We headed back home to finish packing for our EARLY morning flight. To add insult to injury, American Airlines changed our flight from 7 am to 6 am.

By the time we were ready to go, it was 1 am. We climbed into bed knowing that we would only get three hours of sleep. Oh, the things we do for baseball.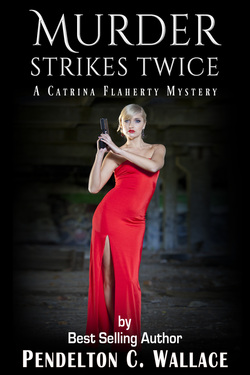 Other News:You may be aware that my website was down for two days. I'm really sorry. My bad.I changed Internet hosts a couple of years ago. I thought that my domain registration would go to the new company.Wrong.When I got a notice from the old company that my domain registration was about to expire, I ignored it.Lesson learned. They took my website and email off line. I scrambled to get it back up, but it took two days. Hence my absence on the web. But we're all back to normal now.We're getting close. Here is the cover for my new Catrina Flaherty Mystery. I'll be contacting readers soon to ask for reviews. If you would like me to send you an Advance Review Copy (ARC) of the book in exchange for a review, please
click here.
I haven't been hearing from you lately. Please drop me a line and let me know what you think of my books, website, blog or whatever's on you mind. (I usually don't comment on the presidential race, I'm too busy laughing.) You can send me an email by
clicking here
.