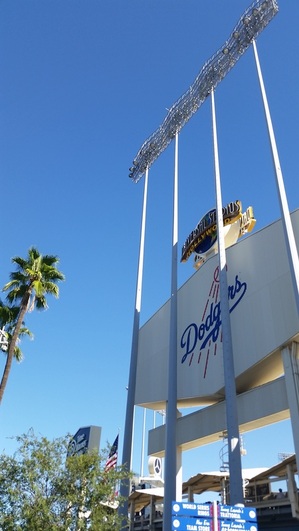 Sunday, September 20th, 2015

I got up early at Carmen's house and packed. When I went to load the truck, I couldn't find the keys. I tore apart my luggage. No keys. Carmen and I searched the house. No keys.

Where or where could my little keys be?

On my third (or was it fourth) iteration of searching my luggage, I decided to look in the camera case. BINGO! Keys. I vaguely remembered putting them there last night. I was so tired I didn't know what I was doing.

Mystery solved, I jumped into the truck and headed for L.A., late. Then I had the usual L.A. traffic. I made arrangements to meet Katie at a Cuban restaurant close to Dodger Stadium for brunch. I finally had to call her and tell her to order. If I got there in time, I'd order, if not, I'd grab a Dodger Dog.

When I finally got there, there wasn't time for me to order. Katie had ordered Cuban style huevos rancheros, so we shared. It was about the right portion for both of us. The Cuban huevos were kinda similar to Mexican huevos rancheros, but not the same. First of all, there was no tortilla or refried beans. The eggs were on the plate with a sweet kind on sauce on them. There were whole black beans and white rice. All-in-all, not a very spicy meal.

Now, I'm not complaining about Cuban food, it was just different.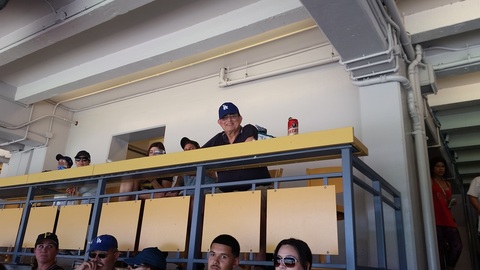 After brunch, Katie parked her car on the street and I gave her a ride to the stadium since I had already paid for parking. As it turns out, Dodger Stadium is surrounded by hundreds of acres of parking. We got there an hour early and only had to park five miles from the gates.

I'm still recovering from knee-replacement surgery and even though I work out six days a week, I wasn't prepared for that death march.

We finally got to the fabled kingdom. My baseball world revolved around Dodger Stadium when I was growing up. I only got to visit it once, when I was seventeen, but this was my center of the baseball universe.

The stadium is old, built in 1962. That's not Fenway Park old or Wrigley Field old, but in this era of "modern" ball parks, the grand old lady looked a little long in the tooth. Don't get me wrong, the stadium was magnificently cared for, it just didn't have all the amenities of modern parks.

I bought the tickets and we had pretty good seats. We were about opposite first base and only a few rows up in section 100. It was an afternoon game and the sun was scorching. Through no effort of my own, it turned out that our seats were under the roof, so we sat in the shade and had a nice breeze. Most of the seats in the sun were empty. It was a sold out game, so I can only surmise that the people in those seats moved to standing room areas in the shade. As we left the stadium, I stepped into the men's room for a moment. Most of the guys in there had shirts soaked in sweat.

The highlight of the evening was the ceremonial throwing of the first pitch. It is apparent immediately in Dodger Stadium that they have a high percentage of Latino fans. All of the signs are bi-lingual and you can buy tacos and other Mexican food at most of the food stands.

To honor and celebrate their Latino fans, the Dodgers asked Delores Huerta to throw out the first pitch. Delores has been a political activist and organizer since the 1950's and was one of the founders of the United Farm Workers Union. It was an honor to see her.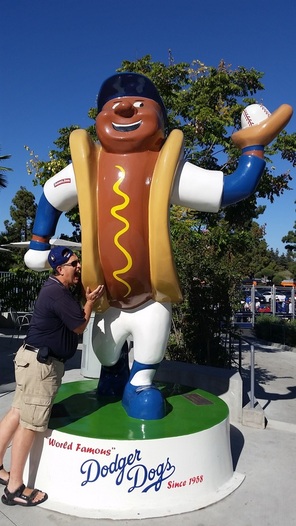 Having missed breakfast (almost) and lunch, I had to have a Dodger Dog. My next door neighbor told me to have a Dodger Dog for him. Who am I to go against his wishes?

It was a disappointment. I know that it was a fine dog at one time, but I suspect that this particular dog had been sitting in the back of the steam drawer since Sandy Koufax was pitching for the Dodgers. The bun was shriveled and stuck so badly to the dog, that I couldn't pry them apart to add ketchup and mustard. The flavor was all right, but they should have been embarrassed to sell such an old, run down dog. Maybe they saw me coming and thought, "Here comes an old, run down guy. Let's sell him that dog that's been laying there for years. It'll fit him just right."

Katie did a good job when picking games. Almost all of the teams we're seeing are in the hunt for the playoffs. Both the Dodgers and the Pirates (who they played that night) will make it. The Dodgers could end up playing them again.

If they do, I hope they do better than they did tonight. The Pirates beat the Dodgers 4-3. Oh well, it's a long season.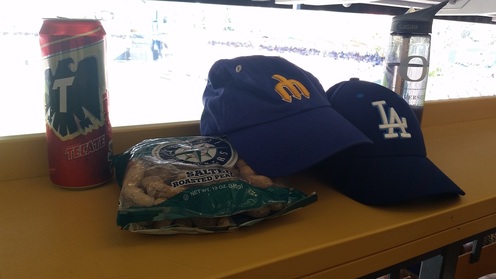 As we walked out of the stadium, Katie told me a story about a scene she had witnessed the previous night.

A father and a son, about 5 or 6 years old, were walking to their car. There were a lot of helicopters circling overhead.

The boy asked his father, "Dad, why is the president here?" Apparently he equated a lot of helicopters with a presidential visit

"Well, son," the father said, "that's because the Dodgers are the best team in baseball and the president only watches the best teams."

The boy thought about that for a moment. "If the Dodgers are the best team in baseball, why did they lose tonight?"

The father pondered the question, then answered. "Son, even the best team loses sometimes."

I'm glad the young man is learning these lessons early in his life, it will serve him well. My father used to tell me when I failed at something, "Even Babe Ruth didn't hit a home run every time at bat."

As I've always said, baseball is a metaphor for life. No, baseball IS life.

After a twenty mile march back to our truck (It was longer going than coming. I don't understand that.) I took Katie back to her car and we split up.

I headed home to our apartment in San Diego and Katie headed to a Ricky Martin concert in San Diego. She said she doesn't know why she went, the guy is old, ugly and can't sing or dance, but she had a marvelous time.

She showed up at the apartment about 11 pm and we got her settled down in our guest room/office. Tomorrow we get to share a little of San Diego with Katie.