Let's Get Business Out of the Way FirstHere's an opportunity to get a FREE copy of the first Catrina Flaherty Mystery, Mirror Image.Based on a real-life tragedy, Mirror Image is a heart-stopping tale of horrific abuse.

Female PI Catrina Flaherty tackles one of her most difficult cases. Cat specializes in women's issues, infidelity, messy divorces, spousal abuse, sexual harassment, etc. But her newest client, Mandy Alcott, has an unusual problem; her abusive husband is the chief of police.

What do you do when your abuser is The Law?

You call Cat Flaherty.
So, you are asking yourself, how do I get a FREE copy of this exciting tome? Easy, just sign up for my Reader's List. Click Here to go to my "Contact Penn" page and fill out the requested information. I will respond immediately and send you your ABSOLUTELY FREE copy of Mirror Image.Okay, that's enough shameless self-promotion for one day.
Day 4 Wednesday, September 23rd, 2015, Kansas City, MO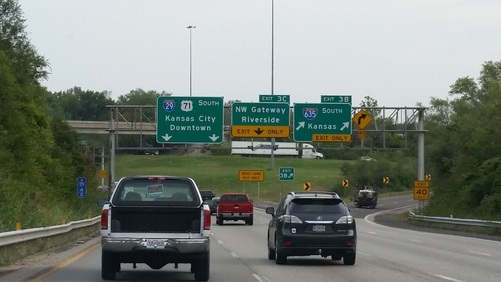 There are only three reasons to get up this early, to catch a tide, to go fishing or to catch an airplane. 4 am came awfully early.

Dawn graciously dragged herself out of bed and drove us to the airport. It was an interesting ride. Dawn is a creature of the night. She just doesn't function at 4 am. There were several times when I wondered if we would even make it to the airport to start our Magical Baseball Tour.

Somehow or other, she managed to get us to the airport with no injuries. We said our goodbyes and checked in.

At best, travel is boring and tiring. This trip was exactly that.

The flight from San Diego to Dallas was not my favorite. We were shoved into two jump seats behind the exit door row on an Airbus 321. My knees were up around my ears, there was so little foot room. I did manage to sleep most of the way. I chastised Katie for booking a flight on an Airbus. Where is her local pride? We usually only fly Boeings.

The first leg of the trip took us to Dallas-Fort Worth airport. Ho-hum, just another airport. At Dallas, we transferred to a BOEING 737, where we had more foot room, for the flight to Kansas City.

As is usual with airlines flights, it was anything but exciting. I read and Katie slept on this leg. We arrived in Kansas City in the early afternoon, their time. We're jumping time zones here and that always caused me problems.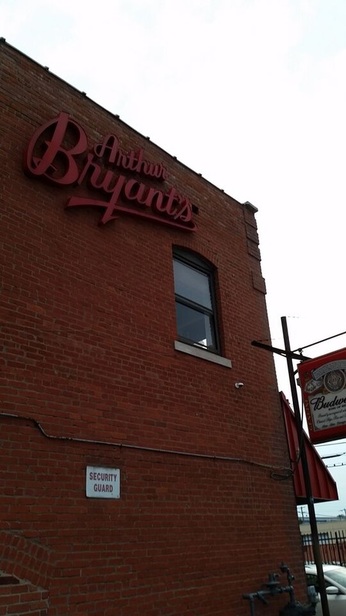 We picked up a rental car at Budget and set out to find our hotel. A word about hotels: I was in charge of selecting the hotels for this trip. My priorities were, in this order, price, proximity to the ball parks and amenities. You'll notice that amenities came last.

Our Kansas City hotel was La Quinta. I used my credit card rewards to book KC and St. Louis. That greatly limited my choice of hotels.

There's nothing wrong with La Quinta. It was a neat, clean room. However, it was out in the middle of nowhere. There was a Denny's next door, but we didn't come all this way to eat Denny's food. The room didn't have a fridge or microwave.

We checked in and I immediately flopped down on the bed to rest my eyes. An hour or so later, we both decided that we were hungry. What do you eat in Kansas City?

Get serious here; Kansas City thinks they're the BBQ capital of the universe. Several of Katie's friends had recommended Arthur Bryant's. There was also a big push for Joe's. Katie looked them up on Yelp! And Arthur Bryant's was the closest.

When we said we were going to Kansas City, we neglected to say which Kansas City. We were in Mo. Joe's was in Kansas City, Kansas. We had to pass on them.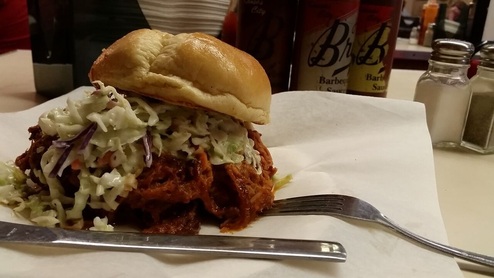 We jumped into the car and headed out. Following the GPS we headed to a neighborhood that was definitely on the other side of the tracks. It was mostly residential, but after our final turn, we saw an old red-brick building. That was it.

Arthur Bryant's has just the right kind of BBQ joint atmosphere. When we got out of the car, we could smell the BBQ in the air. The place was a storefront location with big windows looking out on a sad street. A few tables and chairs were scattered around the room and a TV played the Royals baseball game.

At the back of the room was the counter. Made of modern stainless steel and glass it almost looked out of place in the joint. The atmosphere reeked of the 1930's. I expected to see a Ford roadster parked out front and Bonnie and Clyde at one of the tables.

The people behind the counter were miracle workers. The pig has never been better represented. I ordered a half-rack of ribs and Katie had a pulled pork sandwich. OH MY GOD. I thought I had died and gone to heaven.

I've eaten BBQ whenever the opportunity presented itself. In the Northwest we have quite a few BBQ joints, but nothing like Arthur Bryant's. I find it hard to describe the flavors. The smoke flavor permeated the meat. The outside was nice and crusty and the inside was fall-off-the-bone tender. The meat had a wonderful sweetness to it. Arthur had several kinds of BBQ sauce on the table, but I thought the original was best. Usually I like a blend of sweet and spicy in my sauce. His hot sauce had no hint of sweetness, so I went with the original even though it was mostly sweet and not spicy.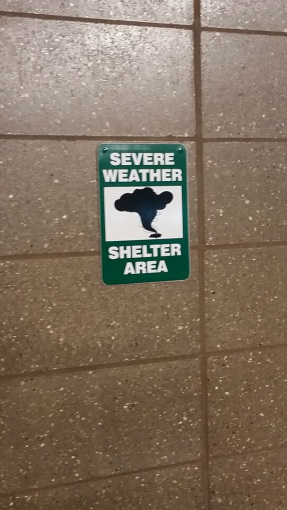 Katie did an admirable job on her sandwich, but I couldn't eat half my ribs. I got a box and took my treasure home.

While we ate we watched the Royals-Mariners game. We decided to go home and finish the game there. When we got back to the hotel, I switched on the TV. To my horror, we couldn't get the channel with the Royals game.

What kind of place was this? We had about seven channels. None of them carried baseball. I should have checked on this before I booked the room. But, in all fairness, it never occurred to me that we might want to watch a game on TV, we were going to the game in person.

Fortunately I brought my leftovers home. Before bed, because we had such an early dinner, I was ravenous. The ribs were just what the doctor ordered.