Preparing to Say Farewell, Old Friend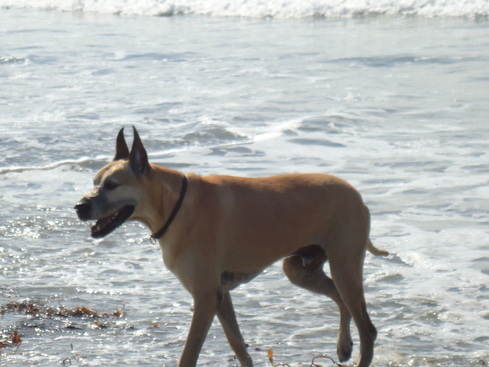 Things are a little sad around Casa Wallace. Odin is approaching his final days.

We shouldn't be that sad, he's had a great life. He's 11 1/2 years old, that's like 115 in people years. He's traveled all over the country (and Caribbean) and had great adventures with his Mom.

He has been well loved, but now it's time to say goodbye.

He can't stand up by himself (and I'm putting my back out lifting 175 pounds of dead weight), he can't walk anymore. He falls down every time he tries to turn around, his hind legs get all tangled up with each other and he goes down.

It's been hard for me to watch him deteriorate like this. Dawn is absolutely in tears. He can't last more than a few days.

Thank you to all of our friends who have expressed their sympathy to us. I'm afraid that the next time I post I will have sadder news for you.

Enough of this foolish sentimentality, let's get on with our story
Day 5 Thursday, September 24rd, 2015, Kansas City, MO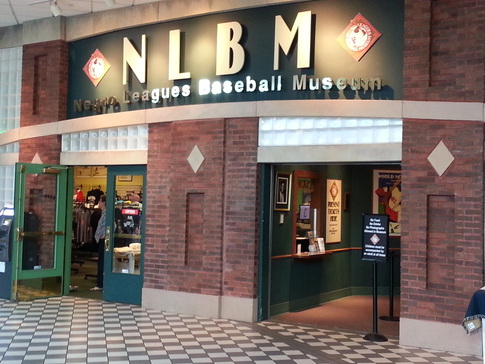 This was a big baseball day, but first, we had other priorities. Kansas City is the home of the Negro Leagues Baseball Museum. We couldn't come all this way and not see it. Katie wanted to tour some breweries while we were here and there was a convenient one not far from the National WWI museum. Guess who went to the brewery and who went to the museum?

The day started with the complimentary "breakfast" in the hotel's lobby. I made the stupid decision to have a waffle. They didn't have sugar free syrup and I was sick before I was half-way through. I should know better, but somehow my brain switches off when I see food in front of me.

Katie slept late so I took her some fruit and a container of yogurt. We got going and headed to the Negro Leagues Baseball Museum.

The museum is located at 18th and Vine, the heart of the Afro-American community in Kansas City, directly across the street from the old Gem Theater. The Gem was the center for KC Jazz in the thirties.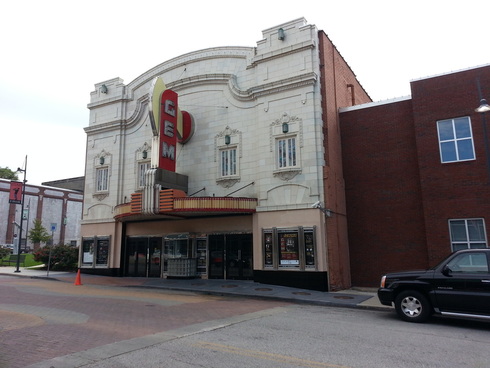 Usually you enter a museum with a sense of awe. There is a hushed tone as people whisper about this exhibit or that.

Not so at the NLBM. Sharing the same building is the Museum of Jazz. Snappy tunes filled the air and people swayed to the rhythm as they moved about.

If you're not familiar with the old Negro Leagues, this was in the time before Jackie Robinson. Baseball was segregated and blacks and whites played in different leagues. The Negro Leagues were a great draw and regularly filled the stands with the same number of fans as the Major Leagues. They even played in some of the same stadiums. The difference was the color of the players and the fans.

I was impressed by the exhibits and learned a few new things. In one room they have a baseball diamond with bronze statues of the top players at each position. Some of my favorites, like Buck O'Neil and Cool Papa Bell were right there, life size, in front of me.

Cool Papa Bell was the fastest man in baseball. He practically invented the running game we now see in modern baseball. It was said that he could turn off the light switch on the wall and be in bed before the room was dark.

Katie is every bit as knowledgeable a baseball fan as I am. She dug into the old lore, but soon we were out of time. Unfortunately, the trip was planned (by Katie) to run on a tight schedule.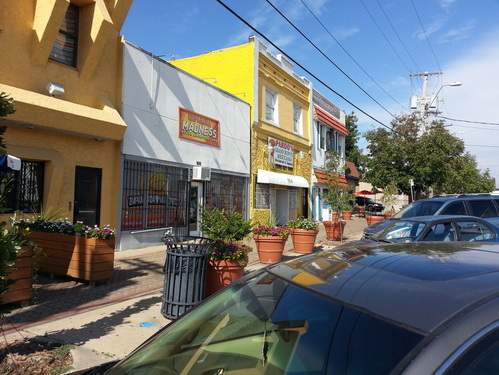 Exiting the museum, we were both in dire need of sustenance. When what to my wondering eyes should appear, but a block that looked like we were in Puerta Vallarta. The whole block was filled with Mexican businesses. I can't miss the chance for a taco, so we pulled over.

This was just a snack, mind you, to hold us until dinner time. We shared a plate of chicken enchiladas. To my amazement, they tasted just like the ones Mama used to make. With the frijoles, arroz and chips, (plus a Margarita) it was much more than a light snack.

Okay, we're refueled and ready to get back on the treadmill. Katie wanted to visit some breweries while we were in the Mid-West. I didn't have any particular desire to see them, so we split up.

I dropped her off at the Boulevard Brewery and made my way to the National WWI Museum.

I hope Katie had a good time, because I was in a little bit of heaven. I could have spent days there.

The museum is underground. The area looks like a large grassy lawn with a memorial and an obelisk in the center. You go down a ramp to what looks like WWI underground bunker.

Inside, the museum was modern, airy and bright. Docents in every room stood by to answer your questions and give little ad-hoc lectures.

I entered the building and crossed over a bridge traversing a poppy field. The poppies represented the American dead in the war. It was way too big.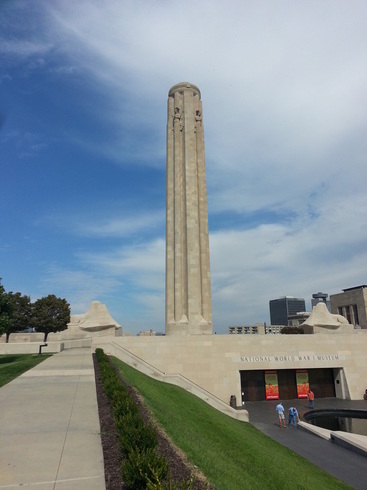 Once over the bridge, I ran from room to room to see as many exhibits as I could. I only had an hour for that stop.

I stopped in my tracks when I came to an exhibit featuring field artillery. Papa had been in command of a battery of French 75's between the wars, and there it was in front of me. The French 75 that I had heard so much about. I must have spent half my time in the museum examining the piece. I felt very close to Papa in those moments.

My only complaint was that the air war was not well represented. There were two replica airplanes hanging from the rafters, one of them way out of the way in a corner of the auditorium. I'm a flyin' kind of guy and expected to see dozens of WWI aeroplanes. No such luck.

I could have spent days there, but I had to leave the museum and pick up Katie. She jumped in the car and we made our way to our next destination: Kaufman Stadium.

Baseball in Kansas City is a whole different experience. In Seattle there is an amazing street culture around the ballpark. Street vendors selling sausages and kettle corn vie for your attention with people selling popcorn and peanuts to take into the game. Mimes, clowns and musicians stake out there corners and perform for tips. We didn't see anything else like this at the stadiums on our tour, but in Kansas City we found a whole different style of baseball.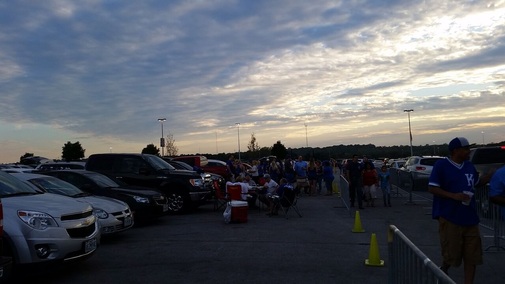 The first thing we noticed was the tailgating. There are hundreds of acres of parking surrounding the stadium. Every few feet we noticed people partying, bar-b-queing their favorite treats. On this grill were sausages (very big in the Mid-West) on that steaks and on another hamburgers or chicken. Music poured from portable stereo systems, people walking down the parking lot would see someone they knew and stop to chat. Before you knew it, they had heaping plates of BBQ in their hands.

I think that's the biggest takeaway we got from KC. The friendliness of the people. It had a small town feel. Everybody seemed to know everybody. Strangers (especially ones wearing Mariner shirts and hats – the Royals were playing the M's that night) were welcomed. In most of the other stadiums, I got a friendly jeering for wearing a Mariner shirt and a Dodgers cap. In KC, they welcomed the visitors.

Katie went in search of beer and food. She found a stand operated by some famous celebrity chef (was it Emeril? I don't remember). As she placed her order, the manager saw her and came out to chat. He wanted to make sure that she knew where all the facilities were and that she was having a good time.

"We like to take care of our visitors," he said.

(Okay, I know I'm being a little cynical, but no one offered to take care of an old man in a Mariners shirt, just the pretty young girl.)

Inside the stadium was a sea of blue. Our blue Mariner's jerseys matched the blue Royals shirts and hats. It had the feel of a college football game. Everyone knew everyone else, excitement bubbled in the air (yeah, I admit that the Royals were on their way to their second World Series appearance in two years.)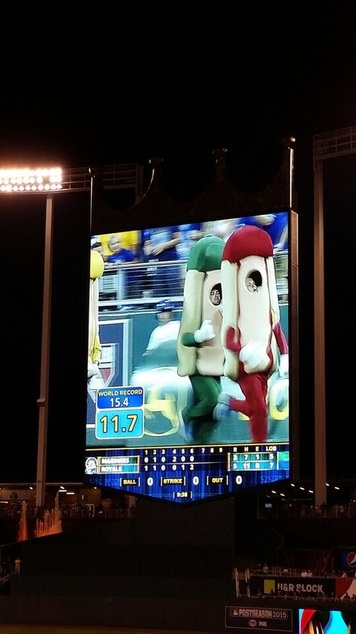 Every stadium has some kind of race on their big screens between innings. In Seattle it's hydroplane races, in Kansas City, it's sausages. You heard me right. Sausages. There's a Frankfurter, an Italian Sausage and a Polish Sausage (or people dressed up in those costumes) that race around the bases. It's totally ridiculous, but kind of fun.

Mike Mussina is the Royal's third baseman. Everyone calls him "Moose." When he comes to bat, the crowd screams "MOOOOOSE." The moose man is a regular figure in KC. He's a guy with a pair of moose antlers that goes strutting through the stands getting people charged up.

The stadium and the crowd were fun, but the M's lost. Oh well, it's been a tough summer for Mariner fans.

We dragged back to our motel and hit the sack. Tomorrow we drive to St. Louis.