Day 6 Friday, September 25rd, 2015, St. Louis, MO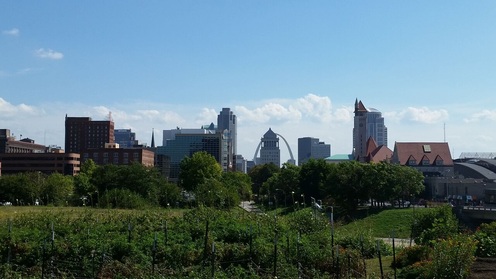 The gateway to the west. We finally made it to St. Louis. I don't know why this feels significant to me. It certainly was never on my life-list to visit St. Louis. Maybe it's the history that makes me fell this way.

Whatever it is, I'm glad we're here.

We have a much better hotel here than the La Quinta in K.C. We're close to downtown and they have a shuttle to and from the ballpark.

Of course, I have to talk about the BBQ. All my life I've heard that Kansas City is the world capital of BBQ. Well, St. Louis sure gives them a run for their money.

Katie and I managed to find Papa's BBQ and it was wonderful. Katie bought me a T-shirt with a take-off of the Cardinals logo. It has a baseball bat running slightly diagonally with a cardinal (bird) sitting on each end and the word "Cardinals" underneath.

The T-shirt had the baseball bat, but instead of birds on it, it had pigs on each end and the words "Papa's BBQ" under the bat. It's great.

Apparently we weren't the only ones to discover Pappy's. We got there at 1:30 and there was a line out the door. It took us almost thirty minutes to work our way to the front of the line. But when we got there, it was worth it.

I hardly need to say the BBQ was out of this world. I'm not sure why we made this trip, to see baseball stadiums or eat BBQ.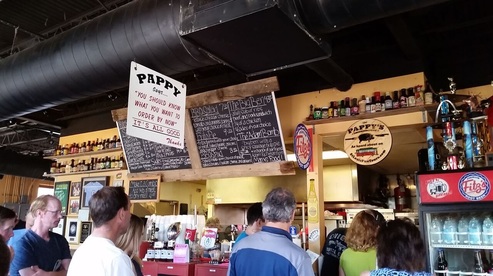 We got off the trolley a couple of blocks from Busch Stadium. Even though this is a new ball park and not the one where Stan Musical and Bob Gibson played, I could feel the history and tradition from blocks away.

The area looks newly renovated. Everything is stylish and upscale. There is a mall called "Cardinals Nation" across the street from the park. It is lined with food outlets, bars and sports paraphernalia stores. We walked through it just to check it out.

It was like Times Square on New Year's Eve. You didn't have room to breathe. There were tables in the atrium in the center of the mall. Giant screen TVs (think scoreboards in baseball stadiums) lined the walls and people spilled beer, chicken wings and nachos all over each other. One giant party. And this didn't include the 40 or 50,000 fans inside the park.

Like many of the new ball parks, New Busch Stadium has that retro-look. Red bricks and a curved entrance with arches makes it look like an old-time ball park. Inside, it was a modern as any stadium.

There were two remarkable things about the amenities in the stadium. First of all, you could get any kind of beer you wanted, as long as it was Budweiser. Anhauser-Busch owns the Cardinals and they aren't about to share their thirsty fans with some other brand. There was one craft beer stand, but it was from a micro-brewery that Busch owns.

The second remarkable thing about the stadium was the lack of food choices. You could get hot dogs, hamburgers and popcorn to your heart's delight. You couldn't find tacos, sushi, Italian or any of the other innovative foods found in other ball parks. I get the beer thing, but do people in St. Louis not care about food?

Oh, yeah. There was a ball game there too.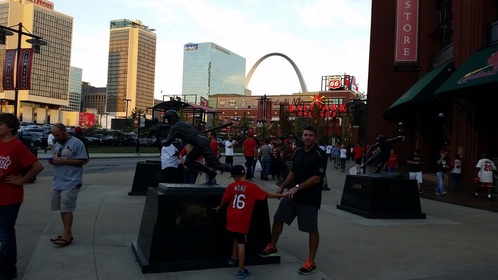 Most stadiums have some sort of race about the break in the fifth inning, to keep the fans interest. Busch was no different. In Seattle we have hydro-plane races, in San Diego they have go cart races, on the city streets. There were the famous sausage races in Kansas City. In St. Louis they had the farm to table races.

You heard me right. Farm to table races. Farming is a big thing in the Mid-West.

A cow, a pig, an ear of corn and a soy bean raced around the bases for the honor of being first. The corn got off to an early lead, but the cow tripped him up and the soy bean pulled ahead to win.

I guess you gotta do something to entertain the customers.

Like in K.C., there was high fan engagement. There was a constant murmur and cheering. The interesting thing is there were no organized chants like "Go Mariners" or "Edd-gaaar" in Seattle of "Here we go Dodgers, here we go." There was also that sense of friendliness we felt in K.C. I guess it's a Mid-West thing.

Katie noted that seeing baseball played in all of these different places reminds her that baseball is America's game.

She also pointed out an interesting thing. In the enterance to the ball park, there are bronze statues of all the Cardinal greats. There was Enos Slaughter, Stan Musial, Lou Brock and Bob Gibson to name a few. But what about the man who hit more home runs in one season than anyone else? Mark McGwire was not represented.

I'm sure you all remember the steroids scandal of the 1980's and 1990's. McGwire was one of the players identified as being "juiced." He was not elected to the Hall of Fame in spite of his stellar career and is not honored in his home stadium. If you look at the people entering any other stadium you will see fans wearing the jerseys of famous players who are no longer playing. My favorite T-shirt has the number 24

We had a great time. After the game, there was a fireworks and laser light show. I'm not sure what they were celebrating, but it was fun and we stayed to the end.


It was no trouble catching our shuttle back to the hotel and we went to bed right away so we could get up early and drive to Chicago.

Day 7 Saturday, September 26th 2015 - Chicago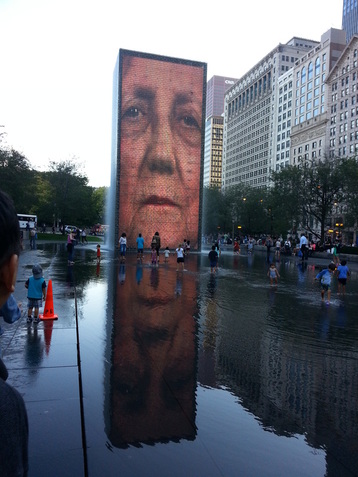 Up early and on the road to Chicago. Chicago!

It's a long drive from K.C . to Chi-town. Probably about five hours. Katie took the first shift and I missed all the countryside. I slept.

When she woke me up to take a trick at the wheel, I was surprised. Once again, the Mid-West did not look like I imagined. There were groves of deciduous trees along the river, there were a few rolling hills. I expected pancake flat land.

Libby got a bargain flight from Seattle, so she arrived at 6 am. She called Katie and told her they wouldn't let her into the hotel. I had to stop (we needed gas anyway) and call the hotel to give them the okay.

Libby checked in and went out to explore the city. She did a lot of walking and went on a breast-cancer awareness walk before we got there.

When we arrived at around 1 pm, Libby was flaked out on the bed.

I have read that Chicago has the second best public transportation system in the country. I wasn't disappointed. We bought 3-day transit passes and could get anywhere.

We got on the "El" for Wriggly field.

I expected a little bit of baseball heaven. What we got was a very old, uncomfortable stadium. It's dripping in baseball history, but there are soooo many steps.

Our seats were in row 500, the last, highest row in the stadium down the left field line. The stairs were very narrow and very steep. It reminded me of climbing the Pyramid of the Sun. There were no hand rails. I don't do stairs very well anymore. I got to the top and told Katie that I wasn't leaving until the game was over. She'd have to go buy me a bratwurst and I'd pee in a paper cup.

During the breaks between innings, they played what they loosely referred to as "music." Katie says it was rap "music" from the Deep South. I don't do rap, but I got a kick out of the players singing, dancing and clapping along with the music.


The Cubbies played the Pirates, a game I correctly predicted was a preview of the Wild Card playoff the coming week. It was fun and after the Cubs pitcher, Jake Arrieta, hit a home run, the bucs pitcher was all shook up and let the ball game slip away.

The best part of the whole experience was the lunar eclipse. Being in the top row, we had first class seats to the blood moon. It was way cool. I missed a couple of innings watching the eclipse.


Day 8 Sunday, September 28th 2015 - Chicago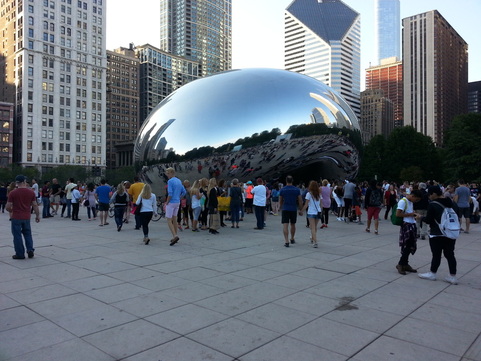 The next morning my nephew Paul and his lovely wife Jamie joined us. Paul and Jaime live just outside of Cleveland where Paul is a professor at Hiram College.

The Ducks were playing on national TV, so I connegiled everyone to going to a Duck bar and eating pizza. We got there and the hostess made a comment about us being very loyal fans. I didn't get her meaning.

We ordered some fairly decent pizza and a couple of marvelous salads (remember: Chicago is known for its salads), drinks and settled in to watch the game. We were a bit early. When 3 pm rolled around and the game didn't come on, I called the server over.

"Aren't you going to show the Ducks game?" I asked.

"Oh, yes sir. It comes on at 7 pm tonight."

Curses! Foiled again! I have this problem with time zones. I've done this a number of times. Growing up on the West Coast, I'm used to subtracting hours to make up for the time zones. This time, I was in Central Time and the game was being played in Pacific Time. I should have ADDED two hours. We were four hours early.

We put our heads together and decided to go on our already paid for river tour. Katie managed to move up our reservations, then we'd return to the Duck bar for the game.

But we had a couple of hours to kill. No problem for Paul, he took us on a walking tour of Millennium Park. Or should I call it a death march.

Millennium Park is a wonderful place and I wish I had time to tell you all about it, but if I devote a thousand words to the park, we'll never get on to baseball.

After a few miles walking through the park and down to the river, we boarded our tour boat. It was a fun experience. The boat took us up the river. Keep in mind that I'm from the Northwest. Rivers there are lined with trees and rocks and underbrush and filled with rocks and rapids. You sit by them and while the day away while you have a fishing line in the water. (Okay, that's only during our three weeks of summer.)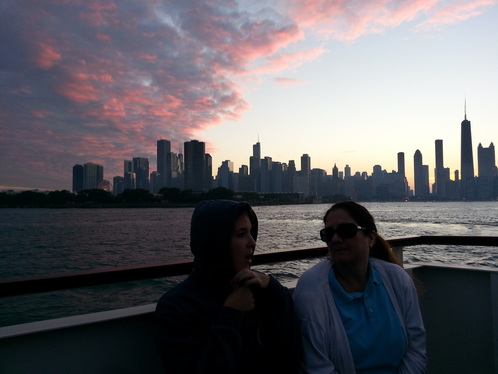 In Chicago, the idyllic rivers are lined with skyscrapers. Huge modern buildings shoot up from the river banks. This is some of the most expensive property in Chicago.

The boat took us up river a ways and we learned all about some of the most impressive structures. We watch Chicago Fire on TV and now, when they charge into a building to save the damsels in distress, I can say, "I know that building."

The tour then went through the locks and out into Lake Michigan. We only went a couple of miles up the coast and returned, but it gave me the feeling of being out on the ocean. Who ever thought that a fresh water lake could be so big? And the wind. A steady fifteen to twenty knot breeze came out of the Northwest. It was just like a real ocean.

By the time the boat trip was over, I was exhausted. I asked Paul to go get the car and come back to pick me up. Needless to say, I was too worn out to go back to the Duck bar; we just headed back to the hotel.

The next morning the Gaffneys (Paul and Jaime) met us at our hotel then took us to a soul food restaurant for breakfast. The brunch bar looked absolutely marvelous, but I ordered off the menu because I couldn't make a dent in the buffet.

It was a cool experience. We were some of the few non-black people there, but with two Asians and one Mexican at the table, I felt we were helping their diversity quota.

After breakfast, we said our goodbyes to Paul and Jaime and they headed back to Cleveland. Katie had the Museum from Hell day planned for us. We started out at the Planetarium. I was surprised that Libby wanted to see it, but she was Space-Girl when we got there. I got dizzy sitting in the seats, leaning back and watching the ceiling rotate above us. It was really cool and I'd love to spend more time there, but we were on a schedule.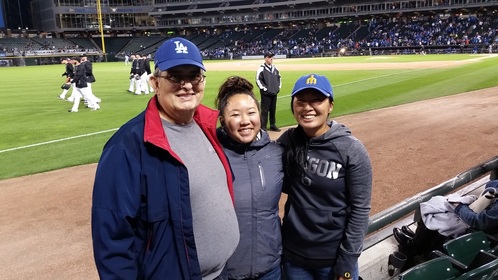 We had to take a lunch break. Paul told us that the three things we HAD to eat while in Chicago were Chicago-style pizza, a Chicago Dog and an Italian beef sandwich. (Now when I watch Chicago fire, I see Italian beef sandwich places on every corner.)

We found a place downtown for the sandwiches, then trudged back to the Field Museum. I'm sure Katie was trying to kill me. I can't begin to tell you about the Field Museum. It is, hands down, the most fabulous museum of natural history I have ever seen. I want to go back to Chicago and spend a week there. But, alas, we got there at 4 pm and museum closed at 5. We just had the smallest taste.

I can't leave our Chicago story without commenting on Soldier Field. Many of Chicago's buildings are built in the Greek Revivalist style. I love it, you feel like you're in downtown Athens in the Glory Days of Greece.

Soldier field, where da Bears play, was built in the Classical style. As new stadiums were built, the Chicagons felt their stadium was out of date. But Chicago has a good notion of their history. They weren't about to tear down their classical masterpiece. So, what did they do? They built an addition on it. Now it looks like a giant space-ship landed on top of the stadium. It's kinda funky and kinda cool. Chicago, I salute you for moving into the modern world while clinging to your history.

We drug home for a couple of hours and took naps. I was running out of gas, but we still had a White Sox game at U.S. Cellular Field.

The Sox were out of the pennant race so the crowd was much smaller than our previous games. They were playing our old friends the Kansas City Royals. There were more Royals fans in the park than Sox fans. The Royals made short work of them, then went on to win the World Series.

Cellular Field is a nice, new stadium. It isn't a baseball palace like Safeco or Petco parks, but its modern and comfortable. One of the interesting things there was that between innings, they showed the menus of the various food outlets on the big screen. Good marketing.

Another unusual feature was the limbo cam. Reggae music played and people in the stands danced to it like they were doing the limbo. The camera then showed them on the big screen and imposed a limbo bar over the dancers. It was a little different.

One of the Sox hit a home run and fireworks went off. I guess that way the people outside know what's going on.

As usual, I was dead when we got home. Remind me never to go on a trip with a couple of Millennials again.
Day 9 Monday, September 29th, 2015 - Chicago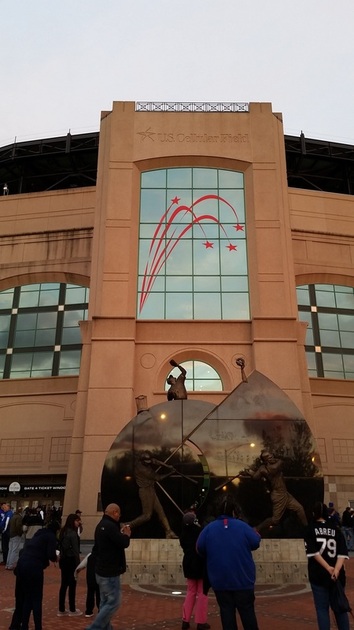 Day 9 Monday, September 29th, 2015, Chicago, IL
Our Baseball Odyssey was over. I got up early and took Libby to O'Hare to catch her flight home. Upon returning to the hotel, I took a short nap before I had to take Katie and I to Midway.
We parted at the airport. She had a one o'clock flight to Seattle and I had a three PM flight to San Diego.
I had a two hour layover in Dallas and got home around 9 PM. As expected, Dawn was waiting there to meet me and take me home.
It was a wonderful trip. I got to spend a week with nothing but baseball, BBQ and my girls. It is a highlight in my life. I definitely want to go back to Chicago. We didn't scratch the surface, and the Field Museum is still waiting for me.
I hope you've enjoyed the trip with me. I know that it has taken a long time to get the whole story posted, but I have been super busy getting Murder Strikes Twice ready for publication.
Click back to my books page and take a look at what I've written. Then Click Here to sign up for my readers list.