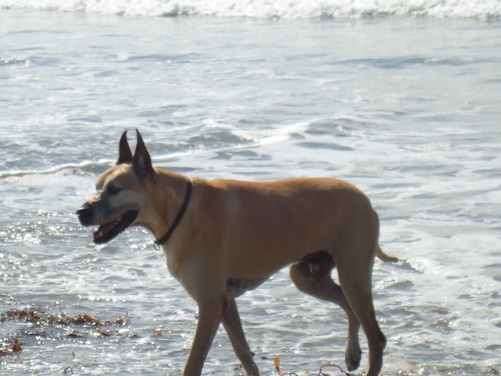 Dawn and I welcome you to another year of our adventures.

I started knee replacement surgery process last fall and was finally scheduled for surgery in February.

The surgery went well but the recovery was tough. The good news is that I can walk again. Last week I actually had a full day with no pain.

The next big item in our year was losing Odin, Dawn's 170 pound Great Dane. Odin was a wonderful dog. He lived 11 ½ years, which is like 115 in people years. The average life expectancy for a Great Dane is 7-9 years. He had a great life. He saw the Caribbean, lived in Florida, drove across the country and stopped in all the cool dog parks along the way. He also went on our great sailing adventures with us.

Dawn and Odin were soul mates. It devastated Dawn to lose her friend, even though we knew it was coming and it is better for Odin. He is now out of pain, but we miss him every day.

#1 Daughter, Katie, is on sabbatical this year. We agreed to take care of Kiva, Katie's cat while she's on the road. Kiva follows Dawn around the house all day long. They are joined at the hip.


My First Outing After Sugery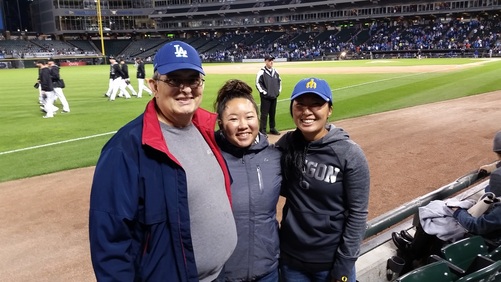 #2 Daughter, Libby, flew out to Chicago to join us. They absolutely wore me out. We hit museums, parks and many, many BBQ restaurants in addition to the ball parks.

After the baseball trip, Katie moved on to Mexico where she spent three weeks. She had to make a quick trip back to Seattle, then flew to South America. She has stops in Colombia, Ecuador and Peru. Libby is flying down to Colombia to spend Christmas with Katie. Connie would be so happy to see how close they are. She always wanted the girls to have a relationship like she had with her sister, Marti.

Libby has an exciting new job. She is now the office manager for a small landscape architect firm and loving it.

My writing "career" is progressing. I published three books this year, two Ted Higuera novels, The Mexican Connection and Bikini Baristas and the second book in the Catrina Flaherty Mystery series, Murder Strikes Twice.

Book sales have gone from excellent to horrible and back again. We're learning a lot about eMarketing and getting better all the time. Dawn is my right-hand man when it comes to advertising. Social media and networking are huge in selling independently published books. I've been fortunate to meet a lot of important people in the industry this year.

I've also taught classes at writers conferences and for a local writers group.


In August, I flew to Seattle to visit the girls. Dawn didn't go because Odin was in such delicate shape, she didn't want to leave him.

Being in Seattle was bitter sweet. I got to see many great friends, spend time with the girls and visit old haunts. However, Connie's ghost was where ever I went. I couldn't get her out of my mind. I went to bed with an overwhelming feeling of sadness every night.

This fall we had a visit from two of Dawn's oldest friends. She's known Anne (pronounced Anna) and Christy since grade school. Anne, her husband, Finn, and son, Sander flew in from Denmark and Christy came down from Seattle. Anne and her family stayed on the Victory. We moved the boat from Chula Vista to Shelter Island so they could be in the middle of the city.

We took them out sailing on Sunday, the first time I've had the boat under sail since I had knee surgery. I learned two things. First of all, I am competent to run the boat again. Secondly, every boat should have an 11-year old boy. Sanders had the time of his life and I was taken back to a time when I was fishing with Papa, watching Sander learn. Dawn wasn't sure which one of us was biggest kid.

Now that we're free to travel again, I expect to do a lot of it next year. We have a tough decision to make on the boat. We're taking her down to Ensenada in January for haul out and doing a lot of work on her. Then we have to decide, do we sail away or sell her.

If we sell her, we'll take a long car trip to Central America and along the Gulf Coast. Dawn's mom lives in Panama. We may spend some time visiting there. When we make it to Florida, we'll take a side trip to the Virgin Islands, Dawn's old stomping grounds.

I'm hoping that somewhere along the way, we'll discover a place where we want to settle down and spend our golden years. Can't you just see us in a little house on the beach somewhere, drinking Margaritas and writing books? Okay, to be honest, Dawn's dream has some Great Danes in it somewhere.