Christmas Inc. Free Offer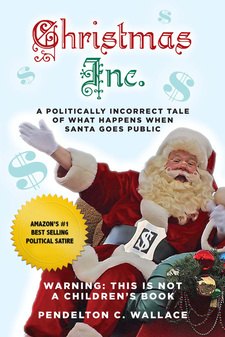 Sign up for my Reader's List and I will send you, ABSOLUTELY FREE, a copy of my political satire, Christmas Inc. When you sign up for my readers list, you will receive periodic notices of what's happening in my writing world, book recommendations, free offers, special deals and a monthly copy of my new newsletter.

This is a $3.99 value for FREE.

WARNING: This is not a children's book. Exposure to children under 12-years old may cause child to stop believing in Santa Claus or take a cynical view of Christmas.

Christmas Inc. is the story of a large multi-national corporation with their headquarters at the North Pole.

What would happen if Santa decided to go public and sell shares of Christmas on the NASDAQ? It would be the biggest IPO (Initial Public Offering) since Facebook.

But, with the influx of capital comes a host of problems. Now Christmas Inc. comes under public scrutiny. Santa must report to the stockholders and stockholders want to see a profit.

When the economy collapses, Christmas Inc. is in trouble. They are "too big to fail." So they accept a government bailout. With the bailout comes increased regulation.

So how does Santa solve his problems? He does what every other major CEO does. He outsources. Maybe Mr. Trump could have saved the elves' jobs, but this was written before the current election.


I will not share your information with anyone else and promise not to spam you. You can always un-enroll by sending me a reply message.

---