New: Readers List

Sign up for my readers list and get all sorts of special stuff. You'll get your very own copy of my newsletter, updates on writing progress, book reviews and recommendations, offers and free books.

A Cruiser's Christmas

A Cruiser's Christmas

By

Pendelton C. Wallace
(With apologies to Clement C. Moore)


'Twas the night before Christmas, when all through the boat
Not a creature was stirring, not even goat.
The stockings were run up the halyards with care,
In hopes that St Nicholas soon would be there.

Odin was nestled all snug in his bed,
While visions of Purina danced in his head.
And Dawn in her 'kerchief, and I in my cap,
Had just climbed into our bunk for a long winter's nap.

When out on the dock there arose such a clatter,
I sprang from the bunk to see what was the matter.
To the companionway I flew like a flash,
Tore open the doors and slid open the hatch.

The moon on the still water of the bay
Lit up the marina as if it were mid-day.
When, what to my wondering eyes should show,
But a miniature dinghy, and eight brown pelícanos.

With a little old driver, so lively and quick,
I knew in a moment it must be St Nick.
More rapid than dolphin his big birds they came,
And he whistled, and shouted, and called them by name!

"Now Spinaker! now, Genny! now, Stays'l and Mizzen!
On, Halyard! On, Turnbuckle! on Sonar and Risen!
To the head of the bay! To the top of the sea wall!
Now splash away! splash away! splash away all!"

As blown spume that before the wild hurricane flies,
When they meet with an obstacle, mount to the sky.
So up to the dock the pelícanos they flew,
With the dinghy full of boat parts, and St Nicholas too.

And then, in a twinkling, I heard on the deck
The stretching and preening of each elongated neck.
As I drew in my head, and was turning around,
Down the forward hatch St Nicholas came with a bound.

He was dressed in Bermudas, with a bright Hawaiian shirt,
And his clothes were all tarnished with salt water and dirt.
A bundle of parts he had flung on his back,
And he looked like a cruiser, just opening his pack.

His eyes were dilated! his dimples how merry!
He must be a rummy, with a nose like a cherry!
On his head was perched a black captain's cap,
I yawned and considered going back to my nap.

A corn cob pipe he held tight in his teeth,
And the smoke it encircled his head like a reef.
He had a broad face and a little round belly,
On his feet he wore flip-flops that were mighty smelly.

He was chubby and plump, a right jolly old hearty,
And I laughed when I saw him and said "Welcome to the party."
With a wink of his eye and a nod of his head
"D' ye have a spot of rum?" he then said.

We drank and we yarned all though the long night,
When we finished the bottle, 'twas almost day light.
"I must get a goin'," he said with a start,
Then picked up his bag as he let out a loud fart.


He staggered to the tiny tree, all decorated with charts,
And filled all the stockings, then laid out the boat parts.
A compressor, an impeller, a shinny turnbuckle,
He carefully arranged them, then turned with a chuckle.
And laying his finger aside of his nose,
And giving a nod, up the hatchway he rose!

He sprang to his dinghy, to his team gave a whistle,
And away they all flew like the down of a thistle.
But I heard him exclaim, 'ere he sailed out of sight,
"Many thanks for the rum, mate. I think you're all right!"
For more Christmas Cheer, check out my book, Christmas Inc.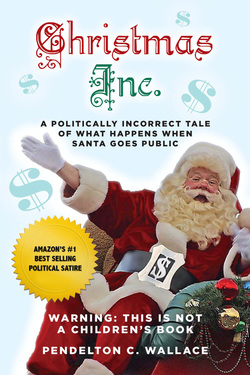 Read Amazon.com's #1 Political Satire.

Warning: This is not a children's book. Exposure to children under 12-years old may cause child to stop believing in Santa Claus or take a cynical view of Christmas.

Christmas Inc. is the story of a large multi-national corporation with their headquarters at the North Pole.

What would happen if Santa decided to go public and sell shares of Christmas on the NASDAQ? It would be the biggest IPO (Initial Public Offering) since Facebook.

---