Trip to San Diego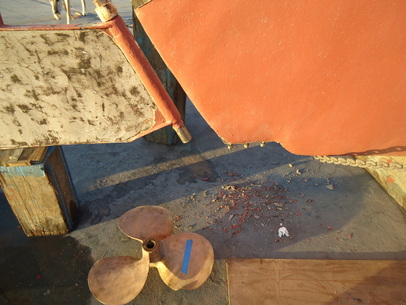 Tuesday January 8th 2013 – San Diego

Today I drove up to San Diego. My hands have been bothering me since last winter. One day KC and I took the Victory over to the fuel dock in Lake Union to pump out the holding tanks and top off the fuel tanks. It was a cold, wet day and when we were done my hands ached.

Then the middle finger on my right hand started getting stuck when I made a fist. It wouldn't open it without a audible "pop" and a lot of pain. Shortly after that the middle finger of my left hand started hurting too.

I can't make a fist and don't have much strength to hold things in my hands. I ignored the pain while we were getting the boat ready and sailing down the coast. I just didn't have time to deal with it.

When we came back north after the accident I made an appointment with a doctor at Kaiser Permanente. I figured that since we were going to be in the area for a few weeks, I might as well address the problem. The doctor referred me to their sports medicine clinic. Today, I drove back up to San Diego to see the sports medicine doctor.

I got up early, drove into town to the boat yard to get the damaged propeller and the ship's papers. There is no facility in Ensenada to repair the propeller, so I have to take it north. I needed my passport to get back across the border.

The drive up the coast is beautiful. The toll road runs along the coast and you have spectacular views of the ocean and shore, much like driving along the Oregon Coast, but with different vegetation.

Here you see cactus and scrub brush instead of tall firs and salal. From the cliff tops, you can see long stretches of white, sandy beaches, usually hemmed in with rocks and reefs off shore, and the white water breaking as it hits the beaches. I wonder why the beaches weren't littered with surfers.

Road signs are a rarity in Mexico. Most of the streets in Ensenada aren't labeled. As I approached Tijuana, the signs to get me to the American border crossing were almost non-existent. There is road construction going on, and I'm told that the signs are down for that reason. After only one mistake and having to retrace my steps, I managed to get in the correct line for the crossing.

To my surprise, it only took about a half hour to get across the border.

---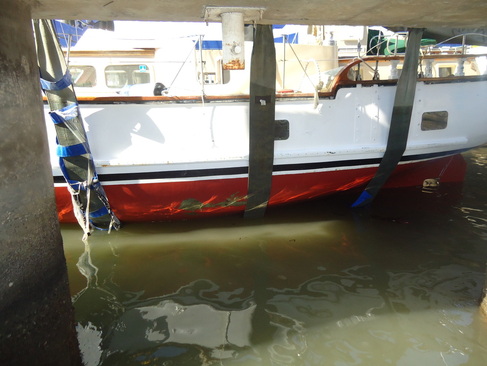 As soon as I was in the US, I noticed the difference. Everything in San Diego is so slick and well packaged. From the professionally design plastic and neon signs to the tidy strip malls with their well marked parking spaces. In Mexico, everything is much more raw. The signs are usually hand painted on sheets of plywood. The parking lots, while once paved, are a collection of pot holes.

Mexicans are great builders. They're just lousy maintainers.

My first stop was at the prop shop. I drove to the address with the help of the GPS. The sign said "San Diego Propeller" but the shop and yard were full of dune buggies. Inside, the proprietor told me that I was in the right place. The propeller business drops off in the winter and they do the dune buggies to keep them going.

The good news is that he can fix the propeller and it will only cost a couple of hundred bucks. I was worried that I might have to replace the propeller to the tune of a couple of thousand dollars.

From there, I went to my doctor's appointment.

I think that Doctor Chan used to work at Auschwitz doing experiments on live human beings. He examined my hands and told me that I needed a cortisone shot in my right hand.

"It's going to hurt (he was a master of understatement) when I put it in and it will be tender for a couple of days, but it will help with the trigger finger."

So I gave him my hand and he attacked with a long sharp hypodermic needle. He was right. It hurt like hell going in, then hurt even worse when he injected the cortisone. He filled the needle half full of cortisone, then filled it with lanocaine. The lanocaine is a local anesthetic that is supposed to mask the pain. It doesn't work very well.

When he was through torturing me, he gave me a prescription and sent me on my way. I dropped off the prescription at the pharmacy and drove up to Poway to Dawn's brother's house to pick up mail. I had two packages of mail that Susie forwarded me waiting there.

You don't know how good it feels to collect mail when you've been out of contact for a couple of months. Not only that, but the packages were stuffed with Christmas cards.

I feel badly that I didn't get Christmas cards out this year. I bought some really nice ones in San Diego and planned on mailing them from La Paz. Of course, they were destroyed in the accident and we were so busy saving the boat we didn't have time to send them out, even if I had bought new ones.

After driving back to the pharmacy to pick up my prescription, I drove into San Diego to see the Dinghy Doctor. During the crash, our dinghy was caught between the rocks and the davits. The davits cut a long slit in the side of the dinghy.

The good news is that it can be fixed and won't be too expensive. Once again, hundreds of dollars, not thousands of dollars. I just need to bring the dinghy up to San Diego and drop it off with them.

Then I needed to find a Pet Smart store. Our crazy cat-lady neighbor asked me to pick up a couple of giant industrial sized bags of a particular kind of kitty litter that she can't find here. So off I went on that mission.

By late afternoon I was headed home. The border crossing was no big deal and I made the drive down the coast in the dark. I arrived home exhausted and hungry, but feeling good.

The repairs were shaping up to be less expensive that I had imagined. We might just get our boat back in the water and be on our way south again.


---