Cruising the Coast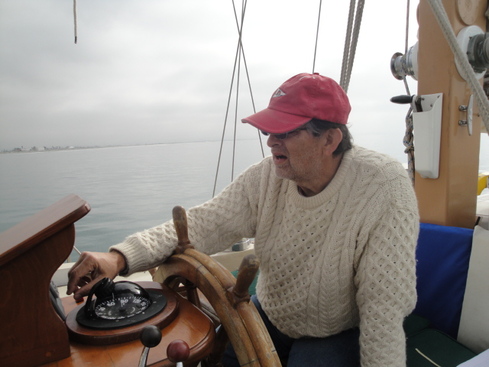 2012 – Bahia San Quintin , BC Mexico

The trip from Cabo Colonet to San Quintin was another day without wind. We motored most of the day. In the late afternoon, a breeze began to build.

We raised the sails but with the gentle breeze, we could only do about three knots. Back on with the engine. We motored sailed for the last few hours. Under power at 5.5 knots we were making so-so progress. After we raised the sails, we were going so slowly that I turned the engine back on. With wind and power we made about 7.5 knots.

We saw our first whales today. I was on watch and Dawn was down below. A pair of the monsters breached right off our starboard beam. They couldn't have been more than thirty feet away. I shouted "whale ho," then began to panic. These guys (actually, they were probably a guy and a girl, this is mating season.) were coming straight at us.

I was so close that I could see their blowholes open and hear them breathing. It sounded like giant dogs panting. They took a breath of air and dived under the boat.

Did I mention that they were coming straight at us? I didn't know if they saw us or not. But then again, how could they not see a boat their own size right ahead of them?

It took me an instant to react. Then I reached for the autopilot and turned Henry off. I stood holding the wheel, trying to decide which way to turn to avoid a collision. When they were about ten feet off our beam, they dived and passed safely under the boat.

I stood holding the wheel with ice water running through my veins. My knees were knocking and my heart beat was running wild. I have never been so close to these behemoths in my life.

Somehow I managed to have enough sense to call Dawn on the deck. Then I engaged Henry, the autopilot, and looked for the whales.

Dawn emerged from the cabin and saw two whales spouting about a mile off of our port bow. That couldn't have been the same pair. There is no way they could have swum that far that fast. Then Dawn's whales surfaced and she got to see them too.

That was our excitement for the day. We had dolphin and porpoise come play with us, but that was getting to be old hat.

We spotted Isla San Martin in the distance. We needed to stay clear of Ben's Rock just to the south, then turn into the coast and anchor behind Cabo San Quintin.

Everything was very routine, but then we lost the sun. We motored into San Quintin Bay in the dark and dropped anchor about a quarter mile off of the surf line. We tidied up the boat for the night and went below to have dinner.

Before we climbed into our bunk for the night, I went on deck to check our anchor.

"Dawn, you have to see this," I cried.

There was a high level of phosphorescence in the water. As the waves crashed ashore and broke, their tops were afire with light. I don't have the words to describe the beauty of the waves glowing as they died on the beach.

Seeing sights like we did today, I can't help but remember the beginning of Psalm 107:

They that go down to the sea in ships, that do business in great waters; These see the works of the LORD, and his wonders in the deep.

Today was indeed a day to see the wonders of the Lord.

---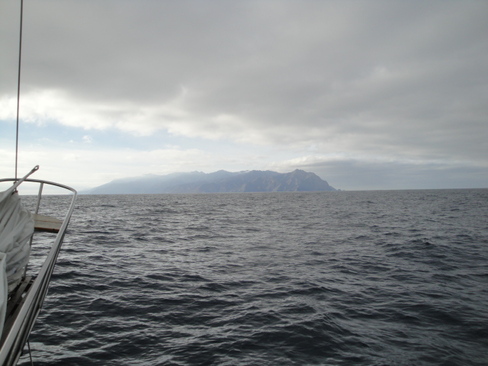 Saturday and Sunday, December 8th and 9th 2012 – Cedros Island, Mexico

It's a long run from San Quintin to Cedros Island. We have to cross the Bay of Juan Vizcaino. The bay is a hundred and forty miles across and has a reputation for foul weather and no safe anchorages. To make matters worse, at the north end of the bay lies the Sacramento Reef.

The Sacramento Reef is a killer. Many a ship has gone down on its pointy rocks and many a life has been lost. The reef is named for the steamer Sacramento that was delivering passengers from Panama to the gold fields of California in 1850.

The captain ran the ship up on the reef, which is miles out to sea and where you wouldn't expect to find shoal water, and most of the two hundred or so passengers lost their lives.

The reef is also the location of one of the most exciting chapters in my father's book, which has never been published.

Needless to say, we gave it wide berth.

Once clear of the Sacramento Reef, we set our course for Cedros Island. Mama and Papa had many an adventure on and around Cedros. Now we were headed there.

There was a light wind to start the day so we raised the sails. The wind quickly died however, and we started the engine and motor sailed along.

I love the feeling of being out of sight of land. We are a tiny spot in the universe, totally self-sufficient. We have what we carry with us and are not dependent on land at all. I think this is what Papa loved about fishing these waters. He was totally free.

As the day drew to an end, I decided to take down the sails. You never know what's going to happen at night and I didn't want to get caught in a heavy wind and have to reduce sail in the dark.

We're starting to get pretty good at this. We headed into the wind and started slacking off sheets and letting out halyards. We got the sails down in less than thirty minutes, a new record for us.

With darkness came night watches. I am not fond of night watches. With a crew of four aboard, each crew member stands a three hour watch. With only two of us, we each took two three hour watches. I find myself unable to sleep while the boat cruises on through the night.

I am constantly aware of the boat's sounds. When something sounds a little different I wonder what it is. Is the crew on deck having a problem? Why did we change course?

I'm lucky to sleep an hour or so at a time.

I suppose if we were doing a long ocean crossing, I'd get used to the night routine. Either that or go insane from lack of sleep.

Dawn stood her two night watches and I stood mine. When I came on deck to relieve her at about 6 am, there was Cedros Island, right where it was supposed to be.

Cedros is the largest island along the Baja Coast. It's about twenty miles long and about ten miles across at the widest point. Like most of the rest of the landscape in this part of the world, it is volcanic.

Ceilo de Cedros is the mountain at the south end of the island, about 4000 feet tall. The island erupts from the sea with steep slopes dropping down to the water. There is not much flat land here.

We dropped anchor in a little cove about 1/3rd of the way down the coast. It was quiet and peaceful and there was no one else in sight, except for a small party in a panga that was picnicking on the island.

Exhausted from the long night, we dropped back into bed and quickly dozed off.

When we awoke a couple of hours later, we decided to go ashore. Dawn packed a picnic and I lowered the dinghy into the water.

We climbed into the dinghy and took off. The dinghy will do about twenty or thirty knots with the throttle wide open in calm seas so we scooted down the coast. When we turned and looked at the Victory she was a little white dot against the island backdrop.

On the more leisurely trip back to our anchorage, we explored the coves and beaches along the shore.

The first beach was littered with large rocks.

"Look at all the seals," Dawn said.

"Where?" I asked.

"On the beach."

Sure enough, those large rocks were mama elephant seals with their cubs. They lay on the beach taking in the sun and nursing their babies.

These are giant animals. I saw one in the water along the shore and thought it was a tiny islet, then maybe a rhinoceros. Each adult animal weighs a ton or so. They are comical looking animals out of the water with a large hooked nose that apparently reminded some ancient explorer of an elephant's trunk. There were dozens of them on the beach.

The next beach was littered with sea lions, then common garden variety seals. We found several white seals on the rocks high above the water. How they got up there I don't know. I didn't even know there were white seals.

The beach we chose for our picnic was empty. We ran the dinghy ashore and secured her, then took our basket and blanket above the water line.

The beach was littered with sea shells and bones. Dawn found a seal skull and some bones that she laid out in an approximation of the live animal. Then she built a display out of shells that looked like they came from the Christmas decoration section at K-Mart.

Late in the afternoon we returned to the boat where we made up for lost sleep. After a nice dinner, we slipped back into bed and slept peacefully through the night.

---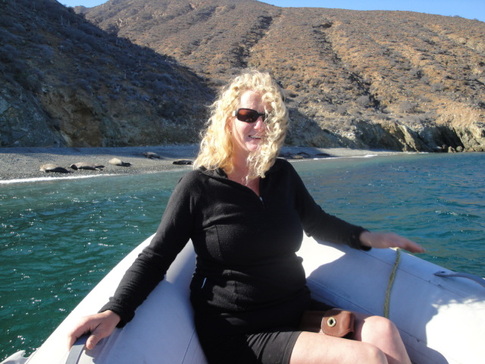 Monday, December 10th 2012 – Tortuga Bay, Mexico

We slept in a bit today and left Cedros Island at about 8 am. We just touched the places to explore and the things to see. We need to make a trip back when we are not in a hurry to get somewhere.

Not every day is filled with exciting adventures. There was little wind and we motored on through the day. We had our usual porpoise friends, but didn't see any whales.

We made it to Tortuga Bay in the early afternoon and dropped the hook. Tortuga Bay is one of the stops that the Baja Ha Ha makes, so I was anxious to get ashore and see what all the fuss was about.

It was much ado about nothing. The little village at Tortuga Bay was one of the poorest and ugliest I have ever seen. The fish processing plant here closed some years ago and people have left the village in droves. Those that remain make their living off the yatistas that stop here. The Ha Ha is a big gluttony of business, then boats stop here by the ones and twos for the rest of the year.

This the most tourist money desperate town I have been in. We didn't have the anchor down yet when a panga pulled up alongside and asked if we needed fuel.

No. We were fine, thank you.

OK, you need a ride ashore?

To their disappointment, I lowered the dinghy into the water and we had our own ride.

At the old dilapidated pier, the dinghy dock was a safety hazard. It was worth your life to land, then have to jump across three or four feet of water to a bird poop-covered, rusted out set of stairs. At the top of the stairs a one-armed man (David Jansen, I found your one-armed man) met us, took our sack of garbage and demanded a propino (tip) for watching our dinghy.

The town was butt-ugly. Sad little houses lined sand streets. There were two restaurants in town, no bars (much to my surprise) and a beach front cantina that served only cerveza. Mangy dogs roamed the streets. (Dawn, who is a dog whisperer, protected me from the pack.) We had dinner at the little restaurant that was attached to a home overlooking the bay .

The food was the most mediocre that I have had in Mexico. We ordered and the little girl ran to the store to buy ingredients for our dinner. It took a long time for her to return and an even longer time for the meal to be prepared.

Fortunately, there was a young trio of sailors waiting the same interminable wait, so we chatted about our adventures.

Two young men and a woman were off of a twenty-eight foot cutter in the bay. They were headed for La Paz and would leave as soon as they ate. As was to be expected, they were low on cash and they planned to sail all the way to La Paz to avoid spending money. The only reason they stopped in Tortuga Bay is that it is one of the few refueling stops between San Diego and Cabo.

Fortunately for us, we have huge fuel tanks and didn't need anymore diesel. I would be suspicious of any diesel purchased in such a low-budget operation.


---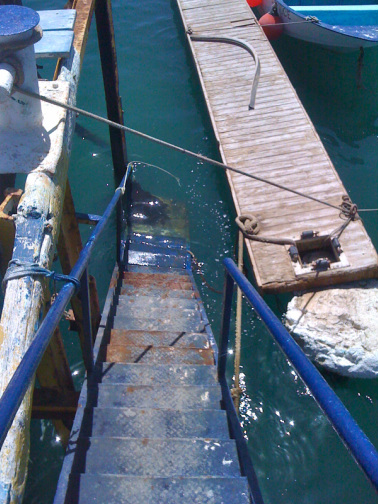 Tuesday, December 11th 2012 – Tortuga Bay

We stayed over a day at Tortuga Bay to rest and take in all of the storied sights. The resting was good, the sights were less so.

After a week at sea, we had a substantial load of laundry to do. We took it ashore to find a laundromat. What we found was a woman who took in yachties laundry. For $20 she washed, dried and folded our laundry. At first I was a little hesitant to have her do our laundry. We could do it ourselves.

Then it occurred to me that this was probably the only way this woman had of producing income. It hurt us little and helped her lots.

We also ran into the crew of the Bloodhound. She is about a seventy-foot cutter built in the 1990's as an exact replica of a yacht build in the 1890's. She is beautifully maintained and crewed by professional sailors. They were delivering her to Redondo Beach for the owner.

I made friends with the skipper and we exchanged cards. He said he would give me a call the next time he had a delivery and needed crew.

We had dinner in the El Morocco restaurant. It was much nicer than the beach café where we ate yesterday. The food was even more mediocre and the waitress bordered on rude.

The restaurant is part of a hotel and we were able to take showers in one of the rooms.

The room made me crazy. The walls were not square and where they met, there were cracks and lots of caulking. The bathroom was so out of square and covered with bright Mexican tiles that it made me dizzy. The water pressure was low and the hot water only warm.

By the end of our second day we were more than ready to leave Tortuga Bay. For any of you cruisers out there, it is a good anchorage, but there is absolutely no reason to go ashore.

Wednesday, December 12th 2012 – Bahia Asuncion

We got up at 4 am (AGAIN!) to make the trek to Asuncion Bay. At this time of year, the day light hours are so short that we have to leave in the dark to get to our next anchorage before dark.

I would much rather leave a bay that we saw in the daylight yesterday than to approach an anchorage we've never seen before in the dark.

We had good wind and a nice sail the forty or so miles down the coast. The sun was out, but it isn't really warm at this time of year. I still wore jeans and a sweatshirt, then had to add a coat as the afternoon drew to a close. But come to think of it, if we were back in Seattle, we'd have to dress like Eskimos to go sailing at this time of year. Actually, I usually just avoid sailing in winter weather.

The trip down the coast was good, the anchorage fine and the night unremarkable. We arrived at Bahia Asuncion right at sunset. We are getting pretty good at this anchoring thing and had the hook down and set in no time.

The cruising guide we're using says good anchorage could be found directly off the cannery pier. Well, they really stretched the definition of "pier." There was a line of pilings jutting out into the bay with a flat surface over the pilings about four-feet wide. I wouldn't have walked out on that for all the enchiladas in Mexico.

We watched a movie with dinner, then fell into our bunks for yet another early start.

---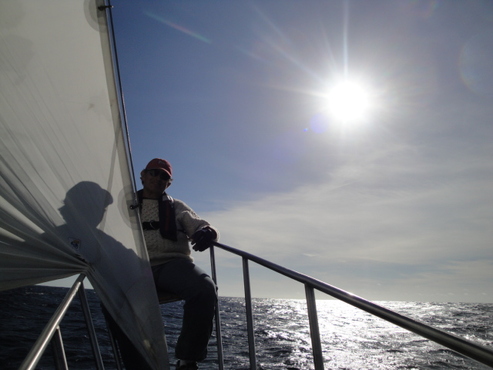 Thursday, December 13th 2012 – Punta Abreojos

This is where the fun ends. We weighed anchor early for the forty mile run down to Punta Abreojos. In English, Abreojos means "keep your eyes open."

We had our morning escort of dolphins and porpoise. They seem to be such happy creatures that you can't help but share their joy as they play with the boat.

We had a light wind early in the day, so we set the sails. At first we could only do about three knots under sail, so I started up the engine and we motorsailed on for several hours. Then the wind began to pick up.

I shut off the engine and we cruised at a steady eight knots. Late in the afternoon, I checked our batteries and they were getting low so I turned on the engine for a couple of hours to charge the batteries.

During the afternoon Dawn asked why we needed to stop at Abreojos. Why not just head straight down the coast to Magdalena Bay. I thought about it and decided it was a good idea. How could we waste this wonderful wind by anchoring for the night.

As the sun began to sink low in the sky, Dawn went below for her nap. We sailed along like a train on its rails. Steady wind, steady course.

I saw some white water way in front of us. That's funny. There shouldn't be any white water there.

I went below to check the charts to see what it could be. There were no obstacles on our course. I started to check our location on the chart when we ran into a brick wall.

That's the end of this portion of my December log. I will start a new portion tomorrow to tell you all if we survived the crash.


---