Living in La Paz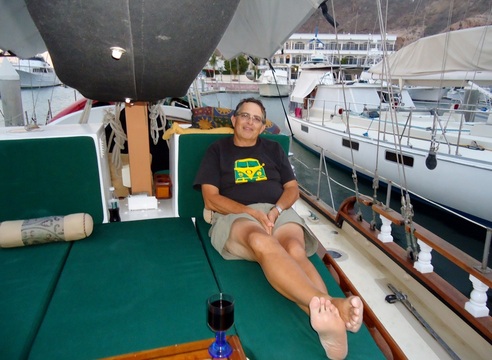 I've been in La Paz for a week now. I'm starting to develop a routine, however I know that it will change when Dawn returns from San Diego. But for the time being I'm just being lazy and recovering from the months of sailing and boat yard work.

Tuesday, April 16th through Monday, April 22nd 2013 – La Paz

Ok, so we made it to La Paz. What do we do now?

Tuesday was a collect ourselves and figure out the rest of our lives day. Dawn and I took the shuttle into town, visited fellow ex-pat sailors at the Club Cruceros morning coffee, checked out some movies from their library and went to the grocery store.

We really didn't need a lot of food. We still had lots of stuff in the freezer, but we were short on fruits, vegetables, milk and the like.

We went to the Mega store, a lot like a Fred Meyers for those of you from the Northwest. My best purchase of the day was fresh tortillas.

After shopping, we grabbed a taxi back to the marina. We found Ben just coming back from the swimming pool.

The hotel at the marina has a nice pool, but it is for guests only. Ben just walked in and dove in. No one questioned him. He says that if you buy something from the bar, no one cares.

I was pooped from all the walking, but Dawn wanted to go swimming. It was hot and cool water sounded good. We put on our bathing suits (after stowing the groceries) and headed for the pool.

We had lunch in their restaurant/bar. We both had chicken Caesar salads. They were interesting. The flavor was good, but not like any Caesar salad I've ever had before. I don't know how to describe it, other than the dressing was very watery, or should I say oily, and didn't have the distinctive Parmesan/anchovy taste.

The water in the pool was cold. They don't have heated pools here. Why bother? The sun will warm them up. In June.

Dawn, being the water baby that she is, just plunged in. I was a little more cautious. I sat at the edge of the pool and dangled my feet, but never got up the nerve to jump in.

---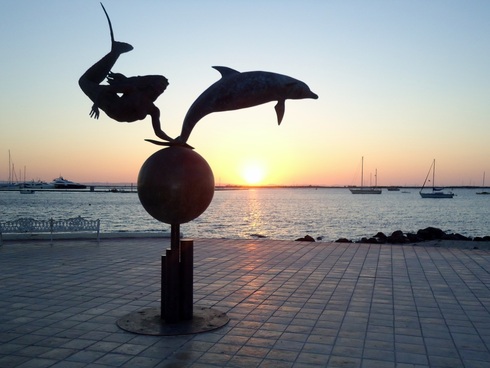 After our "swim" we returned to the boat to get Ben off. He was catching an 8 pm bus north. We had him to the gate by 7, where he walked the four miles into the bus station.

Now it was just Dawn, Bill and me.

In the morning, Dawn and Bill took off. Dawn caught a flight from La Paz to Tijuana and Bill a flight from Cabo to San Diego.

Alaska Airlines has dropped its flights to La Paz. There are now no direct flights from La Paz to the US. The best you can do is to take the bus to the Cabo airport and fly out of there.

My crew was gone by 10 am and I was alone with the Victory. I returned to my boat and did what any enterprising young skipper would do. I took a nap. Then I had lunch and laid around the cockpit and read. Then another nap. Then I made dinner and watched it while I viewed a movie.

Not much happening here.

On Thursday I decided to go into town. We have had problems with the port winch on the davits which raise and lower the dinghy into the water. It looks to me like the electric relays on the winch are failing.

To get the dinghy in the water, I ran the topping lift from the mizzen mast through a block on the boom and a block on the davit to the dinghy. With this rig, I could use the topping lift winch to raise the dinghy enough to release the hook from the davits, then lower the stern of the boat into the water.

Of course, I had to stop a couple of times to lower the bow with the good winch. I didn't want to dump the dinghy ass first into the water.

Once in the water, I struggled to get the engine started. Crap, there was water in my gas tank. Ok, I switched to the spare gas tank and it started right up.

But it didn't run well. It stalled out on me every few minutes and I had to restart it. The problem continued until I got outside the marina and opened the throttle, then we took off like a scalded cat.

The ride to the Marina La Paz, where the Club Cruceros is located, was fast and wild. I got the dinghy up on the step and flew across the water. The bay was still that early in the morning and we didn't have to hop from wave top to wave top like you see in the movies.

At the club I met an old friend or two and made some new friends. There is a couple, Mike and Dawn, who have sailed their 85-foot schooner, Destiny, down from Roche Harbor on San Juan Island. I remember the Destiny from Friday Harbor. They bought here three years ago and restored her much like I did with the Victory.We talked and agreed to get together and swap lies (Oops, I mean tall tales) when my Dawn gets back.

I returned the watched movies and checked out some new ones, then decided to walk up to the grocery store for a couple of items we forgot. I had no milk, potatoes, onion or garlic. How can you cook without them?

---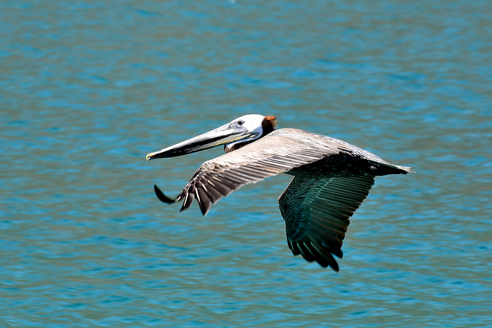 I stored my books and movies in the dinghy's forward locker and headed out on foot. What a mistake. I had left the boat that morning wearing my sandals. They did not make for a comfortable long hike.

The grocery store is about two miles from the marina. It was a pleasant walk as I took in all of the people sights and checked out the stores and restaurants along the way. But it was murder on my feet.


The good news is that I walked through the panaderia (bakery) and picked up a couple of amazing empanadas. One was stuffed with carne asada, the other with chicken in mole.

The bad news is that when I got back to the boat, I had a major bruise on my left heel. It is very painful and makes it hard to walk. I have to sort of step on the ball of my foot and not let the heel touch the ground.

This expedition took most of the day. I got back to the boat in time for snacks and cold root beer in the cockpit, read a bit, then cooked dinner.

For dinner I had pulled some pork ribs from the freezer. I put them in the oven at a very low heat to blanch them. Then I got out the BBQ grill.

Another disappointment. Whoever put the grill away last time removed the gas regulator when they did. I never remove the regulator. Because, now I can't find it anywhere on the boat. For all intents and purposes, my grill does not work.

I decided to deal with it later and cooked my ribs in the oven. They still came out great. I don't think I've ever had better ribs in a restaurant or BBQ joint.

With dinner, and after dinner, I had a James Bond double header. Then off to dream land.

Friday I stayed on the boat and did a little work. I fixed the main hatchway doors, took a look at the malfunctioning cabin light in the aft cabin and worked on the gear shift lever in the cockpit.

KC told me that cruising was "doing maintenance on your boat in exotic ports." I guess this is what he meant.

It was blisteringly hot. I worked in the open cockpit under the blazing sun.

Damn, the switch on the light had melted. They put a cheap plastic on/off switch in the light when they made it in China. It melted from the heat of the bulb. I paid fifty dollars for that light. What a rip off.

I couldn't make any progress on the gear shift either. I emailed my friend Mike and he recommended a mechanic, Terry, he knows. Terry couldn't come out until Monday, but that's no problem. I'm not taking the boat anywhere before then anyway.

Here's the problem. The gear shift lever in the cockpit is not working. You can shift into reverse and neutral, but you can't shift into forward. However, we have a second steering station in the pilot house and that gear shift works.

The guys at Club Cruceros gave me some advice, but it didn't work. I need to call in a professional. More money gone.

By the time I was done with my chores, I didn't care how cold the water was in the pool. I was going swimming.

Which I did. I jumped in without testing the water and was enveloped by the cool. I was so hot and sweaty, that I felt like I was burning on the inside and freezing on the outside. Eventually, my internal body temperature cooled down and I climbed out to enjoy a Margarita at pool side and read my book.

---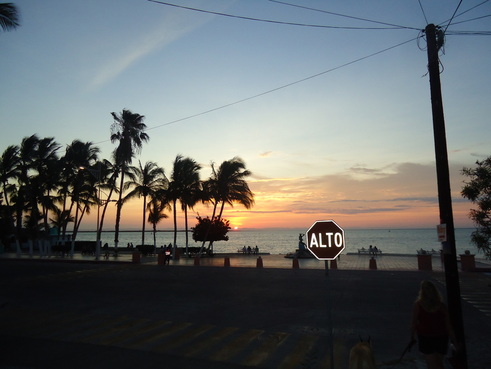 I must have fallen asleep, because the waiter woke me up to ask if I wanted another Margarita. I decided to return to the boat instead and make dinner.

I had planned of making chicken cordon blue for dinner, but it was too hot and I was too tired. I "settled" for warming my BBQ ribs instead. It was wonderful.

Saturday was another hot day. I hung around the boat and didn't do much of anything. At one point, I headed up the dock to buy fresh gasoline for the outboard. While I tried to juggle pulling the dock cart with my gas cans up the ramp and opening the gate with my key card I dropped my key card.

They charge a $50 US deposit for the cards. I watched as a fifty dollar bill sank to the bottom. But it wasn't too deep. Probably only ten or twelve feet. I immediately stripped off my hat and shirt, emptied my pockets and dove in the bay.

The water was warm, much warmer than the pool water, and clear. It took me no time to locate the card on the bottom and dive down to retrieve it with one breath. It was invigorating.

I was so happy that I had rescued my fifty dollar card and swum in the ocean that I couldn't contain myself. I went back to the boat for dry clothes and did a little happy dance in my cabin as I dressed.

I read and wrote for the rest of the day. My overwhelming desire for naps is becoming less overwhelming. I think I must be getting rested up a little. My foot still hurts like hell and I don't plan on walking anywhere soon.

After a restful day, I made the chicken cordon bleu. Yummy.

Sunday was another hang around the boat and be quiet day. No great adventures.

On Monday, I took the dinghy into La Paz for the Club Cruceros coffee again. I had viewed all my movies and needed to exchange them for more. I also needed a haircut.

The outboard on the dinghy has decided to give me trouble. Now, when I open the throttle all the way, I'm only getting about 50% power. The guys at the club suggested I talk to Sea Otter Jim, but Jim is out of town for a few days. I'll catch up to him later in the week.

I badly needed a haircut, so I walked into town looking for a barber. I was wearing my good tennis shoes this time, but it was still a bad idea.

I took my time, explored the town and eventually ended up at a little peluqueria (barber shop) in the middle of town. I sat under a powerful fan and waited for my turn, then got a nice haircut for $50 pesos, about $4 US.

As I wandered back towards the marina, I passed a little coffee shop that advertised milk shakes. It was hot and I was dry so why not? I stopped, drank my shake and read my book for a while. I'm beginning to feel like a retired tourist.

When I paid for my shake, I discovered that I was out of Mexican cash. No problem, I passed a BanNorte on the way. BanNorte and Chase have a reciprocal agreement and I don't have to pay a fee for using their machine or exchanging for Mexican money.

But of course, things didn't go well. They wouldn't take my debit card.

When I returned to the boat, I had an email from Chase bank saying my card was on hold until I contacted them. It seems like some crazy fool has been using my card in Mexico and they wanted to know if it was really me.

I had talked to them about the trip before I left and up until now we had no problems. But apparently Dawn had to contact them in San Diego and now they think that I'm some card thief assuming Penn's identity.

I tried calling them, but naturally, my phone wouldn't work. Now I have to go into town and get my phone fixed.

I tried to get a hold of Terry all day and didn't get any answer. I went to the Social Security web site and tried to set up an account and they rejected me. I have to call to set it up. Of course, I can't call with my phone not working.

Nothing is easy in Mexico.

After all my walking around town today, my heel is worse than ever. Now I'm wearing my tenny's around the boat, rather than going barefoot. When I touch my heel to anything by accident, it is excruciating. I can't see the injury because it's on the bottom of my foot. I can't wait for Dawn to return so she can see what's going on down there.

It is hot here. I can't imagine what the summer will be like. Dawn bought a small, portable air conditioning unit in San Diego. As soon as she gets here, we should be able to cool the boat down. I have our shade canopy up and that helps. The wind helps too.

Most days we have a consistent breeze, but on a couple of days it's been flat calm. Then you feel like you're in an oven.

So today I'm sitting here in the galley, eating taquitos and sipping root beer, writing. This is what I was dreaming about on those cold wet winter days in Seattle. I love Mexico but wish it weren't so hot. I guess you can't have everything. I'll find ways to keep cool, work on my books and have fun at the same time. Who says you can't have everything?

---