We Reach San Diego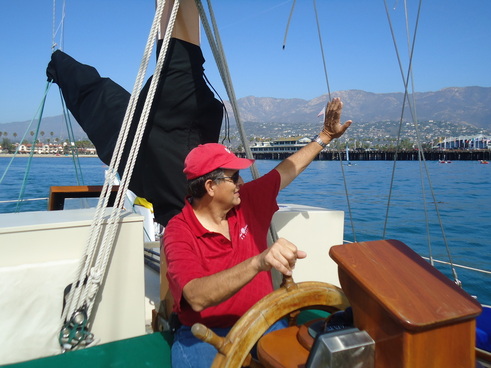 We're here. We have completed the first half of our journey,we're in San Diego. The temperatures are in the eighties with a soft northerly breeze. We'll stay here, rest and recover, and do some more work on the boat for three weeks before we head south to Mexico.

Here's my day by day log for the month of October. I probably won't post anything again until November when we are on our way to Mexico. I doubt if day to day maintenace work would be of much interest to anyone.

I can't believe I'm beginning the third month of our log. Have we really been out that long? It seems like a life time ago that we were picking up a charter party in Anacortes. The summer adventures were great. The trip down the coast to San Francisco had some hairy moments, some bad weather and too many night watches, but we made it.

The trip from San Francisco was a piece of cake, if you don't count the fog and picking our way into the harbor in the dark.

But here it is October. Our epic journey continues.

Monday, October 1st 2012 – Monterey, California

Today was not a good day. We planned on leaving Monterey at 3pm so we could enter Santa Barbara harbor on Wednesday morning just after sunrise.

We dinked around on the boat in the morning, then I got a phone call. I had a crisis at home. I couldn't leave Monterey and be out of cell phone range. For the next twelve hours I was drug through the ringer with a major problem at home that I couldn't do anything about.

We did not sail at 3 pm. By midnight things had calmed down in Seattle. I went to bed drained.

Tuesday, October 02, 2012 – Monterey, California

Today we sail. We left Monterey at about noon to catch the building afternoon wind. What a joke.

The wind, a good ten knots or so, was right in our teeth. When we got far enough west to turn south, the wind died down to a whisper. Being obstinate, I decided to raise the sails. If nothing else, it is good practice for my new crew members.

We got the sails up and what little wind we had died. I shut the engine off for about five minutes, but sailing was futile. I fired the engine back up and we were on our way. We kept the sails up, just in case Father Neptune might grace us with a puff, but we're motoring.

When we left Monterey Harbor, the bay was alive with sea life. It was slack tide and the small fish came close to shore. The gulls and pelicans immediately took advantage. The seals, sea lions, porpoise and dolphins were eager for lunch as well.

Where ever we looked, we were surrounded by wild life. We had some white animals that were either huge porpoise or tiny whales surface not twenty feet from the boat. All around us porpoise and sea lions made short work of whatever bait fish, probably sardines, were down there. The sea was absolutely alive.

Joyce bought some tiger prawns off of one of the fishing boats. Dawn prepared sautéed prawns with black rice in coconut sauce and an amazing green salad for lunch. For dinner she cooked a pot roast.

We are certainly not suffering food-wise.

This was a glorious sunny day. The temperatures were in the eighties and we pranced around the deck in T-shirts and jeans. Of course, no wind came with the nice weather.

My watch started at 9 pm. By then it was getting colder and grayer. The horizon began to disappear and we were left alone once again in a world of fog. During Joyce's watch it started to rain. By morning the boat was soaked. We were toasty and dry inside, but whoever had the watch was a little cold and miserable.


---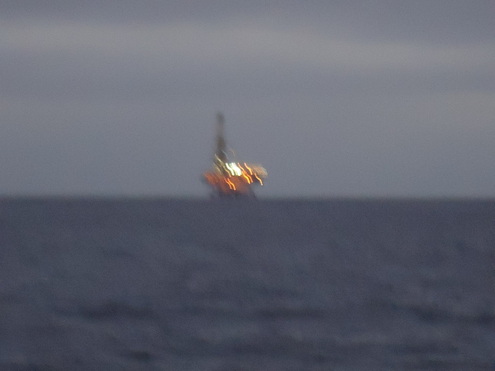 Wednesday October 3rd 2012 – Off Point Buchon

The morning dawned dreary and gray. A fog set in during the night and visibility is about three miles. We saw a big fishing boat this morning, the first boat we've seen since leaving Monterey.

Last night on my watch an aircraft carrier was doing launch and recovery operations and a cruise ship wandered into their path. After a conversation, the ships worked out the courses to avoid a collision and all was peaceful again.

We have a hair's breath of wind this morning. Not much, but enough to help us along on our way. When I started my watch, we were headed directly into the wind and making 3 ½ to 4 knots. I altered course to take advantage of the wind and we got up to six knots. But we were headed out to sea, not towards Santa Barbara.

During Tom's watch the wind shifted. We are now headed down the coast with enough of a south wind to sail close hauled. When we reach Point Buchon, we will turn more east and will be able to take better advantage of it.

It's only about a six knot wind, but the forecast is for fifteen knot winds this afternoon.

The whales finally came to play while I was on deck. Two or three humpback whales put on quite a show. They leapt clear out of the water, hung suspended in air, then turned and crashed down on their backs. Then they lay in the water on their sides and slapped at the water with their huge pectoral fins. Finally, they beat on the water with their flukes.

We sailed on through the night again. This time, it was a beautiful night. After the sun set, the clouds began to disappear and the air temperature rose. This does not happen in Seattle. We sailed under star light and a big waning moon. Even with the engine running, it felt like peaceful night.

Once again, I was amazed by the skill and knowledge of our navigator. We sailed through the night along the coast, watching our GPS and the lights on shore. Following our plotted course, we arrived outside of Santa Barbara Harbor just before sunrise. Actually, we throttled back on the engine because we were running ahead of schedule. I didn't want to arrive in the dark and we saved some diesel fuel that way.

Thursday, October 4th 2012 – Santa Barbara

Santa Barbara is a beautiful town. I've often thought that I would like to live here. It was founded back in the 1780's by Father Serra as the Mission Santa Barbara. The mission is still here. We didn't go there this trip, but if memory serves me, it is well maintained. (Some of the missions in California are little more than ruins.)

The prevailing architecture in Santa Barbara is Spanish Colonial. With stucco walls and red tile roofs, the buildings look like a set for a Zorro movie.

We discovered the neatest costume store that I've ever seen. I was out of gas and my leg was hurting, so I spent about half an hour playing with the costumes, then went outside to find a bench on which to sit. Dawn stayed for another half hour or so.

We had lunch in a nice Mexican restaurant. The food was good, but they didn't serve refried beans, only bandido beans (whole boiled pinto beans).

After lunch we tried to take the electric trolley back to the boat and encountered the rudest bus driver I've ever met. She was even worse than the SOB in Hawaii that wouldn't let us take our suit cases on the bus to the airport.

We were told that the trolley stops across the street. We crossed the street and found a group of people standing around under a street sign, so we joined them.

The trolley came rolling down the street and stopped twenty feet from us. It took me a minute to realize that the bus stop was up the street. I ran (or rather hobbled) towards the trolley, waving my hands at the bus driver. She looked right at me, then put the trolley in gear and left. She stopped at the traffic light a few feet down the street from me.

I ran over to the trolley and asked her what happened? Why didn't she wait?

She said that we have to be standing at the stop for her to take us aboard. She saw me running towards her, but has a schedule to keep. She wouldn't let us board at the traffic signal, where she was stopped. She said we had to wait fifteen minutes for the next trolley, and we better be standing at the stop when it got there.

If she had waited fifteen seconds for us to board, she would have made the light and it wouldn't have impacted her schedule at all. She was not a nice person.

I called the transit phone number posted on the bus stop sign. I got a record a call and was directed to the extension for complaints. I got a recorded message. "You're call is important to us." What BS. If it was important, they would have had a person answer the phone. Anyway, I left a message asking them to call back. Naturally they didn't. They don't care about customer experiences.

We caught the next trolley, with a wonderful, jovial driver, back to the boat and went our separate ways. I decided to give the cook a day off, so we went to a local seafood restaurant for dinner.

After dinner, we watched Master and Commander. Dawn said she understood the movie a lot better the second time after having spent a couple of months at sea.


---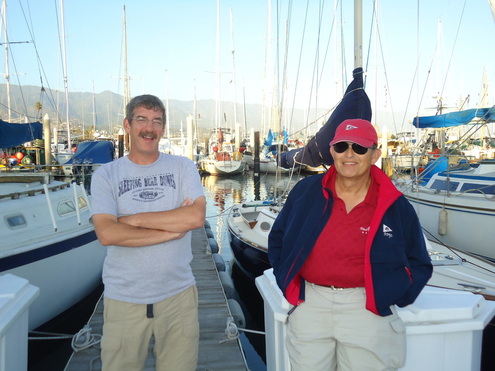 Friday, October 5th 2012 – Santa Barbara

We stayed in Santa Barbara and extra day.

Early this morning, the new bilge pump I installed in Alameda failed. My first task this morning was to rip out the old (new) pump and install another.

This is a high-tech bilge pump with solid state sensors that tell it when there is water in the bilge and to start pumping. Supposedly, when the water level drops, it shuts itself off. Not so. This is the second pump I've installed that decided not to turn itself off.

Being that two of these high-tech bilge pumps have failed on me, I took it back to West Marine and got an old-fashioned kind. It took most of the morning to replace the pump.

By the time I got the pump installed and working, the back of my left thigh was killing me. I toughed it out for most of the afternoon. Dawn and her mother went on a shopping trip into town to replenish stores. When they got back, I called Dawn in for a little consultation.

She said I needed to see a doctor. I reluctantly agreed with her.

We set about the unpleasant task of finding a doctor in an unfamiliar town. I called Kaiser-Permanente who has a reciprocal agreement with Group Health. It took me an hour and a half to get to the consulting nurse line. Then they were experiencing a higher than normal call volume and would call me back.

Dawn suggested I call the Harbor Patrol office and ask where I could find a walk in clinic. They passed me on to a paramedic who gave me some medical advice on how to treat the leg. I gave up on trying to find a doctor and returned to the boat to ice and heat the leg.

After dinner, Kaiser's nurse finally called me back. If I was bleeding from a cut in my little finger, I would have bled out, waiting four hours to talk to a nurse.

She wanted me to go to an emergency room. There is no Kaiser facility in the Santa Barbara area. We would have to drive twenty-six miles to get there.

I said "bah, humbug" and crawled into my bunk. I'm pretty sure I've pulled a hamstring, but we'll see how I feel tomorrow.

Saturday, October 6th 2012 – Santa Barbara

Damn the torpedoes, full speed ahead. I decided I wanted to get away from civilization and see the Channel Islands.

But first we needed to fill the propane tanks. I forgot them yesterday. As you might expect, they don't sell propane in the marina, or anyplace close by. Dawn got tired of our messing around trying to find a place to buy propane and took the two tanks and walked down the dock. She returned a half hour later with two full tanks.

We took the boat over to the fuel dock to top off the tanks and pump the holding tanks. I've never seen such a small fuel dock. We filled the starboard side of the dock. A large working boat stuck out about thirty feet past the port side. The end of the dock is only about twenty feet wide and a boat tied up stern-to to fill their tanks.

The weather report was for small craft advisories and winds up to twenty-five knots. The weather man has not been right once on this trip about wind and we can easily handle twenty-five knots, so we left Santa Barbara.

Out into the Santa Barbara Channel we motored. Not enough wind to fill a handkerchief. We did something I never expected the Victory would do: we passed two Hobie Cats on the way out of the harbor.

Our course had us running parallel to the swell. The boat rolled like a son of a gun. At one point I was sitting at the mess table reading and with each roll, first the starboard window then the port window would be under water.

In the afternoon the wind began to pick up. At about ten knots of wind, I decided to raise some sail. Just the jib and the mizzen. With my bum leg I sat in the cockpit and gave orders while Dawn and Thomas raised the sails. Everything went wrong.

I had to leave my cozy cockpit and to out on the bow sprit to get the jib rigged. Then we had problems with the mizzen halyard. It was a crazy mess. I take all the blame. I tried to sit in the cockpit and tell people who weren't familiar with the sails how to raise them. I should have been at the masts showing them.

After half an hour of Keystone Cops, we finally got the sails up. The wind continued to freshen. With a fifteen knot wind behind us we flew over the waves. I actually saw the knot meter hit 10.2 knots surfing down the backside of a wave. We were averaging well over seven knots.

We rounded into the lee of Santa Cruz Island and lowered the sails. We did a much better job than we did raising the sails.

We anchored in Smuggler's Cove on the west end of the Island. We were protected from the winds in the channel or the ocean, but as the day died, we began to get a nasty williwaw from the cliffs of the Island. In our part of the world a williwaw is a fierce down draft from the steep, high cliffs surrounding a fjord. I don't know what they call them here, but it's the same effect.

As the sun sets, the wind flows over the land and down the cliffs where it gains speed and plays havoc on the water.

We were securely anchored so I wasn't worried. By midnight the wind had calmed down and the cove had a glass like surface.


---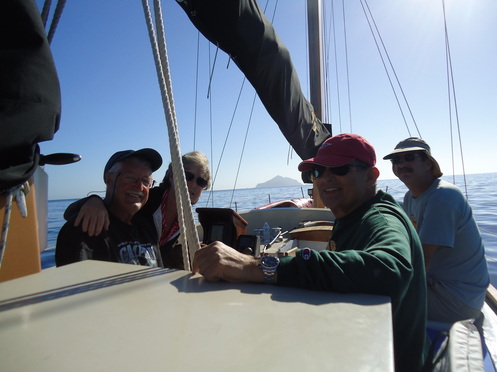 Sunday, October 7th 2012 – Santa Cruz Island

The day dawned to a clear sky. The weather report was for small craft advisories with winds 15 – 25 knots in the afternoon. The small craft advisories are posted through Thursday.

I had been playing with the idea of visiting several of the Channel Islands before we went to San Diego. The day also started with a lot of pain in my leg. I made an executive decision. We were heading to San Diego. I need to see a doctor.

Ii was a gorgeous day. Temperatures in the eighties, almost no wind, calm seas with a gentle swell. We weighed anchor and headed out around 9 am. It's 147 miles to San Diego. We should get there about noon tomorrow.

We spent the whole day on deck in T-shirts and shorts. Occasionally porpoise cruised by. Our course took us out of the sight of land for most of the day. Once Santa Cruz and Anacapa Islands were behind us we were alone on the open ocean until near sunset when we sighted Santa Catalina Island.

As we approached Catalina Island, traffic began to pick up. First a Disney cruise ship, then a succession of freighters crossed our path. Dawn played chicken with a cruise ship lit up like a floating gin palace on her watch. They had the right of way, so finally she yielded.

We motored on through the night. The night was so warm that I didn't put on my long underwear or wear my heavy wool sweater. For most of my watch I was just wearing a Duck sweat shirt (I still haven't heard the Duck-Husky game score yet). For the last hour or so, I put on a jacket.

The sky looks different here than it does at home. The Big Dipper is low on the horizon for one thing. The stars we know all seem out of place. We are, after all, 1200 miles south of Seattle now.

It's hard to believe that we've come this far on a slow old boat. We've had a seemingly unending string of plumbing problems, but the Victory has been up to the task. She is stable and solid and not afraid of any seas. Anyway, she's coming home. San Diego and Southern California was her home for her whole life until I uprooted her and brought her to Seattle.

It was a restless night on the boat. No one slept well. At all hours of the night someone was up and wandering around below decks or on deck watching the stars and chatting with the watch keeper. For my part I had a miserable night. My legs hurt so bad that I couldn't fall asleep even though I was exhausted. We are cruising on a south easterly course, right in the trough. Trying to sleep like this is like sleeping in a cement mixer.

Blessedly the sun finally came up and I got up to have coffee and an English muffin.


---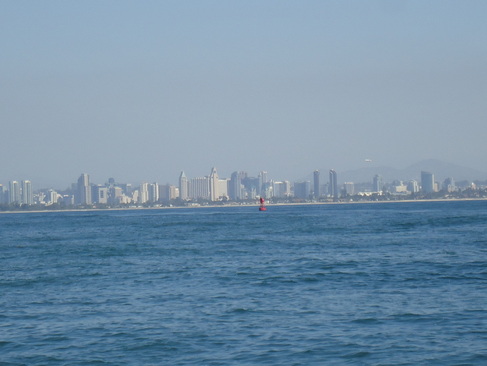 Monday, October 8th 2012 – San Diego

I went on deck for my watch at 8 am. We were just beginning to see the outline of land on the horizon. A pod of bottle nosed dolphin came to wish us a good morning. As the morning progressed, we could make out first Point Loma (the headland in front of San Diego Bay) and then the Coronado Islands (Mexico).

Once again our navigation was spot on. At noon we entered the channel to San Diego Bay. We are here. At last. We have sailed down the entire Pacific coast line of the United States, from Canada to Mexico. A feat well worth celebrating.

We tied up at the police dock. KC told me that we could stay here for up to ten days for free. Policies have changed, now it's fifteen days, for fifty dollars a night. We'll stay here a couple of days while I find us a more inexpensive place to tie up. Actually this isn't too bad. We've paid twice as much up in Canada, but I have to watch our budget.

There is a beautiful 38-foot Ingrid ketch here. I got to talking to the owner and was shocked to find out it's build out of ferro-cement. Phil built the boat himself and launched it in 1975. The masts need new paint, but otherwise the boat looks brand new. He obviously spends a lot of time caring for it.

I asked him what he had to do to take care of the ferro-cement hull. He said, "nothing, it don't need no maintenance." He sure has a nice example of a homemade ferro boat.

My leg hurt and I was tired and grumpy. I'm afraid I wasn't very good company. It's Joyce's birthday today. Dawn's brother Duane lives in San Diego. After work he came down and picked us up.

We went to Old Town for Joyce's birthday dinner. We ate a really nice open-air Mexican restaurant. The food was good and the atmosphere pure Californio. If I felt better I really would have enjoyed it. As it was, I suffered on the trip home, took drugs and dropped into bed.

Tuesday, October 09, 2012 – San Diego

Today was a frustrating day of dealing with the modern American medical system.

Joyce went home with Duane last night. This morning we said good bye to Tom and Thomas. Dawn and I are alone on the boat. It's nice to have the peace and quiet.

We went up to a coffee shop in the hotel on the shore to get an Internet connection. Although it was very frustrating, I managed to get an appointment to see a doctor today.

Dawn is going to fly up to San Francisco to pick up her car. Then she'll drive it back down to San Diego so that we have ground transportation. As you would expect, getting an airline ticket for her proved to be a night mare.

I finally got to see the doctor and he said I had back spasms that were causing the pain in my leg. This is nothing new. I broke my back in 1997 and have had nothing but trouble with it since. He gave me some good drugs and told me to take it easy for a few days. I intend to take that advice. I have a couple of plumbing projects to do before we leave to Mexico and some varnish striping and painting to do, but it doesn't need to be done today.

Our neighbors on a big aluminum sailboat from France gave us two huge albacore tuna steaks. I cooked Connie Fries and Dawn did the steaks in a burre blanc. It was a wonderful dinner, then we watched "The Usual Suspects." I had napped so much this afternoon that I'm not tired. I'll finish this up and go to bed.

---