Great Dane on Board - Episode 1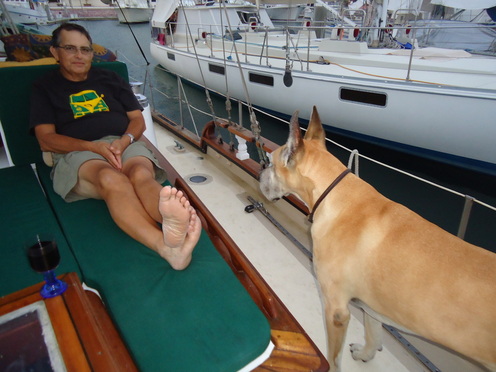 Love is a crazy thing, it makes you do stuff that makes no sense.

I am not a dog person. I can honestly say that I have been in several life-threatening situations, but the only thing that I have ever feared, is dogs.

I met Dawn on the OKCupid website. I don't know why I even answered her ad. One of the pictures was of her two Great Danes. I told her I was afraid of dogs and asked her if that would be a deal-breaker.

Obviously, it wasn't.

I am told that the definition of courage is doing something that you are scared of, even though you are scared. The first time I went to Dawn's house to pick her up, two humongous, vicious monsters greeted me at the door.

She says that she thought about putting them in her bedroom, but I would probably be more afraid of the howling and pawing
to get out than I would be of seeing them.

Don't show any fear I thought. I extended my hand for them to sniff. My bowels were just about to let go.

Dawn, in her slinky little black dress, spiked heels and gorgeous blonde locks, called the dogs back, and, miracle of miracles, they
responded. My heart, racing faster than a Ferrari, started to slow. That was my first glimpse of how well trained they
were and what a dog-woman Dawn is.

As our relationship continued, Dawn made it clear that she would love to come on my grand adventure, sailing down the West Coast to Mexico. That just left us with one problem, what to do the Hounds of Hell.

She helped me day after day getting the Victory ready for the voyage , for a year and a half. As we got closer to our departure date, the dogs became an issue.

She assured me that she would find someone in the Seattle area to take care of her dogs while we were gone.

"Besides," she said, "Big dogs don't live very long. Odin is eight and Sizzle is seven. They won't be a problem for long."

Yeah sure, that's what my late wife, Connie, told me about our Chocolate Lab. I knew a little about dogs. Phoebe lasted
fifteen years. Understand that Connie promised that I was not going to have to do anything to take care of the dog.
Then, in the final years of Connie's cancer, I carried the aged Lab up and down the stairs to take her out. As Phoebe grew
older, on our last walks, I had to carry her up the hill because she couldn't walk that far anymore. I was not about to
get hooked up with another dog.

So why, you may ask, do I have these feelings about dogs? I'm sure it has something to do with the fact that I was attacked
by two German Shepherds when I was three years old. Then there was my father. He was a very frugal man and he
didn't see any reason to support pets that didn't contribute in some way to the overall family economy. I had no
experience with dogs, except avoiding them as best I could all of my life.

---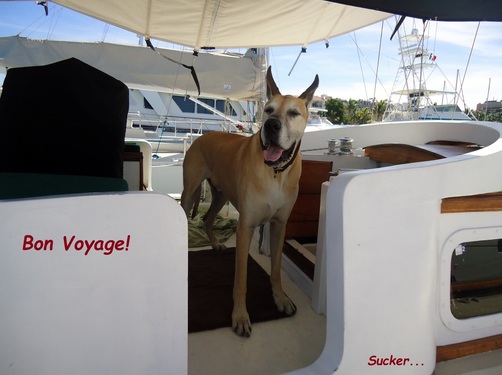 Dawn, lovely, wonderful woman that she is, blindsided me. She cut me off at the knees. She horse collar tackled me. If this was an NFL game, she would have been penalized fifteen yards and a first down, she would have been ejected from the game, suspended for the remainder of the season and been levied a huge fine.

We took the Victory north in August and chartered her among the San Juan Islands. When we returned from our first charter, Dawn laid the news on me."I've decided not to leave the dogs here."

What????? We are not taking those monsters with us on the boat.

"I'm going to leave them with friends, then when we get to La Paz, I'll fly back up and drive them down. I'll get a little apartment in town where they can live."

You can't be serious, I thought. I stared at her with open mouth. "Huh . . ." I muttered.

"They're too old. I can't just adopt them out. It would kill them."

So, I thought, that would solve the problem.

"Dawn . . ." I managed to form a whole word.

"They're my babies, my children. I can't just abandon them."

So you're going to abandon me? "How will you pay for it?" I managed a complete sentence, subject, verb and all.

"We'll be making good money chartering."

I had to grant that point. We had made a tidy sum chartering the boat in the San Juans.

"I'll take my share and pay for it. I'd never ask you to support my dogs."

This was the stupidest idea I'd ever heard. I was stunned. It took me moments to even achieve coherent thought, then I could
think of nothing redeeming about the idea.

Was I going to have to sail without her? But we had so much invested in the relationship. She was the perfect first mate. She
grew up in a sailing family. She had no kids and no ties to Seattle (I thought before the whole dog thing blew up in my
face). She had oodles of sailing and hospitality experience. She was a gourmet chef and an experienced snorkeling
instructor and tour guide.

On the other hand, she had these two giant animals . . .

Episode 2
---