More Stuff To Do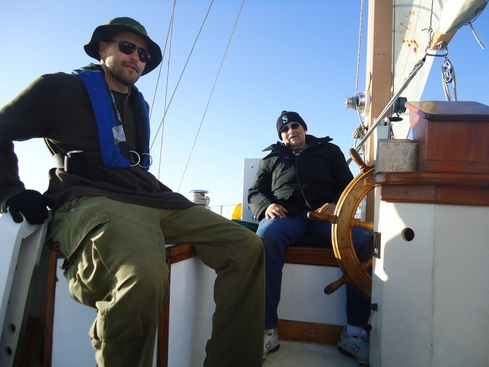 Now that the boat's in the water, we still have bunches of tasks to check off before we're ready to sail. The boatyard was closed for the holiday weekend so they didn't do any of the stuff left on their list, but our work keeps going on.

Saturday March 30th and Sunday March 31st – Ensenada

I kind of jumped the gun on Saturday in my last blog. I included Saturday stuff on Friday's posting. To set the record straight, here's Saturday's activity on Saturday.

Saturday came and along with it, Ben, our second crew member. He arrived at the bus station here in Ensenada and Dawn drove over to pick him up.

He's a young guy who just graduated from law school and took the bar. He won't hear his bar exam results until May. He has accumulated massive debt in student loans and views this trip as his last chance for a grand adventure before he has to settle down into white collar life and pay off his loans.

Ben does not have much sailing experience. I selected him because I like his attitude and willingness to learn. With a couple of other experienced crew members aboard, I felt that we could take on a green horn and teach him the right way. So far he has worked hard and jumped on any task I've given him.

He and Bill hit it off right away. First of all, they are both big time baseball fans. Of course, this doesn't offend me either. Then they are both musicians. They spend most of Saturday night at a bar drinking beer, eating tacos and discussing musical instruments that they have owned.

Now, to get back to the story.

As the Stamper family motto in Sometimes a Great Notion (Ken Kesey, circa 1970) said "Never give a inch." We continue to push forward.

I'm not complaining, but spending so much time crawling around the engine room running down water lines and installing electrical wires has left me much bruised. I counted seventeen bruises on my body this morning.

I spent most of Saturday chasing down the plumbing problems. As I brought the new system on line, I found leak after leak in the old pipes and hoses. It seemed like I would never get all the leaks stopped.

I was always suspicious of the old system. We went through two hundred gallons of water in a week or so. There was no way we should be using that much water. What I have discovered is that there were myriad pipes that had just been cut that poured the water into the bilge every time we turned on the water pump. It is my fondest hope that I've found all of these leaks and stopped them up now. Hopefully our water supply will last longer.

By the end of the day, I was claiming victory.

---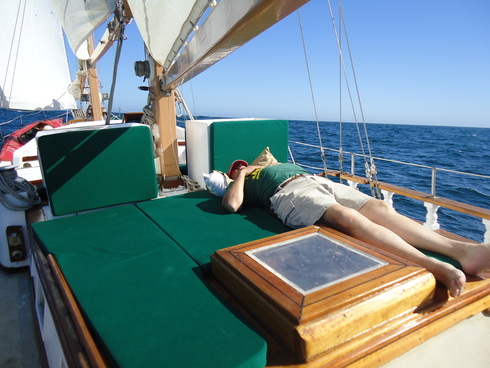 Sunday was install the stove day. Putting the stove in the opening in the galley was child's play. Making it work was something else.

First of all, the pilot system wouldn't work. I tried everything I could think of, then decided to call the manufacturer in the morning.

Then I couldn't get any propane.

There is a fail-safe propane system on the boat. It has a propane detector in the bilge. If it sniffs any propane, it sets off an alarm and closes the electric solenoid that controls the gas flow.

Our system was under water. It did not want to work. I checked all of the electrical connections and we had electricity. Why wasn't it working? It must be a bad solenoid.

I took the old solenoid out and went on a quest all over town for a new one. After looking at three stores and being told to come back to the last store twice, I finally got a used solenoid out of an RV. It didn't look anything like the one I took out and was old and beat up.

I asked the gas man how I knew it worked and he demonstrated for me. He opened the hood of his pick up and touched the wires to his battery. "See" he says, "No air when off." He blew on the solenoid to prove his point. "I put on battery, air." It did work.

I took it back to the boat and it wouldn't fit. It had the wrong sized openings and I didn't have fittings to reduce the size of my piping. Crap!

Then I thought "I should test the old solenoid." After all, I now knew the secret. So I did. It worked. The problem was not the solenoid. I put the system back together and returned to the cabin.

I turned on the propane switch and the red and green lights both came on. I turned on the burner and pushed the pilot light button and Voila! The flame lit.

Somewhere in this narrative, I forgot to mention that I called the stove manufacturer and worked with them for the better part of an hour to get the pilot system working, but it does work now.

I don't know what was wrong with the system and I still don't fully trust it, but I took the whole thing apart and put it back together. I rewired the electricity and suddenly it worked. I'm suspicious but cautiously optimistic that it will get us to La Paz.

While I'm doing all of this, I have the boys hard at work on other projects. Bill has sanded down the bottom of a cabin door so that it will close again. Much of the interior woodwork is swollen from being under water. I'm hoping that when we get into hot dry conditions, the swelling will go down. But for now, they weren't able to close their cabin door.

He also made some modifications that I've been wanting to make since day one to the deck box. Now the battery for the dinghy winches is inside the deck box protected from weather. The stern anchor line and chain is now neatly stowed in the deck box and the anchor ready to deploy at a moment's notice.

Ben has faithfully worked away on the stereo system. Now we have the system I have dreamed about for forty years. I've always wanted speakers in the cockpit.

Bill came back from an errand and saw the speakers in the cockpit and said "Whoa. We have a rock 'n' roll cockpit."

Dawn has been working her tail off getting the boat clean and ready to live on. She has "Rambo cleaned" the entire cabin and is bringing our belongings back on the boat.

Of all of this help comes at a cost. I lured these guys down here on the promise of sailing. Instead of cruising down the coast, I have them up to their ears in boat maintenance. Since they're doing all this work for me, I feel obligated to feed and entertain them. This has necessitated several trips to local restaurants and bars.

I must keep the crew happy.




---