We Go To Sea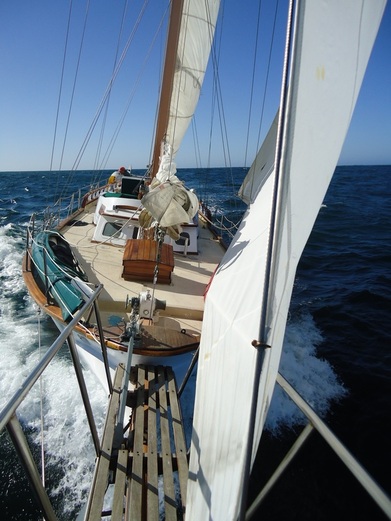 We are at sea! At long last, the Victory has the chance to stretch her legs and show us what she can do.

Saturday April 6th 2012 – Ensenada

Where was Dawn? Had she had problems? Did she decide to stay in San Diego? Could she not get across the border?

I called her cell. She was at our old apartment. She decided to stop there and catch a couple of hours of sleep. She still needed to load the last of our stuff in the car and bring it down to the boat.

I needed to hit the marine store and we needed to do a last minute stop at the grocery store. Dawn came down, we unloaded, I made a quick trip to the marine store and we all went to the grocery store. Then back to the boat to pack everything and cast off our lines.

Sometime during the morning John showed up with his sea bag and I put him right to work installing a new light in the aft cabin.

Somewhere around one pm we left our slip and headed up the bay to the fuel dock. We were in a tiny causeway with a horrible cross wind and I did an embarrassing job of getting the Victory out of the marina. However, we didn't damage either our boat or anyone else's.

At the fuel dock, I had time to think things through better and did a text book landing and leaving.

Fuel is cheaper (way cheaper) in Mexico than in the US, but still I spent $500 to fill our tanks. Then we were off.

It was a nice sail out of Ensenada. It took the better part of an hour to teach my crew how to set the sails, but eventually we got them up. We had about a ten to twelve knot breeze under our counter and we took off on a broad reach into the wide Pacific.

Dawn was exhausted, but she still spent the afternoon stowing things away and making a spaghetti dinner for us. John was feeling a little green around the gills and spent the afternoon sitting by the lee rail. Ben and Bill learned as fast as they could.

We saw a great school of seals (I don't know what you call a group of seals) on our way to sea. Then came the dolphins to escort us out of the bay. They say dolphins bring good luck to a ship.

---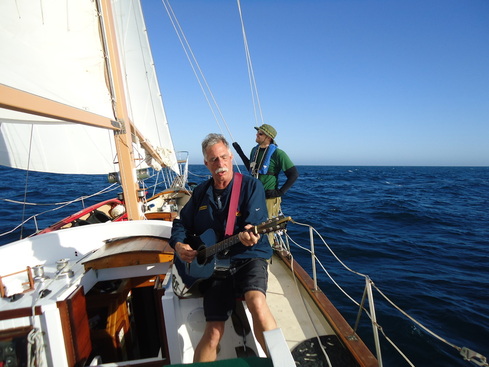 We were all busy settling into shipboard routine and the day quickly passed. At sunset I contemplated taking in some sail for the night, but I saw no signs that the wind would build. We were cruising along at about six knots on a very comfortable tack and I didn't want to change it. Famous last words.

On many sailing vessels, they take in some sail or put a reef in the main before nightfall. That's because it's so hard to work with the sails in the dark. I should have but didn't.

I set a watch list and our crew each had two three hour watches a day. Dawn and I shared the other three hour watches.

The reason we have short watch schedules is that Dawn is cooking all day and I am roused all night with ship handling decisions.

I had been on deck two or three times to jibe and was just settled into a deep sleep when Ben called "Penn, I need you on deck."

The auto pilot had stopped working. Ben came down to my cabin to get me and the boat rounded into the wind with no one on the helm.

I took the wheel and had Ben start the engine. The batteries were dead. By then Dawn was on deck. The wind had increased to dangerous speeds in the few seconds Ben was below getting me. We needed to take in sail. Bill appeared on deck in his foul weather gear.

With flash lights and head lamps we attacked the sails. I brought the boat into the wind and Bill and Ben went forward to strike the stays'l. Dawn grabbed sail ties and went forward to secure the sail. Somehow, they managed to get it down. We were still over powered.

It's hard to convey the fear and difficulty of working with sails in the dark. I couldn't see the wind vane, so didn't know where the wind was coming from. We had too much sail up and the boat rounded into the wind. She was laying way over on her side but not in danger of a knock down. I heard things crashing around in the cabin.

"Take down the stays'l," I shouted.

I held the wheel all the way over, the Victory wouldn't turn into the wind. She just heeled over harder and harder. Finally, I kicked the engine in gear and gave it full throttle. She responded. Slowly she rounded up and came back onto her feet.

My three deck hands went to work. Where was John? I looked around. He was hunkered down in one corner of the cockpit being sick. Ignore him. I have enough hands to handle the sails.

Still too much sail.

"Strike the mizzen."

Once again, Bill, Ben and Dawn went to work, this time taking down a larger sail. They got it down, not without some trepidation.

With the engine charging the batteries and the reduced sail, we were under control again. Ben took up his position at the helm and I released the crew to go back to bed.

In retrospect, the winds really weren't that bad. It might have been fifteen or twenty knots, and we should be able to handle that. However, it was the first time that this crew had to reduce sail and the first time that we've ever reduced sail at night. It didn't go smoothly, but no one got hurt and the boat survived.

Lesson learned: electricity management. If I had realized the batteries were so low, I would have run the engine to charge them before dark. Then the autopilot wouldn't have cut out.

I didn't really learn the lesson about reducing sail before dark.

---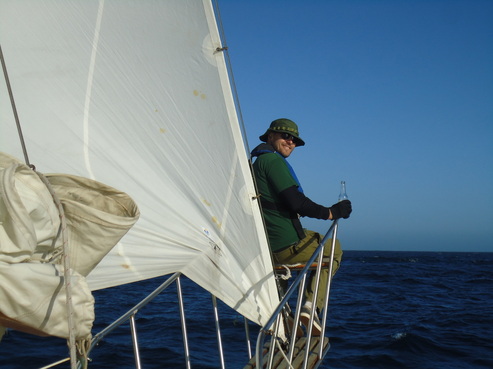 Sunday April 7th, 2013 – From Cape Colonet to the Gulf of Juan Vizcaino

Nice northwesterly wind and smooth sailing. The day is grayer and more overcast than I hoped for, but we're flying along making good time.

Now that I'm aware of the electrical situation, I keep a sharp eye on the volt meter. When our house batteries drop below eleven volts, I run the engine for a couple of hours to charge them. I really hadn't thought about this for a coastwise voyage, but this is the procedure ocean going yachts use when crossing oceans.

I guess it's really not any different for us. We are not stopping at night and using the engine to get into and out of anchorages.

John continues to be miserable. He stands his watches, but spends the rest of the day in his bunk or hunkered down by the lee rail. He hasn't eaten in two days and can't stand the thought of food.

When he came aboard, he told me that he has a friend in La Paz with a sail boat and they were going to head for the Marquessa Islands in the South Pacific in June. If he can't get over his sea sickness, I don't think that's going to happen.

Many sailors are sick for a day or two when they first start a journey, but he will have to get over it if he wishes to continue this voyage. It is taking a toll on the rest of the crew.

No one resents him. We all like John and he fits in well. We are all just tip-toeing around hoping to not disturb him or flaunt our non-sea sickness in his face. Everyone is very sympathetic and willing to pick up the slack for him.

We haven't seen a lot of sea life yet. A few dolphin and seals here and there, but no whales, no great sea birds. Are we here at the wrong time of year?

The pattern for our days is beginning to shake itself out. It starts with me making coffee before taking my watch at 6 am. I take the watch from John and he returns to his berth.

Around 8 am, the rest of the boat begins waking up. Bill is usually the first on deck. Dawn gets up and makes breakfast around 9ish.

At 10 Bill takes the watch. We set all practical sail when the 10 am watch changes happens. Everyone is on deck then.

I usually crawl back in for an hour's nap after sail drill. The boat is still quiet. Dawn is moving around, but Ben and John are usually still in their bunks.

We have had nice wind, but it's gray and cool. We're wearing our parkas and foul weather gear during the day. The night watches are just plain cold. I'm grateful for the wind, but couldn't we have some sun and heat too?

Dawn is beginning to recover from her exertions before we sailed. I would swear I saw a little hint of a smile cross her face today. However, she is worried. She doesn't quite trust the boat, and maybe not my navigation either.

She questions all of my navigation decisions and asks me to explain the tiniest noise. We even discussed putting her ashore and having her pick up the Queen Mary and drive down to La Paz. She wouldn't buy that. She knows that she needs to be here, to regain her trust in the Victory, but I know that there are many other places she'd rather be.

Night closes in and once again, I decide not to reduce sail. The winds have been steady, but not heavy. In the Northwest, the winds die down at night. We have nothing to worry about.

We had 3 am sail drill again. A stiff breeze came up and we were carrying too much sail. At least on a ketch, we don't have to fight the main by reefing it. We have other sails we can take down first.

The wind continued to rise. We simple had too much sail up. I made the decision to change from the 130% Genoa jib to the Yankee tops'l in the dark. That meant that Bill and Ben had to take the jib down, unhank it and bag it. Then they hanked on the Yankee and raised it.

The Yankee is a little pocket handkerchief of a sail that will allow us to still control the direction of the boat without getting overpowered by the wind.

This goes much smoother than last night, but still, I should have taken down sails before the sun went down. Tomorrow, I won't make the same mistake.

---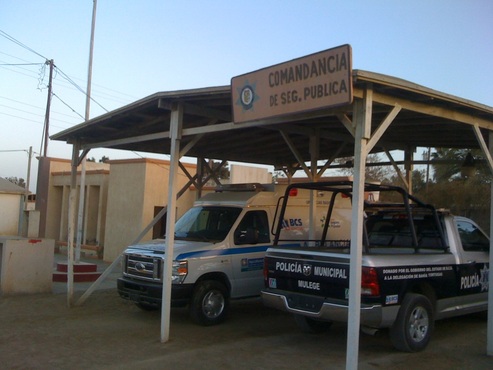 Monday, April 8th 2013 – Off the Gulf of Sebastian Vizcaino

I'm tired. I don't get a full night's sleep when we're underway. I'm always on call. I get called on deck at least two or three times each night. After the sun is up, I usually manage to get a nap or two during the day.

I'm trying to keep the pressure off of Dawn. She is still recovering from all of her efforts to get the boat ready to go. I'm standing most of her watches and staying on deck with her when she does have the watch. I really, really want her to get over her fears and start having fun again. I can't wait to see the smiles light up her face again.

Today we're sailing across the Gulf of Sebastian Vizcaino. It is known for rough weather and few bays into which you can escape the weather. I decided to just cross the Gulf in one swipe rather than run down the coast and jump from bay to cove. I'm not too worried about the weather, we had a favorable report before we left.

My original plan was to sail straight down the coast, maybe stopping in Abreojos, then on to Magdalena Bay. John has asked to be put ashore. The last practical place to land him is in Turtle Bay (Bahia Tortuga).

It will take us most of a day out of our way, but we would be able to anchor for the night and I could sleep through the night without interruption. He says he'd be willing to compensate me for going out of our way to land him.

Of course I wouldn't take his money, but he's desperate. He is in misery and there's no hope of him getting off the boat before Cabo if we don't take him to Turtle Bay. We'll stop.

We were due west of Turtle Bay when I made the decision. We had to sail east all day to raise land, then we'll have to sail back to the west tomorrow to get on the right track.

We made Turtle Bay in the afternoon and dropped the anchor. I couldn't get one of the davit winches to work, so we took a panga ashore.

The town of Turtle Bay is ugly and stinky. The dock is rickety and unsafe. When you pull up on your dinghy (or panga) the float is so narrow that it bucks under your feet when you walk. It would be easy to fall in the water. But the water is so dirty looking, that I'd rather fall in a sewer.

There is a rusting set of steel stairs that lead up to the dock. There are stairs that rusted loose so you have to watch your step on the way up. There is also only one hand rail, so it would be easy to fall off the steps, bounce on the bird dropping that covers float and end up in the disgusting water.

If I were making a movie that shows off the poverty and poor living conditions in rural Mexico, I'd film it in Turtle Bay.

The town feels like it's dying. The little café on the water front where we had a couple of forgettable meals on our last visit has burned out. There is not a blade of grass in the town; not a flower. Dust and sand swirl everywhere. Big American pickups rumble down the dirt streets.

We haven't had lunch, it's late afternoon and I'm starving. We drop off our laundry at a women's house and walk up to the Veracruz Café. The Morrocan Restaurant, which is closer, is closed for the afternoon.

Several blocks up the dusty road we're rewarded. The Vera Cruz is open.

We have acceptable meals of tacos durados and burritos.

John joins us at the restaurant. He still isn't able to eat yet, but he tells us his tale. The bus stops in Turtle Bay once a day, at 2 am. Pedro took him to someone who had a car and might be willing to drive him to Vizcaino to get a bus. He wants $200 American for the trip.

Ben is outraged and counsels against it. I don't care. I just need him off of my boat.

Bill decides to get a room in the "motel" and stay on shore tonight. John takes a room too so he can catch the 2 am bus. Ben stays with John since his room has two beds.

Dawn and I returned to the boat, ate a quick bite and collapsed in bed.

---