Great Dane on Board Episode 7

All good things must come to an end. This is the last of the Dane on Board series. I'm sure we'll continue to have adventures with Odin and I'll relate them to you as they happen, but for now, I will have to move on to other topics.

Since this is the last of my Odin series, I want to leave you with a couple of thoughts about Odin the Wonder Dog. First of all, Odin is a polyglot, he can ignore commands in seven different languages.

If you've been reading from the first entry, you'll know that I'm not overly fond of dogs. I never planned on having a dog live on my boat and certainly never expected to have a step-dog. But life does funny things.

At least for now, Odin is part of our crew. He is probably the most recognizable yatista (yachtie) in La Paz. Everybody knows him, or knows of him, and he has opened many doors for us.

This entry is another of Odin's Perspectives. There's no living with him. He now thinks that he's a world-famous author.

I hope you've enjoyed this series. Stay tuned as we continue with our next great adventure.

Life in La Paz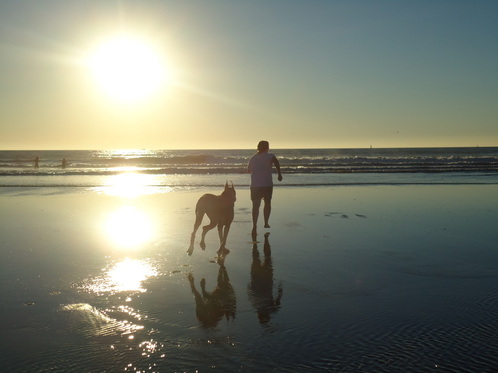 Woof - We lived in the cool apartment in Ensenada for a long time. After what seemed like forever, Mom and Penn were finally ready to put the boat back in the water. I could sense their excitement. I went down to the boatyard and supervised. We couldn't have them dropping the boat on the ground.

The next day, Mom loaded all of our stuff from the apartment and took me to a new marina to move back on the big white thing.

I was kinda excited to get back on the boat, but Mom threw me a curve. She loaded me into the Queen Mary (her big green SUV) and we drove back to San Diego.

It was nice to see Ron and Tina and Thai again, then it dawned on me. Mom was leaving. She would sail off with Penn again and leave me there. This was getting old.

As usual, she was gone for a long time. A few weeks later she pulled up to the house in the Queen Mary.

The drive to La Paz was long and hard. I sensed how tired Mom was. She drove all over San Diego picking stuff up, then we headed south. We crossed the border, rode along the coast, through towns, past vineyards and farm lands until we were finally in an endless stretch of wasteland. It was such a long drive that I had to figure out how to sit down.

Mom folds the back seat down for me so that the whole back of the Queen Mary is mine. The middle of the front seat folds down. This made a little seat the perfect size for a Great Dane butt.

"This is the really interesting part, Odie," Mom said. "Were going to drive through the mountains and a saguaro forest."

I didn't understand what she meant. Then, as the sun set and we climbed into the mountains, eerie shapes appeared on both sides of the car. The saguaros were giant cactus, towering high into the night sky. Occasionally Mom pulled over so I could relieve myself. I had to be very careful when I raised my leg, those cactus are sharp.

Late at night (or was it early in the morning?) we had to stop. We stayed at one of those places with all the little rooms. I got to sleep in the bed with Mom, my favorite thing. In the morning we were on our way again.

We drove through the day and into the night. We passed through deserts, across mountains and along one of the most beautiful stretches of ocean I have ever seen.

As we came down out of the mountains, lights stretched as far as the eye could see. We were approaching a big city.

"That's La Paz, Odin," Mom said. "That's our new home."

As always, Penn waited on the boat at the marina for us. It was good to see him. He seemed kinda glad to see me. He patted my head and I wagged my tail and put up my ears. I don't think he noticed too much. He grabbed Mom in a big bear hug and started chewing on her face. I'm never really sure if he's hurting her or if she likes it. People are so funny.

La Paz is a nice town. Along the beach there is what Mom calls the "Malecon." The Malecon is a beautiful, wide, red tiled sidewalk that stretches for miles. There are palm trees and little patches of grass on one side, long white beaches on the other and all kinds of dog smells. I can't remember being so exited.

In the evening, when the day cools down, the people from town come out for a leisurely stroll. It's nice to see so many dogs, but I never have a chance to play with them. We're always on a leash and when I go over to sniff them, their people pull them back. Some are very friendly, but some are afraid of me. I guess they've never seen a Great Dane before.

Everywhere we walk, people come up to see me and pet me and take photos. It's really cool to be popular, but it gets a little old after a while. I vant to be alone.

People always ask my Mom the same questions.

"Do you have a saddle for that thing?" or "You don't really live on a boat with that dog?" It's so silly. I wish I had a can of dog food for every time I've heard this.

There are other beaches where Mom takes me. We play in the surf, she throws sticks and sometimes we even find coconuts to play with.

---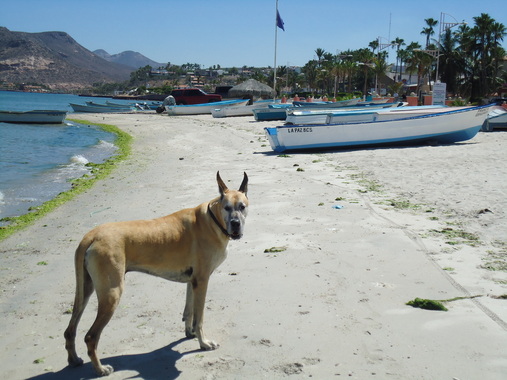 I have a rock pile along the Malecon near where the fishermen clean their fish. Pelicans insist on sitting on my rocks. It's hard work, but I have to chase them off every day.

There's a group of retired fisherman that hang out on my beach. I like to go down and talk to them every day as they watch their sons take the boats out. Us old dudes like to reminisce about the good old days.

On the way back to the apartment, we walk past this place with tables and chairs on the sidewalk. People sit around all day and eat these round shelled smelly things. I checked them out and one squirted me in the face. I don't see what the people like about them. I don't want any part of them, thank you.

Life was lovely, then it got hot. Late in the morning the sun rose high in the sky, scorching everything in its path.

Some people came down from Seattle to visit and Mom took me to a place she called a "kennel." I hated it. I had a tiny concrete cell. The yard was covered in gravel.

And it was hot. I spent most of my days just lying in my little room panting. It was lonely. There were a couple of other dogs there too, but we all lay in our rooms to escape the sun.

"Bark, bark," a little Chihuahua said when we came out into the yard in the evening. "Hey, caballo, what ju een for?"

"Woof - What do you mean, in for?" I asked.

"What you do, man, to geet throwed in heer?"

"I didn't do anything, my Mom just dropped me off here and left."

"Ja, sure, man. Everybody een heer ees innocent."

Mom wasn't gone too long this time. But she couldn't spring me fast enough. I guess she made bail, because she and Penn came to pick me up and we went back to the boat.

The only thing I could think about was surviving the heat for another day. I mostly lay around looking for shade. Mom hosed me down several times a day. I didn't even mind it. I needed relief.

Finally, she loaded me into the Queen Mary and took me to an apartment. With AIR CONDITIONING.

They moved in and I just lay on a rug in front of the air conditioner, breathing. I've never been more grateful for anything in my life.

---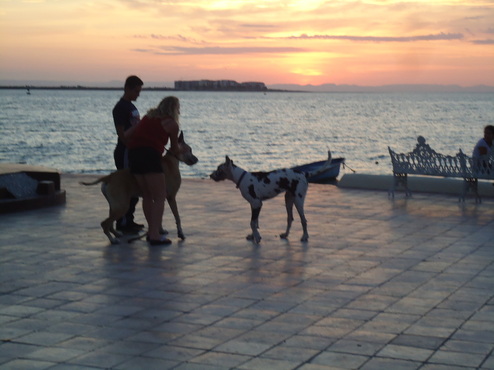 When Mom and Penn came back from the sailing trip with their Seattle friends, I could sense that something was wrong with Penn. He lay around the apartment all day and did nothing. I spent a lot of time on the couch with him, or laying at his feet.

He seemed kinda normal, then he groaned and grabbed his shoulder. I waited outside the bathroom when he took a shower. I could hear him moaning and crying out like a baby. Something was hurting him very badly. Why does he do stuff that makes him hurt?

This went on for quite a while. Penn did a bunch of stupid exercises every day and groaned and mumbled while he was doing them.
Then Mom took him away. Was this like with Sizzle? Would I ever see him again? I was just getting used to him being part of the family.

Mom went away the next morning and came back with Penn. He smelled like the vet's office and he looked dreadful. He staggered around like he was drunk and had a funny looking black leash wrapped around his arm. He moved slowly and just wanted to sleep. I may not be the sharpest tool in the shed, but I knew there was something wrong with him.

"We've got to take care of him, Odin," Mom said as she tucked him into bed. "He had surgery on his shoulder."

I didn't know what that meant, but he must have been beat up pretty badly.

After a couple of weeks, Penn packed a bag and Mom took him away. Where was he going? Would I see him again?

"He's going on a book tour," Mom said. "He'll be gone for six weeks."

Whatever that meant.

Mom and I spent the summer in the apartment. She took me out for a short walk in the morning before it got hot and again at night after it cooled down. Other than that, we sat around the apartment in the air conditioning all day. It was a very long summer.

After a long, long time, Penn showed up again. He drove up in his white truck that I remembered from Seattle. He was very tired and I could tell he hurt a lot. Mom and I were both glad to have him back.

The summer dragged on.

"It was one hundred and ten degrees today," I heard Mom tell Penn.

I had been sleeping with Mom while Penn was gone. When he got back, I had to sleep on the floor. Not fair. I was there first. Why didn't he sleep on the floor?

After a couple of more weeks, we moved back on the boat. I didn't think it was a very smart idea, but hey, who listens to me?

It was still hot. I don't care what the calendar said.

"We can't afford to pay for moorage and rent," Penn said.

Mom was no happier than I was, but we moved onto the boat anyway.

Over night the hot went away. Don't get me wrong, it was still like summer time at home. The days were warm, but we had a constant breeze to cool us off and it was nowhere near as hot as it had been.

Grandma came to visit us. I was really worried. The last time she came, she took Sizzle off and I never saw her again. Was Grandma going to take someone else away this time?

We took a drive to a place called "El Triunfo." It was a nice little town in the hills where they used to do something called "mining" for silver. The best part of it was that I could run around off leash. And they had these big dogs, even bigger than me.

I couldn't wait to play with them, it's nice to have friends your own size. I ran over to meet my new friends. As I got closer I saw that they were tall. Very, very tall. Three times taller than me. They had long noses and weird feet with metal shoes on them.

They smelled funny, more like grass than meat. Not like any dog I'd ever smelled. They didn't want to smell me. As a matter of fact, they were kinda afraid of me and shied away. And they had these funny leashes.

Their leashes went over their heads and in their mouths. And they hung back over their shoulders. How could their masters walk them with such short leashes?

"Odin, get back," Mom yelled. "Be careful. That horse might kick you."

Horse? What's a horse? I didn't understand what she meant, but I heard the fear in her voice. I knew it couldn't be good.

"I know another Dane that got kicked in the head by a horse and died."

Sometimes she can be such a spoil sport.

My latest task is learning to ride in the dinghy. Mom says we're going on a sailing trip. This time, she says, she's not leaving me behind. If I can learn to get into and out of the dinghy, I get to go with her.

She says that we're sailing away to some islands. I hope that they have animals there for me to play with. I don't know what a sailing trip is like, but I do know I don't want to be left behind again.

Penn says that we're going to be busy for a while and I won't get to do any more writing. This has been a lot of fun. I tell Mom what I want to say and she writes it down for me. Penn reads me your comments and I get a good laugh.

When we get done with our sailing trip, I'll try to write more so you know what really happened. Penn has such a way of stretching the truth.

---
OK, that's it for now. Click here to send us your comments. We love to read them and you give us ideas for where the next blog post should go.

Muchas gracias