FOR IMMEDIATE RELEASE
Contact Pendelton C. Wallace
011 521 612 152-2220
penn@pennwallace.com
www.pennwallace.com
Blue Water & Me
Tall Tales of Adventures With My Father
Summer 2013 Book Tour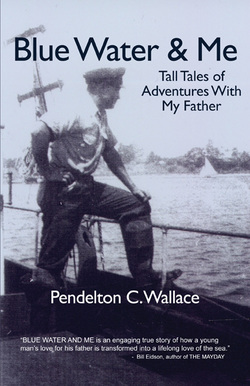 La Paz, Mexico – 7/29/2013 -

Author Pendelton C. Wallace announces his summer book tour for Blue Water & Me, Tall Tales of Adventures with my Father. He will be making appearances and readings down the West Coast beginning August 24th, 2013. See attached schedule.

Blue Water & Me is the true adventure story of author Penn Wallace's magical first summer fishing with his father, Blue Water Charlie, at age eleven.

Penn's father is of Scottish descent and his mother Mexican. Penn struggles to find his place between the two worlds.

The pair begin their adventure by ramming a thirty-thousand ton Japanese freighter. Licking their wounds, they fish off of the coast of Mexico. Penn learns about how Papa became a fisherman, with a little help from Bogey and the Duke. Papa spins yarns about the death of the albacore industry, the political maneuvering and murder that followed in its wake.

Penn swims with dolphins and explores desert islands. As the summer passes, Penn's undying belief in Papa's ability to handle any situation slowly erodes as he sees his father's feet of clay for the first time.


---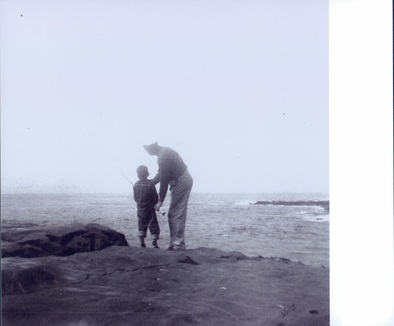 Finally, they get caught in a hurricane. They fight for their lives in a thirty-six foot fishing boat in hundred mile an hour winds and thirty foot waves.

Blue Water & Me is a story of father-son bonding that every father and son, and anyone who knows a father or a son, should read.

A software engineer by trade, Penn has also been a commercial fisherman and a restaurateur. He has sailed the waters of Puget Sound and Western Canada for over thirty years.

Penn has restored a 56-foot Samson C-Breeze sailboat for blue water cruising. He set sail for the warm waters of Baja again in the fall of 2012 to re-visit the sites of his adventures in Blue Water & Me. He currently lives on his sailboat in La Paz, Mexico.

As always, Penn is working on his next book, Christmas Inc. Christmas Inc, is the story of what happens when Santa decides to go public and floats an IPO (Initial Public Offering) on the NASDAQ Stock Exchange. It will be published this holiday season as an eBook on Amazon.com.

For more information, contact Penn at penn@pennwallace.com or go to www.pennwallace.com.



---