Away at Last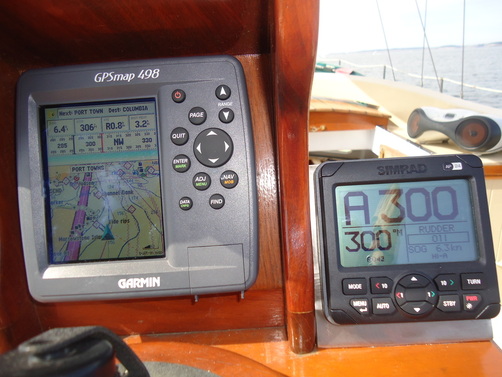 Wednesday, Sept 5th – Seattle

The last two weeks have been filled with getting the Victory ready for her voyage, with a charter mixed in for good measure.

The charter was a bachelor party/wedding gift. We took the groom and the groomsmen on board at Shileshole Marina on Wednesday, Aug 22nd. There was a gentle breeze blowing so we gently sailed south towards West Seattle. We were supposed to pick up the 4th person off of Alkai Beach.

Paul, the 4th member of the party wasn't very timely. He was ferrying people and supplies to Blake Island where the rest of the party (another 12 of them) were camping out. We were supposed to pick him up, then deliver them to Blake Island and cater a salmon bake dinner for the whole group.

It got late and I finally took my prerogative to cancel picking up Paul and headed for Blake Island. We got there at eight o'clock, two hours late.

Our guests were starving as we ferried our dinner supplies and BBQ ashore. We cooked dinner in the dark and by 9 pm were feeding the gang steamed clams, fresh crab, BBQ'd salmon, roasted new potatoes, corn on the cob and green salad. We got rave reviews on the dinner.

Connie used to say "get them hungry enough and anything will taste good."

We cleaned up the boat and fell into bed exhausted. Our guest came back to the boat in the wee hours of the morning and we were so tired that we didn't even hear them come in.

The next morning we did it again. We took breakfast ashore and fed the multitudes. The fare consisted of bacon, sausage, pancakes, scrambled eggs, muffins and fruit. Once again, they were blown away.

After we cleaned up the breakfast dishes, we took the wedding party over to West Seattle and dropped off the groomsmen. We picked up the bride and did a day sail for the bride and groom.

We had 15-20 knot winds and really put the Victory through her paces. It was our best sail of the summer. Then Dawn fed the couple a wedding feast consisting of appetizers, filet mignon in a port wine reduction sauce, baked potatoes and asparagus. For dessert she served a fruit flan.

We dropped them off at Shileshole and I tore to Mill Creek for Libby's birthday dinner.

For the rest of our stay in Seattle, we did projects on the boat to fix things we discovered on our shakedown cruise. It was tense and I spent a lot of money, but we got ready.

It is now Wednesday, Sept. 5th and we are on our way. We just passed Port Angeles in the Straits of Juan de Fuca when I came down to write this. Next stop, Astoria Oregon.

This is the real thing. Our trip to Mexico has begun. Stay tuned for weekly updates on our adventures. I wish you all well and will see you when we get back to Seattle . . . someday.

---