The Mexican Connection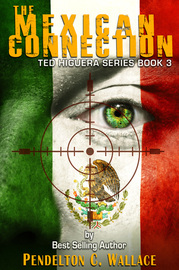 Order you copy today.
Chapter 1
West Seattle

A bluish light glowed from the windows of the quiet two-story West Seattle home. In the soft glow of the street lights a neatly trimmed lawn with a rose-covered trellis over the flagstone walkway gave the house a welcome feel. A huge Camilla bush blossomed crimson red flowers on one side of the house, a gigantic rhododendron with lovely lavender blooms grew on the other.

In the living room, Lisa Adams and her ten year-old daughter, Kayla, sat comfortably on the floral patterned sofa feet up on the coffee table, in front of the television, watching The Little Mermaid for the umpteenth time.

"Mom," Kayla said, "I think you're just like Sebastian."

On the TV, the cartoon crab sung about how wonderful life was "under the sea."

"You're always telling me how good everything is."

Lisa reached out for her daughter and pulled her closer to her.

"That's because you're my princess. I'll always make things good for you."

Lisa reached for the remote and rewound the DVD. "Under the Sea," was her favorite song in the movie.

"Jeeze, Mom," Kayla said, "How many times do you have to watch that scene?"

"As many as I want." Lisa threw a piece of popcorn at her brown haired daughter.

"POLICE!"

The front door of Lisa's cozy home burst into splinters.

"Mom!" Kayla screamed.

Lisa jumped up, dumping the bowl of popcorn from her lap. The Little Mermaid played on. She froze while Kayla screamed at the top of her lungs.

Men dressed in black combat fatigues charged into the room carrying automatic weapons and shields.

"On the floor, now!" the leader shouted.

Lisa and Kayla stood rooted to the spot.

"Under the sea, under the see-eee-eee . . ." Sebastian the Crab sang on the TV.

"I said get down! NOW!" the man repeated. He grabbed Lisa by the shoulder and shoved her to the floor. A second man pushed Kayla down.

"MOM!"

"KAYLA . . ." Lisa screamed. She tried to rise.

Before she knew what was happening, another black-clad officer was on top of her. He pulled her hands behind her back and cuffed her.

""LEAVE MY DAUGHTER ALONE."

"Clear!" a woman's voice shouted from the kitchen.

"Clear!" a man in Lisa's bedroom echoed.

Lisa felt a knee in her back. She couldn't get up. She couldn't get to Kalya. She struggled, but the man on top of her was too big. She had to get to Kayla.

Armed men swarmed into the kitchen, broke through the basement door and flooded downstairs.

"Mom, what's happening?" Kayla, lying face down on the carpet next to Lisa, screamed.

"I don't know honey. Be brave."

With a Hurculean effort, Lisa struggled free of the man on top of her.

"On your feet." The order came from a small, trim man with a bushy mustache in a brown suit.

One of the cops pulled Lisa to her feet.

"I'm District Attorney Anthony Pertocelli." He waved a folded paper in her face. "We have a warrant to search the premises."

Lisa stared at the man with her mouth open. What are they doing here? Why have they broken into my house?

"Petrocelli," a man wearing a windbreaker with SPD and a star stenciled on the front yelled. "Down here."

The little man in the suit turned and dashed into the kitchen.

"Mom," Kayla sobbed. "Who are these people? What's going on?"

"I don't know, honey." Lisa tried to think. It was so hard in the confusion.

Why are they here? What do they want?

"Where's your husband, ma'am?" a woman in a SPD windbreaker, said. "We have a warrant for the arrest of James Adams. James Adams is your husband, right?"

Lisa just stared at the woman. A warrant for Jimmy? Why?

"I asked you a question." The woman's challenged Lisa. "Where's your husband?"

"Ah . . . he's not here."

"I can see that." The woman stepped forward and shoved her face right in Lisa's. "Where is he?" she shouted.

"Away. . . On business. . ."

"Scooooore." Petrocelli came prancing back into the living room, tossing a plastic wrapped package a little bigger than a brick up and down in the air. "At least ten kilos. High-grade coke."

On the television, Sebastian danced to the music, clapping his claws like castanets. Bubbles floated up all around him.

"Petrocelli!" the policewoman shouted. "Gloves! You're getting your prints all over the evidence."

Petrocelli ignored her. "Arrest her," he said, waving the package at Lisa.

"Lisa Adams, you are under arrest." The woman in the SPD windbreaker turned to face Lisa. "You have the right to remain silent. You have the right to an attorney. . ."

Lisa tuned her out. This nightmare couldn't be happening. What had they found? Why was it there? It couldn't really be cocaine, could it? They must have planted it. But why?

"I've alerted CPS about the girl," the woman said to Petrocelli. "They'll be here to take her into care shortly."

"Kayla . . . No!" Lisa came to life. She tried to move towards Kayla, but the woman and the man in the SPD jackets grabbed her arms and dragged her towards the door.

"Kayla . . . "

"Mom!"

"We got no troubles," Sebastian the Crab sang on the TV. "Life is the bubbles. Under the sea. Under the sea-eee-eee."


****

East Los Angeles

The El Chaparral restaurant was normally closed on Sundays. Papa felt his employees should be home with their families on Sundays. The pale yellow stucco building with rustic arches and red-tile roof surrounded by palm trees and cactus usually sat empty.

But this Sunday music blared from the open door. A mariachi band in traditional charro costumes filled the stage in the dining room. A buffet was set up on a row of tables against the wall. A couple hundred people wandered through the dining room and around the plant covered terracotta patio.

Papa's oldest son, Ted Higuera, had substantially upgraded the facility. Water tinkled in a Puebla tile covered fountain the middle of the patio. The area itself had been carved out of what had been the parking lot. Giving up parking for extra dining space had been a tough decision, especially because it meant an extensive upgrade to the kitchen.

Ted was catching on to the restaurant business fast. He was smart enough to realize that if he was going to add room for an extra fifty diners, the kitchen must be able to handle the extra load.

"Papa, Papa," Esperanza, Ted's younger sister and co-manager yelled. "Ven aquí. Come here."

Papa, a short, stocky sixty-something Mexican with a Pancho Villa mustache, looked up. "¿Que pasa?"

"We can't find Guillermo. Have you seen him? It's time to make the speeches."

Esperanza Higuera, or Hope as her Anglo friends called her, was a tiny dark beauty with deep, dark eyes and luxurious black hair down to the middle of her back. This was her big day; she flittered around the restaurant in a flower-print dress with just enough cleavage to interest the boys, but not enough to raise Papa's ire.

After five long years at Cal State LA, she earned a bachelor's in business with flying colors. Not quite the Summa Cum Laude that her big brother, Ted, had earned at the University of Washington, but not bad for a chica from the barrio. Now she wanted to enjoy her graduation party.

"Where did The Mouse get to?" She dashed out the side door and into the parking lot.

"Guillermo Raton!" she knew her little brother hated being called "Guillermo the Mouse," "What are you doing out here?"

Guillermo sat on the hood of a fire-engine red 1970 Boss 302 Mustang convertible, surrounded by three of his amigos all puffing weed. The legendary muscle car had belonged to Tio Ernesto since before they were born.

"Oh my God!" Hope yelled and swatted at Guillermo's hand.

The joint went flying across the parking lot.

"Hey sis, back off!" Guillermo hopped off the hood of the car and grabbed for the doobie. "Yow!"

A Reebok Cross Trainer came down on his hand. "Forget it, you little turd."

Guillermo looked up to see his oldest brother, Ted, attached to the foot.

Ted was short with broad shoulders and barrel chest, like Papa, but he still retained the physique of an athlete. A rebellious lock of his dark brown hair almost always fell into his left eye. His newly grown mustache was much more trimmed than Papa's.

"And stay the hell off of Tio's car," Ted growled. "You know how he fusses over it."

"Not Tio's car anymore." A shit-eating grin spread across Guillermo's face. He held out his right fist chest high.

Ted and Hope stared at Guillermo's hand. He opened his fist, like a magician. Only, instead of a rabbit or dove escaping from is grasp, he dangled a set of keys from his fingers.

"Mine. All mine. Tio gave it to me. A graduation present. He only has daughters, he thought a guy should have it."

"Dude!" one of Guillermo's friends shouted and high-fived Guillermo.

"What?" Hope's mouth hung open. "Celli loves that car."

"You get your ass in there and make Papa proud." Ted's eyes glowered. "This is your big day too. I can't believe you're doing shit like this now."

Guillermo straightened up. "What's the big deal? It's just high school, man."

"Cut the crap." Ted grabbed his little brother's bicep and spun him around. "You know it means a lot to Papa. He never went to high school. And don't give me that barrio shit either. Act like an adult for once in your life." He shoved his brother towards the restaurant entrance. "And pull up your pants."

Guillermo turned and looked at his friends. They looked down and kicked at the ground. He did as ordered. He pulled up his pants and marched back into the restaurant.

Ted turned towards his little sister. "Hey, chica, you look beautiful."

"Oh you," she slapped at his shoulder. "I bet you say that to all of your sisters."

"As a matter of fact, I do." Ted put his arm around her shoulder and pulled her close. "Let's go have a party." They strolled in lockstep after Guillermo.


****



Seattle

Lisa had never seen a jail cell before, except on Law and Order. In fact, she had never even been inside a police station. Yet here she was, a tall good looking woman with long light brown hair, sitting in her flower print flannel pajamas locked in an iron cage off to the side of a busy room full of cops working at their desks.

"What ju in for, babe?" a short, round Latina woman said as she plopped down on the bench next to Lisa.

"I . . . I don't know . . ." Lisa's mind had not yet caught up with reality. She pulled her pajama top close around her neck.

"C'mon, a pretty mama like ju? Ju musta done some bad chit."

"The police broke into my house." The nightmare replayed in Lisa's mind. What had she done to deserve this? "They said there were drugs in the basement. They must have planted them. They want my Jimmy."

The Latina woman flung her hair back out of her eyes. "What kind of drugs?"

"Coke, cocaine, they said they found a bunch of packages. They couldn't have. Jimmy and I . . . we don't do drugs. And guns. They said they found guns. I don't allow guns in my house."

"Guns and drugs." The dark haired woman held out her hand. "I'm Angie. Looks like ju in some pretty deep chit."

Lisa stared at the her hand a moment, then shook it limply. "I'm Lisa. I don't know what I'm doing here. I don't know what's going on."

"Ju talked to jour old man? He know what's goin' on."

"Jimmy? He's out of town. Out of the country. He's in the import/export business. He's on a trip to Vancouver."

"Ju better get a hold of him, Mama. Ju don' wan' him walkin' back into this mess."

"Lisa Adams." A tall police woman with a clip board in her hand opened the cell door. "Detective Peterson want to talk to you."

"But I'm not dressed." Lisa folded her arms over her chest. She was mortified, being out in public in her PJs. "I don't even have a bra on."

"Let's go." The police woman took Lisa by the arm and led her to an interrogation room where two men waited. The first was Petrocelli, the little rat who led the raid on Lisa's house. The other was a large man in a badly crumpled suit.

The big man, over six feet tall and big around as a house, pulled out a chair for Lisa. "Sit here, Mrs. Adams."

He sounded polite enough.

"Mrs. Adams, I'm detective Peterson. This is Assistant DA Petrocelli. We have a few questions for you."

Lisa sat down and stared at the men. She was still too dumbfounded to speak, too embarrassed to look them in the eye. The little man couldn't keep his eyes off of her breasts. Ever since she nursed Kayla, the darn things hung down to her kneecaps.

"Let's start with your husband," the big detective said. "Where is Mr. Adams?"

"He's out of town. Out of the country." Lisa kept her arms crossed over her chest. "Kayla! What have you done with my daughter?"

"She's safe Mrs. Adams. She's with a foster family. In Child Protective Services care."

"No." Lisa started to stand.

Petrocelli put his hand forcefully on her shoulder and held her down.

"She's only ten," Lisa plead. "She needs me."

"I'm afraid it may take some time to work this whole thing out," Peterson said. "If you'll just cooperate and answer our questions, we'll be able to get you out of here much faster."

"I need to get out of here, I need to see Kayla. . ."

"Let's start with the coke." Ignoring her, Petrocelli continued. "How long has your husband been storing it in your basement?"

"Coke?" Lisa tried to think. "He doesn't drink Coke." Oh, they mean cocaine. "He doesn't do drugs. He has nothing to do with that."

"What do you take us for?" Petrocelli shouted. "We're not stupid. We know your husband has been one of Seattle's major distributors for years."

"No, we have a child. Jimmy wouldn't do drugs."


****


After two hours in the interrogation room, Lisa was exhausted. She still had no idea what they wanted from her. How could she give them information she didn't have? Jimmy wasn't a drug dealer. No, she had no idea how the guns had gotten into her basement. She didn't know any of Jimmy's business associates.

Now that I think of it, she thought, Jimmy never talks about his business.

He was a legitimate businessman. He ran an import/export business from their home. They could check out his computer if they liked. It had all the records.

There wouldn't be anything incriminating on his computer, would there?

No, she didn't know when Jimmy would be back. He worked like that. Sometimes he'd be gone a couple of days, sometimes a couple of weeks. He didn't know when he left where his trip would take him. It just depended on what kind of deals he managed to come up with.

He always drove to Vancouver, but there was the time he brought her a silver necklace from Mexico.

For some reason, that horrible little man didn't believe her. The big detective was much nicer. He tried to help, but every time he did something nice, the district attorney yelled at her.

And the way he looked at her, like she was naked. A cold shiver ran down her spine.

She returned to the holding cell in tears.

"How ju doin,' Mama?" Angie asked.

"I . . . I don't know . . . It's . . . it's awful. They're accusing Jimmy of horrible things."

"Where is ju husband? How come he not here to bail ju out?" Angie sat down on the bench next to Lisa.

"He's away." Lisa wiped the tears from her eyes with the back of her hand. "I've got to call him. He'll know what to do."

"Ask for ju phone call. They gotta let ju make one phone call."

Angie put her arm around Lisa's shoulder and pulled her close. Lisa slumped into her.


****

East Los Angeles

"Absolutely not," Mama's voice rose. She almost never raised her voice. "I won't have my eighteen-year old son traipsing around the country by himself."

Mama, Guillermo, Hope and Papa sat around the table in Mama's kitchen. Coffee and pan dulce was the breakfast of the day. They would have a more substantial meal later, before El Chaparral opened.

"Mom, it's no big deal." Guillermo pulled at a cuerno de manzana. "Everybody does it. Eddie, Chapo and Tony are up for it. Their parents don't have a problem with it."

"I don't care what everybody else does. You're my son. You're only eighteen. When you're twenty-one you can go out and kill yourself if you want, but until then, you do what I say."

"Dad?" Guillermo turned to Papa.

Papa remained silent, just looking off into infinity.

"How old were you and Papa when you took off for the US?" Guillermo asked.

"That's different," Mama said. "People were a lot more mature in those days."

"It's not different. You were sixteen. Papa was eighteen. You didn't even tell your parents. You just ran away."

Mama looked to Papa. He sat stone still.

"I was with your Papa," Mama argued. "He was smart and strong."

"So, I'm not smart and strong? Besides, me and the guys aren't moving to a new country. We're just taking a road trip. Lots of guys do it when they graduate."

"Papa?" Mama took her husband's hand.

"Guillermo is right, corazon. He is a man now. He needs to get out. Be on his own. When Ted was eighteen, he went to Seattle, to go to school. It's time for Guillermo to start making his way in the world."

"Just don't get yourself into any trouble, Raton," Hope said. She knew Papa would have the last word. "You stay safe. I'm not going to come and bail your scrawny ass out if you get in over your head."


Order your copy today.