Lovely La Paz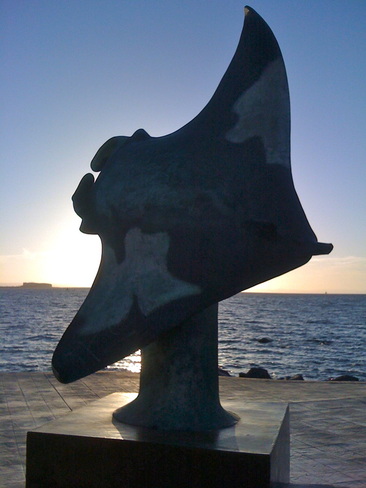 We just got back from a whirlwind trip to Seattle and Portland for my mother's wedding. You're only getting a short piece today, more to come later. . .

Wednesday January 16th 2013 through Thursday January 17th 2013– La Paz

Happy Birthday Dawn. Wednesday was Dawn's birthday. Since we have been on this trip, we haven't done a decent job of celebrating holidays. We missed Christmas and New Years was a yawner. I wanted to make Dawn's birthday a little special.

Soooooo. . . I started off with Las Mañanitas. Las Mañanitas is the Mexican birthday song. It is basically a sweet wake-up call to get up and enjoy your saint's day. With my cold, I couldn't sing very loud and I stopped with coughing fits a couple of times, so I decided to find her a better version.

I Googled Las Mañanitas on my lap top and found half a dozen different versions. I started out with Pedro Infante (the Mexican Frank Sinatra). He had an entirely different version than I had heard before. Then we played a mariachi rendition. Once again, it was different from what I'm used to. It seemed like every version we played was different from the one before.

I brought Dawn coffee from the cabana and we sat in bed and played with the lap top. I looked up some old cowboy songs I remembered from the '60's but haven't heard since. (El Paso, The Ranger with the Big Iron on His Hip, Ringo, Big John.)

Then I told Dawn that Moon River had been stuck in my mind for weeks. "Two drifters, out to see the world, there's such a lot of world to see." I found the original Audrey Hepburn version, then because I wanted to hear someone with a good voice sing it, I found Andy Williams. Finally, I had to hear The Voice, so I found the Sinatra version.

Moon River is now our official song.

But, we were in La Paz to work. This will be our home base, if we can ever get the Victory back in the water and down here.

Our mission for the day was to find moorage for the boat. We hit every marina on the bay. No matter where we went, the prices were way high. The least expensive marinas are downtown, but they are full even though they're $200 more expensive than Seattle. The top price was at a luxury resort several miles north of town at $1600 a month. They must think all American yachties are rich.

---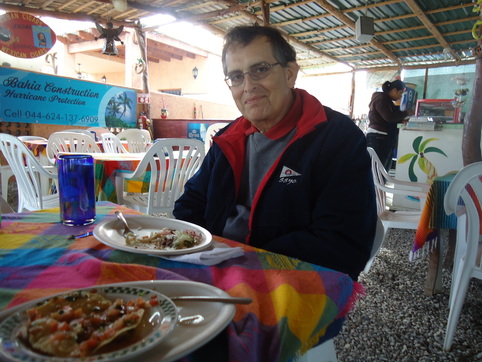 After an exhausting morning of visiting marinas we found our old hang out, Super Burro, for lunch. I had tacos al pastor while Dawn had a super burro. As we remembered, the food was fantastic.

Super Burro is on the main street along the water front. It's a palapa (thatched) roof over bare poles with a little kitchen separated by a brick wall on one side. The tables and chairs are plastic patio furniture. All in all, I would say it is decorated in Tijuana Modern. But the people are super friendly and really know how to cook.

We returned to Casa Buena for a little nap. We're still suffering from the effects of the long drive down Baja. After we woke up, I took Dawn out for a birthday dinner.

We went to El Buffalo, El Buffalito Grill's big brother. Literally. The two brothers opened El Buffalo several years ago and it became a big success. It is arguably the best restaurant in La Paz. The older brother was the manager and the younger brother the chef.

But you know how sibling rivalry works. They couldn't agree on much and finally the younger brother broke away and opened his own restaurant down the street. While El Buffalo is indoors and elegant, the El Buffalito Grill is a thatched roof open-air courtyard with a brick kitchen near the entrance. It's much more casual, but the food is fantastic and much less expensive.

Now that we've eaten at both restaurants, El Buffalito wins hands down. Not only is it better food and it offers a casual environment, it's much cheaper.

While at dinner, a group of musicians came in and wanted to play for us. At first I turned them down, then remembering it was Dawn's birthday, I ran after them. I asked them to play Las Mañanitas to complete her birthday.

We started the next morning by joining the Club Cruiseros morning coffee and networking with local yatistas.

---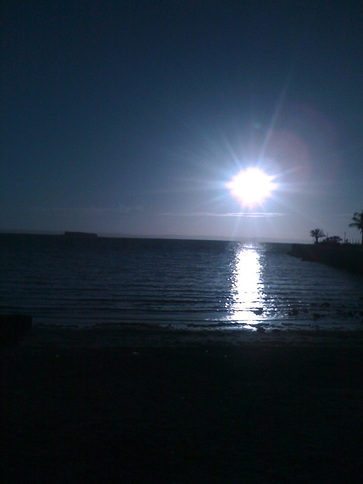 Club Cruiseros is a yacht club in La Paz for cruising boats. I don't know how many members they have, but there must be thousands. Every morning they have a coffee break on the dock in front of the club house. They have monthly meetings and along with a lending library with hundreds of DVDs and thousands of books, they have a mail box.

I had given their address to Susie as my Mexican mailing address. She sent a test card to make sure it would reach me. Sure enough, it was waiting for me in my mail slot when I got there.

Last year on Dawn's birthday, we signed up for membership. This year on her birthday, we renewed.

At the coffee we met a bunch of local sailors. I absorbed their local knowledge like a sponge.

After coffee, we had breakfast at The Dock Café next door. Then we dinged around town for the rest of the afternoon.

In the evening we met Mike and Vanessa for dinner. Mike runs a charter boat business in Baja, as well as owning a brew pub in Newport Beach and a real estate business in SoCal. Vanessa, his Mexican wife, is an attorney and owns the charter boat business in Mexico.

We met with them because Mike has been helping us with our charter business and Vanessa is an immigration attorney.

It was a very fruitful meeting. I learned that the immigration laws have changed and we have to apply for visas in our home country. Since we're going to San Diego next week, we'll start the process then.

We shared our business plan for chartering and both Mike and Vanessa were enthusiastic. When we showed them pictures of the boat, Mike got even more enthusiastic. I could see the gears turning in his head. He has a nose for making money and I could see him figuring out how to use us and the Victory to make more.

I had planned on starting the drive home after dinner. I wanted to get back and get to work on the boat. If we left by 10 pm, we would be back in Ensenada by 2 pm or so.

Mike and Vanessa greatly cautioned us against driving at night. They said that there have been too many accidents where cars hit cows on the road. Several other people had given us the same warning, so I caved and went back to the Casa Buena for one more night.

We would rise early in the morning and get going.




---