Murder Strikes Twice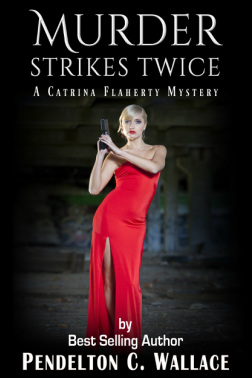 When her daughter dies in a tragic accident and the daughter's husband's second wife does the same, what is Eleanor Johnson to think? The police have ruled both cases accidents and closed them, but something doesn't feel right. Is it possible to believe that two tragic deaths are mere coincidence, or was something more sinister at play? What is Eleanor to do?Call Cat Flaherty.Murder Strikes Twice, the second book in the Catrina Flaherty Mysteries, is based on an actual case.When Cat looks into the Barrett Case, something smells rotten. She and her team scour Seattle for clues as the pieces start falling into place, but can she make a case that the D.A. will take to court? Did Murder Strike Twice or will Brody Barrett get away with killing both of his wives?Catrina is known for administering vigilante justice. Will Brody finally have to pay for his sins?If you like Cat Flaherty, you have to read her first book, Mirror Image. Click here to learn more about Mirror Image.Cat is also a major character in the Ted Higuera series of thrillers. Catrina is first introduced in Hacker for Hire and appears in all subsequent Ted Higuera books.
---
What They're Saying About Murder Strikes Twice

Actual Reader Reviews

A
n action packed thriller with good pacing and a great twist at the end
Praanav R Lal
on October 28, 2015

I received a review copy of Murder Strikes Twice. One of the cleverest things Mr. Wallace has achieved is to keep his series chronologically accurate. The book picks up after bikini baristas, which is book 4 in the Ted Higuera Series. The narrative is skillful and the plot has a fantastic twist at the end. No mysteries to solve but the action is strong and you are in the driving seat as Catrina Flaherty solves the case. No fancy technology here besides illusions to Ted's sunglasses and no convenient physical security violations to bring things to a head. I was hoping for a boat chase but the twist at the end made up for that.
Best mystery I've had the pleasure of reading in awhile!
Jason F.
on November 16, 2015

I absolutely loved this mystery. I was so caught up in the story that I cancelled plans and stayed home to read it through to the end. I really liked the characters and the way I felt I knew them. I was totally blown away at the end. Did not see that coming! Go Hailey!
Good ending. Well deserved!
By
Dora M. Gourley
on November 17, 2015

I like it when the crumb bums get their just desserts. This one kept my interest from page one to the end. A really stunner at the end, but one that makes your heart sing, just because justice was served.